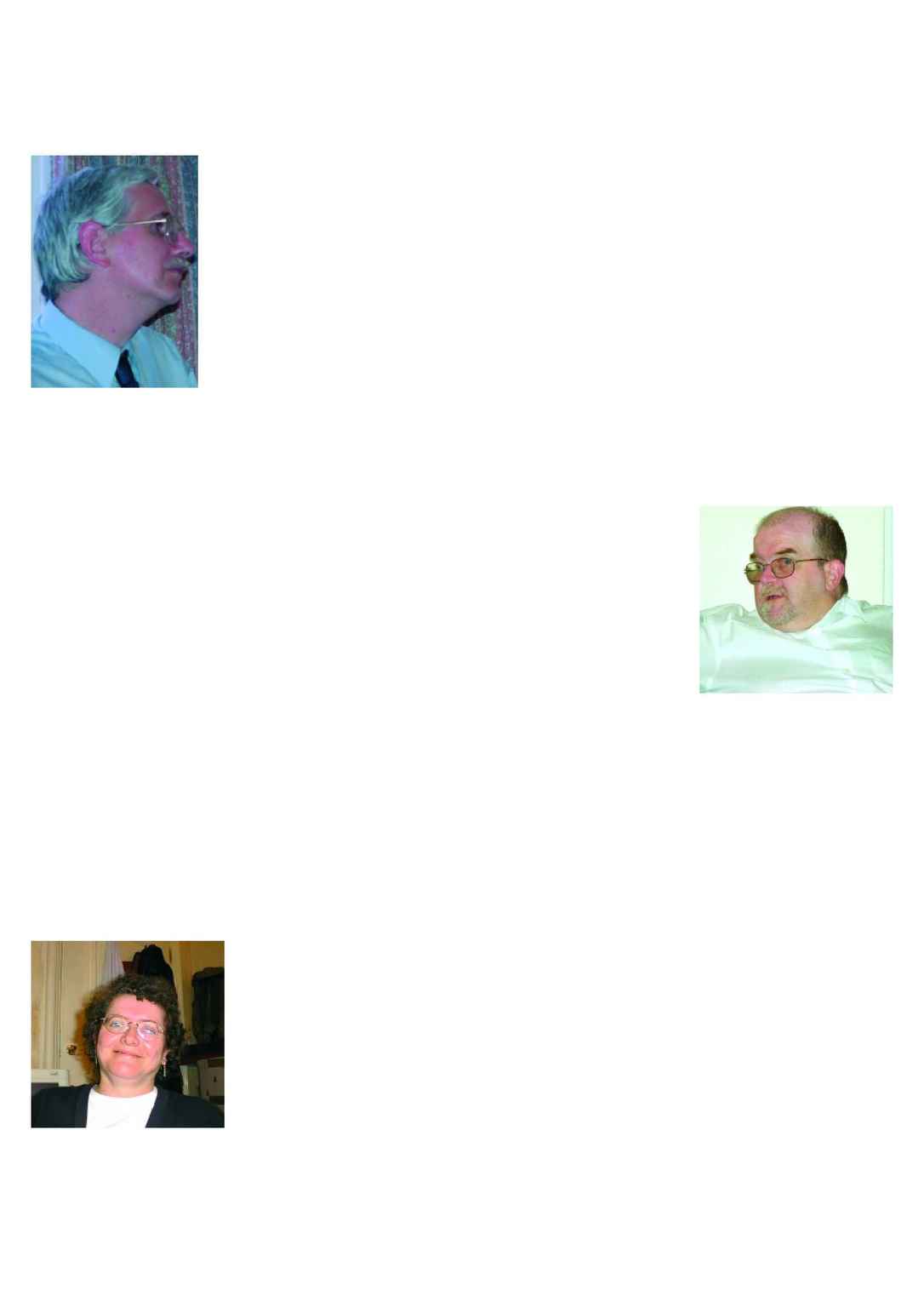 Giles Denham
Giles, a Senior Civil Servant, with experience of General Management in a hospital environment, has been
a Trustee at K for nearly 4 years now. Giles was a member of the congregation at Emmanuel Church,
Northwood in Middlesex, where John Libby, K Chair of Trustees, was Curate. Their first meeting was at a
Spring Harvest event; serving on Emmanuel's Parochial Church Council provided further opportunities to
work and socialise together.
Giles first came to K as part of an Alpha Course and it wasn't long before John realised the potential
behind involving someone, with a professional background in Health and Social Care, in the Project.
Although not directly involved with disability issues, Giles' agenda was definitely that of "inclusiveness".
With the advent of modern technology, even working abroad did not stop Giles' direct involvement in the
running of K. E-mail and fax machines allowed almost instant communication to continue long-distance.
It is the very ethos underpinning the Kepplewray Project that attracted Giles - the fact that as a Christian
organisation it has a sympathetic and inclusive approach towards everyone, never asking guests where
they are coming from, regardless of ability, religious or social background.
Paul Greene
As a wheelchair user himself, Paul gives thanks to his very forward-looking parents, who saw that any
barriers to him leading as full a life as possible, were due to the perception and attitudes of society and
the way buildings are designed, rather than to his medical diagnosis. After attending a special school
in
his early years, at the age of 11 he went into mainstream education. This gave him the opportunity to
experience life from both sides of the coin.
Paul is now a non-stipendiary Minister at Emmanuel Church. He became involved with the K Project in
the very early years, when the building was still very much an empty shell and the `Project' a dream for
the future.
Following an initial approach made by John, who was then a newcomer at Emmanuel Church, Paul
met Tim Montgomery the Project Director for further talks. Paul quickly realised that the ideas behind
K ". . . grabbed his imagination . . .", particularly because of the emphasis on being inclusive. Having
shown such a positive response to the Project, Paul was invited to become a Trustee ­ he accepted
this invitation and has now been involved for over 12 years.
Paul sees his present role as " ...supporting and encouraging the inclusive element of K's work".
His professional background of management within Social Services compliments the financial and
business backgrounds of other Trustees.
Julia Powley
In August 1997 John, now in Carlisle, asked Julia to help with a Youth Work Party at K. This initial visit
was most memorable for its dust; lack of hot water and the building work still in progress! Undeterred,
Julia spent ten days clearing rubbish and weeding the garden (all 1.5 acres of it!!) ­ a far cry from her
usual role of Chartered Accountant.
However, Julia's professional skills were soon being put to work as well: she became increasingly
involved in the office; assisting with the financial running of the Project and installing the SAGE
accounts system on the computer. She also returned to K to assist with CYFA camps ­ a glutton for
punishment, perhaps?
Because of her obvious interest in and continued involvement with K, Julia soon became a member of
the Project Management Team and, from there, it was only a matter of time before she was approached
about becoming a Trustee.
What was it about K that attracted Julia to become so involved?
Listening to and watching the amazed reactions of parents, whose disabled children were 100%
involved in all the activities, whether it be the actual climbing, abseiling, canoeing, archery etc, or
themselves helping others.
Watching the effect on a group of youngsters as they realised that Jeremy, a young boy in a wheelchair,
not only had a tremendous sense of humour but was also able to join in with all activities on an equal
footing.
Being aware of the barriers confronting her own deaf goddaughter, as she tried to integrate with her
peers.
Julia has spent many evenings at K, talking to adult guests. During these informal conversations, she
has realised that guests often welcome the opportunity to discuss Christian issues or be offered
prayers on their behalf. Making the Christian ethos part and parcel of everyday life at K is something
Julia is very keen to pursue.
or how to become a trustee!