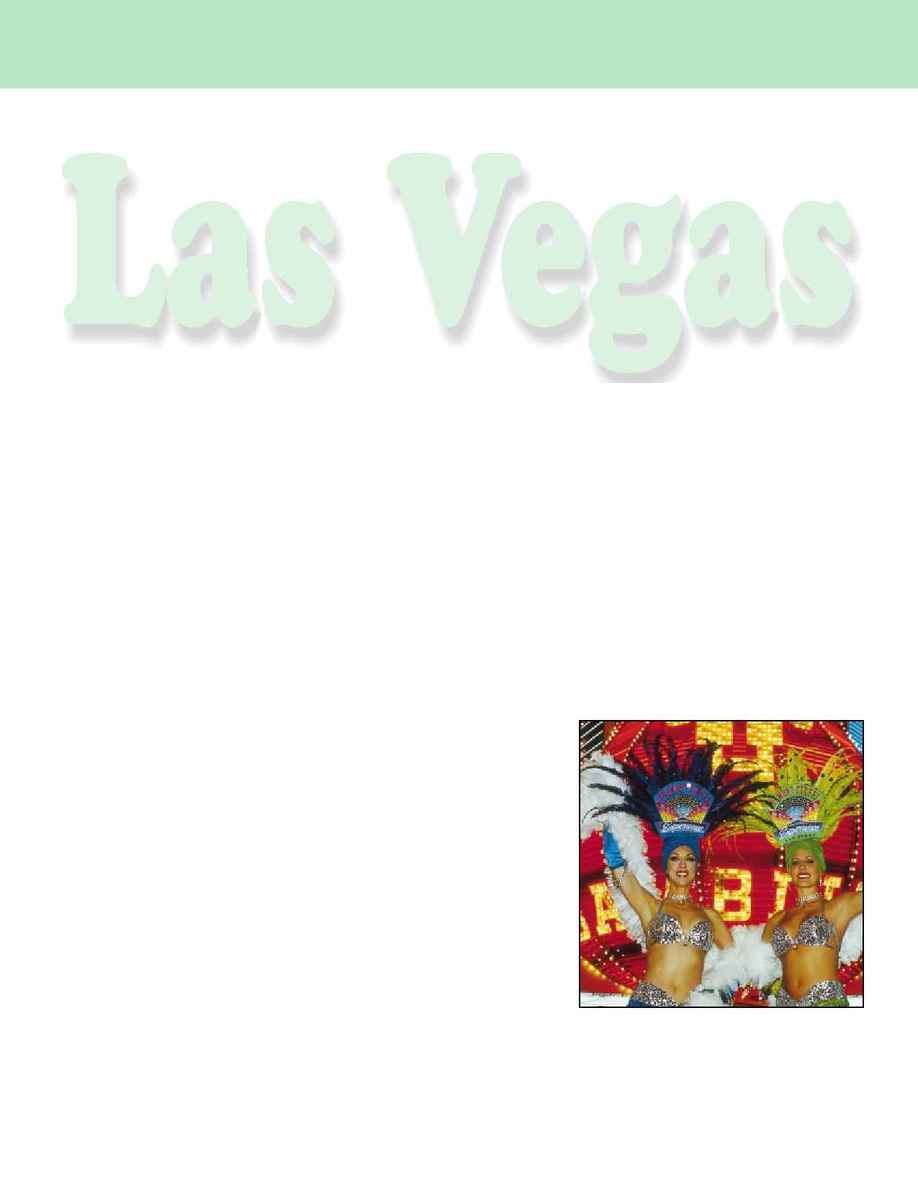 Las Vegas is America's most popular Convention Destination. It is also one of the busiest
visitor destinations in the world. Most of its hotels are located on the famous Strip.
Although Las Vegas has a well-known reputation as an adult entertainment Mecca
featuring world-class casinos and gaming facilities, today it is transforming itself into a
family-oriented entertainment destination, offering a lot of recreation and tours of historic
landmarks for families.
It also has the distinction of being the fastest growing county in the West, if not the entire
country. About 5000 to 6000 people move into Las Vegas every month.
You may want to take some time and check out some of the off beaten path in Las Vegas.
You may find a community worth relocating to.
ENTERTAINMENT:
Many hotels in Las Vegas provide such shows as Comedies, Jazz Music, Show Girls,
Impersonators, Magicians, Special programs that feature dazzling effects-blended with
dance and virtual reality and theater, etc.
The Riviera Hotel & Casino, the Entertainment Center of Las Vegas, boasts of five world-class
shows and frequent headliner entertainment. The Riviera has a show to satisfy every taste,
including their Le Bistro Lounge show bands and Monday Night Jazz on the Strip.
Information on scheduled shows at the Riviera can be obtained by calling the hotel at
702-734-6110. Other hotels can also be contacted directly or you may call "Baskow &
Associates" at 702-733-7818 for assistance.
GROUP TOURS:
ANPA has identified such Tour Guides as "Baskow & Associates" and "Las Vegas Tourist Bureau" -
(800) 777-1977.
Baskow & Associates:
Their Tour Package includes:
· Las Vegas City Highlights
· Las Vegas Highlights Air Tour
(Grand Canyon, Hoover Dam, Lake Mead) -19
· Black Canyon Raft Adventure
· Caesar's Forum & The Magical Empire
· Red Rock Canyon ­ Off Road Adventure
Flyers for the tours will be available at the registration desk.
Las Vegas Tourist Bureau:
They offer Air and Ground Tours of the Grand Canyon, River Raft Tour and a Cruise along
the Hoover Dam and Lake Mead.
The Fifth Annual Convention
ASSOCIATION OF NIGERIAN PHYSICIANS IN THE AMERICAS