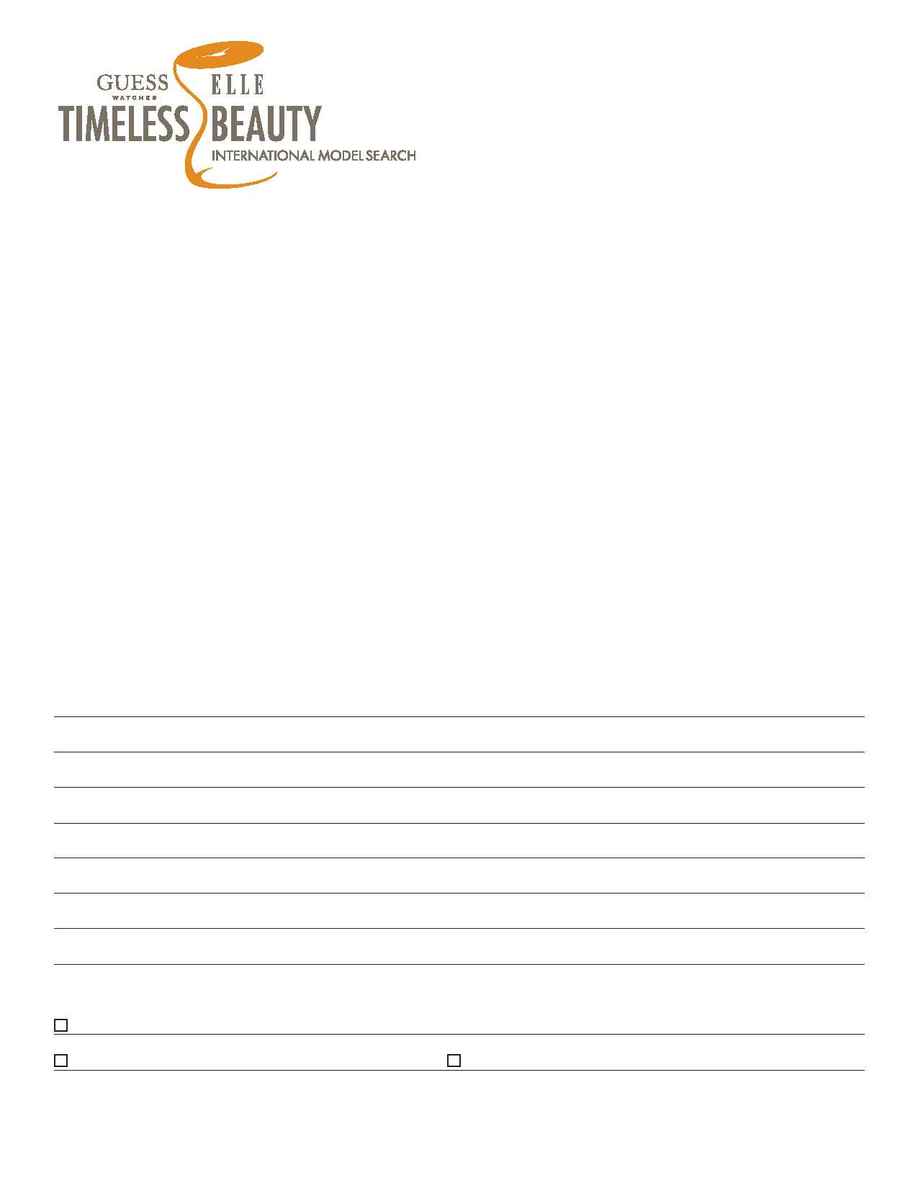 IMPORTANT APPLICATION RULES:
Remember, every applicant must:
1. Be of legal age. As specified by the laws in her country.
2. Have a valid passport and any additional documentation required to travel outside her country, should she be chosen
to fly to Switzerland in April, 2004 as a lucky finalist, or to the United States as the new face of GUESS WATCHES.
3. Supply two color photos. A close-up face and full body shot will be required with every entry.
Mail your application to:
Callanen International
145 Woodward Avenue
Norwalk, CT 06854
U.S.A.
ATTN: Timeless Beauty Model Search
APPLICATION FORMS MUST BE RECEIVED BY OCTOBER 31st, 2003
APPLICATION FORM:
FIRST NAME:
LAST NAME:
ADDRESS: (Street)
PHONE:
DATE OF BIRTH: (Month, Date, Year)
E-MAIL: (not required)
WHERE DID YOU GET THIS APPLICATION?
RETAIL LOCATION (specify)
OTHER (specify)
ONLINE
APPLICATION FORM
No purchase necessary. · Employees of GUESS?, Inc., Callanen International, or any participating company or their agencies, or their family members are not eligible to apply. · All parts
of this application must be completed in order to be considered in the search. · Finalists will be notified by phone. · Finalists are solely responsible for their actions, and agree to defend and
hold harmless GUESS?, Inc. or any participating company and its officers, directors, employees, agents and licensees from any liability arising out of their participation. · Your signature on
this application confirms your understanding of and agreement with the requirements of this model search.