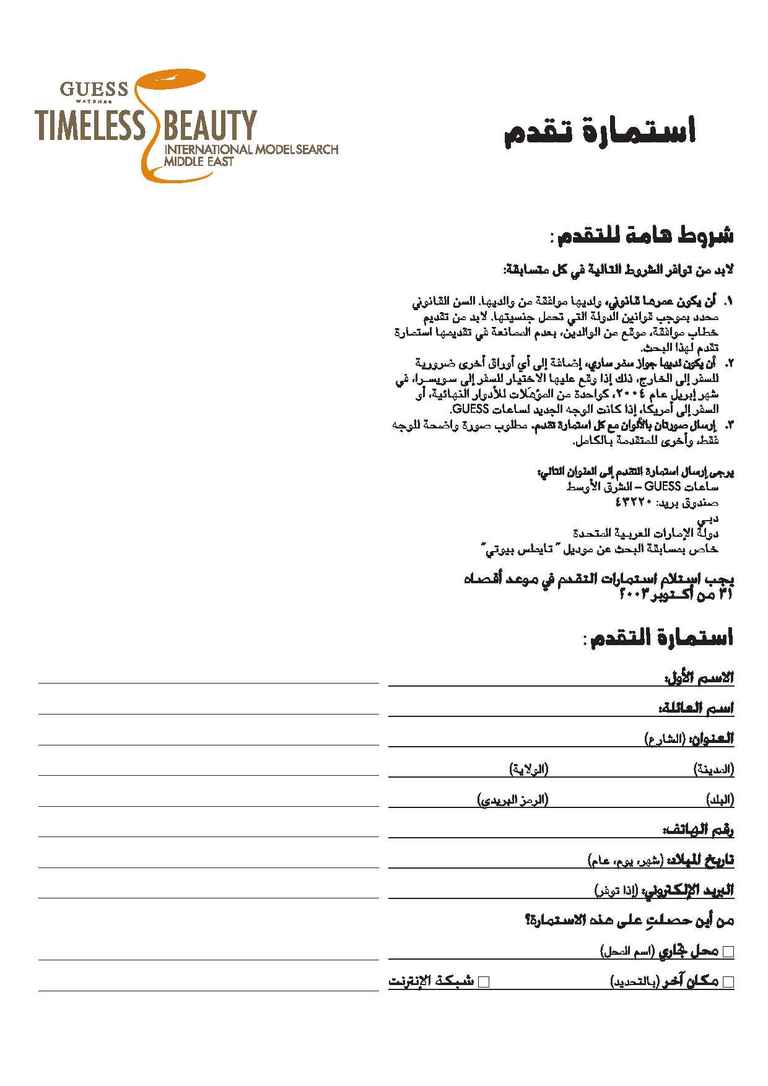 IMPORTANT APPLICATION RULES:
Remember, every applicant must:
1. Be of legal age and have parental consent. Legal age is
specified by the laws in her country. She must supply a
Parental Consent letter signed by her parents or legal
guardians consenting to her application to this search.
2. Have a valid passport and any additional documentation
required to travel outside her country, should she be chosen to
fly to Switzerland in April, 2004 as a lucky finalist, or to the
United States as the new face of GUESS WATCHES.
3. Supply two color photos. A close-up face and full body shot
will be required with every application.
Mail your application to:
GUESS Watches­Middle East
P.O. Box 43220
Dubai
United Arab Emirates
Attn: Timeless Beauty Model Search
APPLICATION FORMS MUST BE RECEIVED BY OCTOBER
31st, 2003
APPLICATION FORM:
FIRST NAME:
LAST NAME:
ADDRESS: (Street)
PHONE:
DATE OF BIRTH: (Month, Date, Year)
E-MAIL: (not required)
WHERE DID YOU GET THIS APPLICATION?
RETAIL LOCATION (specify)
OTHER (specify)
ONLINE