New Orleans Film Festival noff 2003 Page 1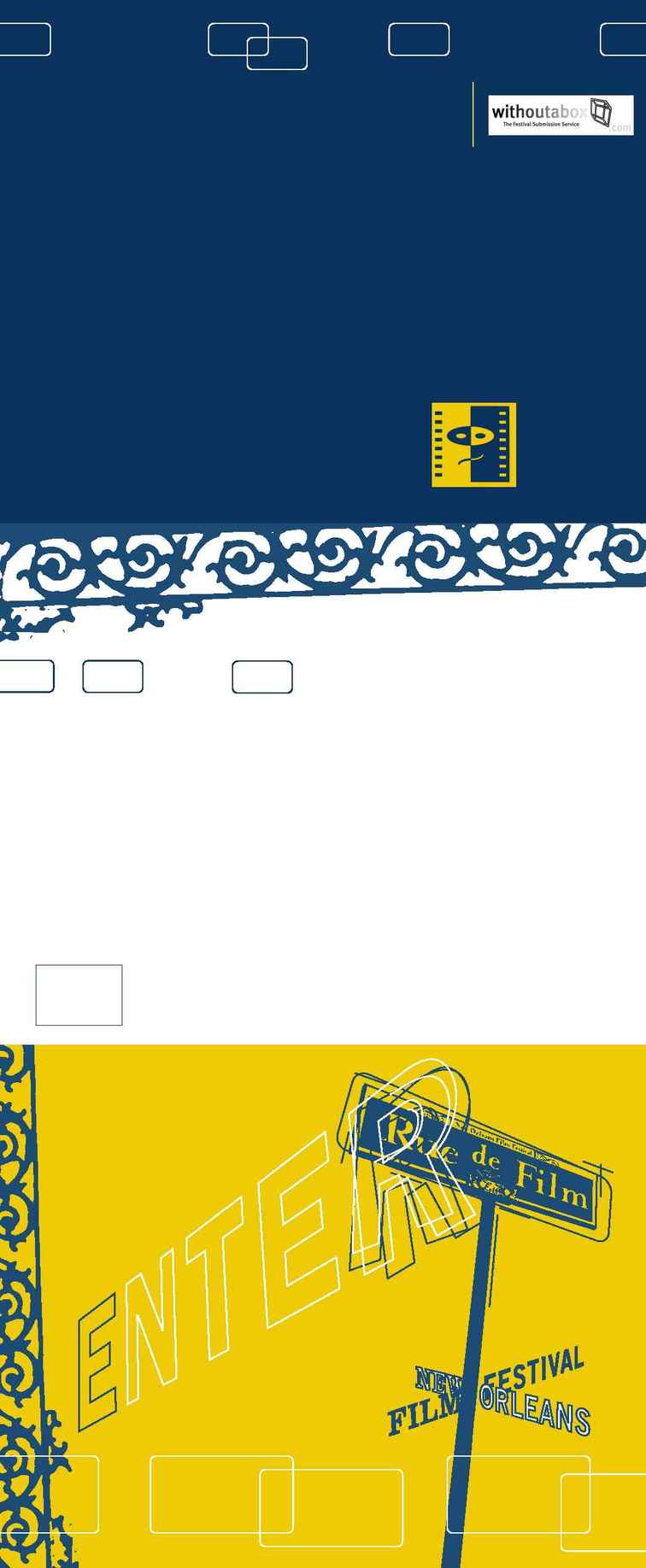 EARLY SUBMISSIONS:
postmarked by May 9, 2003
FINAL DEADLINE:
The New Orleans Film Festival
www.neworleansfilmfest.com
ENTRY REQUIREMENTS
Entries must have been completed on or after January 1, 2002.
The NOFF's competitive division screens films on:
35 mm
16 mm (optical track)
DVD
VHS
Beta video (NTSC)
EARLY SUBMISSIONS
: postmarked by May 9, 2003 ($35)
FINAL DEADLINE
: postmarked May 9 ­ June 13, 2003 ($45)
FILM FESTIVAL DATES
Films showing in the New Orleans area in the 6 weeks before or after
the October Festival are not eligible.
Video projection is with a high-quality, large-screen projector.
35 mm features and shorts accepted for screening may be shown by
video projection. Venues include The Contemporary Arts Center, the
Prytania Theatre and other premier sites around the city.
If accepted for Festival screening, the final screening copy of your
film must be received in the Festival office no later than one week
APPLICATION PROCEDURE
MAIL ENTRIES TO:
The New Orleans Film Festival
New Orleans, LA 70130 U.S.A.
Entries must be shipped pre-paid. Make checks or money orders
payable to the New Orleans Film Festival.
Foreign entries must be paid by money order or certified check in
Please submit video entries in NTSC format. We do not accept PAL.
Films accepted for screening at the Festival will be announced on our
website by mid-September 2003.
If you need more information, please give us a call at 504.524.5271
or visit our website at www.neworleansfilmfest.com.
w w w. n e w o r l e a n s f i l m f e s t . c o m
callfor
for
deadline june 13th
ENTER ONLINE:
15
th Annual
New Orleans Film Festival
m Varisco Designs Printing: Brennan'