New Orleans Film Festival entryform Page 1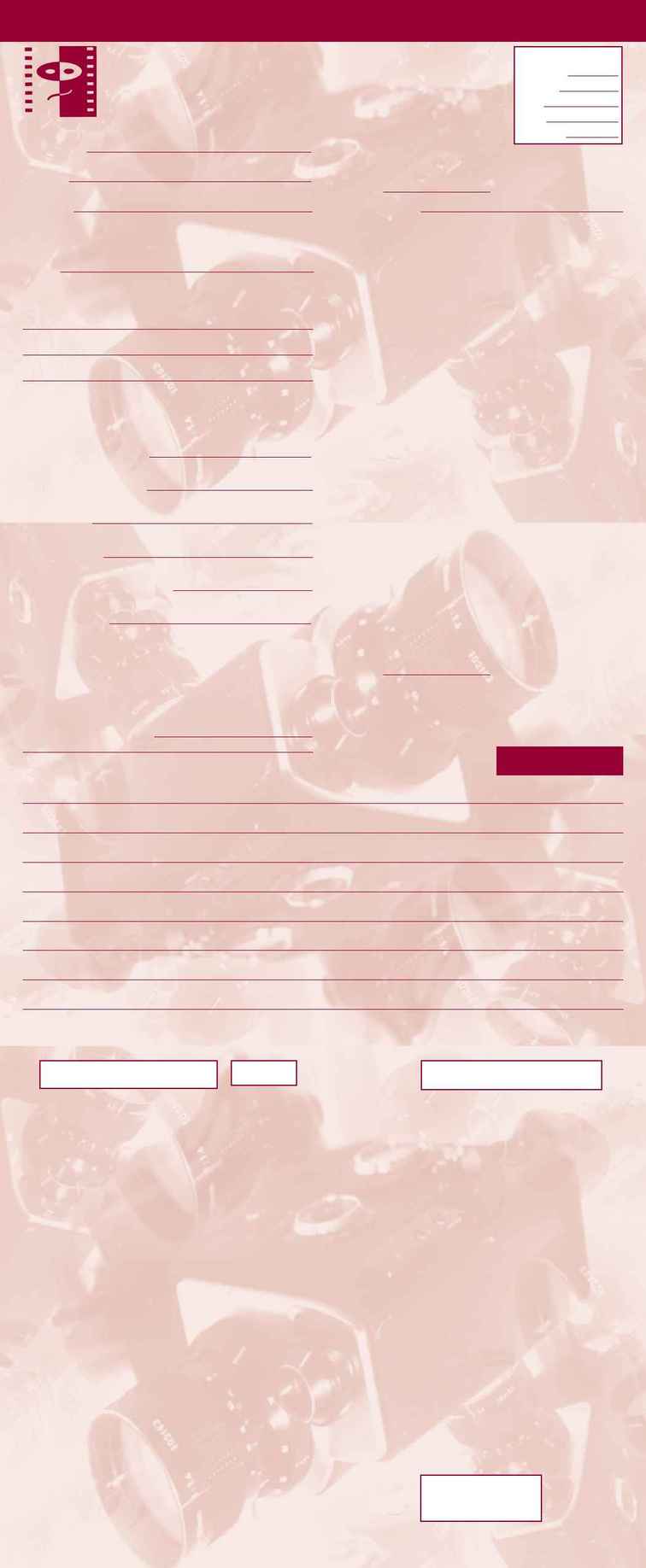 Please give us a short description of your film (in about 50 words or less):
Cinema 16
New Orleans Film Festival
225 Baronne Street, Suite 1712
New Orleans, LA 70112 U.S.A.
*All correspondence and awards not picked up at the
Festival will be sent to the mailing address above.
Precise Running Time of Film:
Format of Film:
Super 8mm 16mm 35mm SVHS (NTSC)
3/4" video (NTSC) Beta (NTSC)
Has this film previously been in a Festival?
If so, which Festival(s)?
Film Genre:

Please check one:

$45 Canadian & foreign entry fee
$55 Late U.S., Canadian & foreign entry fee
(All Canadian & foreign entry fees must be paid
by certified money order in U.S. dollars.)
Please check one:

I have provided a SASE (self-addressed stamped
envelope), please return my preview tape
You may keep the screening copy
First Deadline: June 1, 2000
Late Deadline: June 15, 2000
Completed and enclosed entry form
Entry fee (First or late fee)
Photographs or disc with images saved at 150 dpi
Self-addressed stamped envelope if you'd like the
prescreening tape returned
Self-addressed stamped postcard (notification of receipt)
Entries must be postmarked by June 1st for the First
Deadline and by June 15th for the Late Deadline.
How did you hear about us?

NOTE:
Please be sure your mailing box is sturdy. If you use
a mailing envelope, please do not use a fiber-filled one; the
fibers can get loose and destroy your cassette and our
For Office Use Only:
What is Cinema 16's Independent
Filmmakers' Showcase? We are the
competitive division of the New
Orleans Film Festival, which for the
last 11 years has taken place in
October in New Orleans (hence the
clever title). What kinds of film does
Cinema 16 show? Good ones, we
hope. We are open to narrative, doc-
umentary, and experimental works of
all lengths that address any subject
(good, bad, or ugly). We don't know
the meaning of the word `taboo'
(blame our 7th grade English
teacher). Actually, we still don't
accept instructional/industrial films
The other part of the festival shows
35mm art-house features, most of
which already have distribution.
These films are chosen by our infalli-
ble Artistic Director and are non-com-
petitive. The `center' of the festival will
be at Canal Place and Southern
Repertory Theatres (333 Canal
Street), which is located at the edge
All films submitted to Cinema 16 are
selected through a jury process prior
to the festival. The top rated film or
video will receive the $5,000
Judges' Award from Ruth's Chris
Steak House. Our top 5 scoring
films are awarded an engraved,
lucite Lumiere Award. Top rated
films produced in Louisiana are eli-
gible to win the "Louisiana Lumiere"
and the "Louisiana Lagniappe". In
1999, the festival awarded the win-
ner of the Judges' Award $5,000,
the Louisiana Lumiere winner
received $3,000 in equipment
rental from Panavision/Dallas, and
the Louisiana Lagniappe winner
received a NewTek Video Toaster NT
non-linear editor valued at $2,999.
Awards are presented to the winners
directly after their film screens - not
on a separate awards night. The
majority of our filmmakers attend
the festival, which affords them the
opportunity to have a brief question
and answer session after their film.
During the festival we hold panel dis-
cussions and workshops that feature
industry players and professionals who
address topics such as, "Distributing
the Indie film," "Music in Film,"
"Opportunities For LA filmmakers." We
also host a gala, cocktail parties, and
receptions where we encourage visit-
ing filmmakers and industry guests to
mix and make contacts. Our festival is
unique in that we cater to and enter-
tain our filmmakers, encouraging
them to meet each other and talk
shop, as well as taking them out to dif-
ferent clubs and nightspots each
evening for post-festival gatherings.
This being New Orleans, and the
world's premiere party city, we attempt
to show everyone a good time while
allowing them to network as much or
as little as they desire.
Entries (shot on any format) must