Florida Motion Picture and Television Association CRAentryform Page 2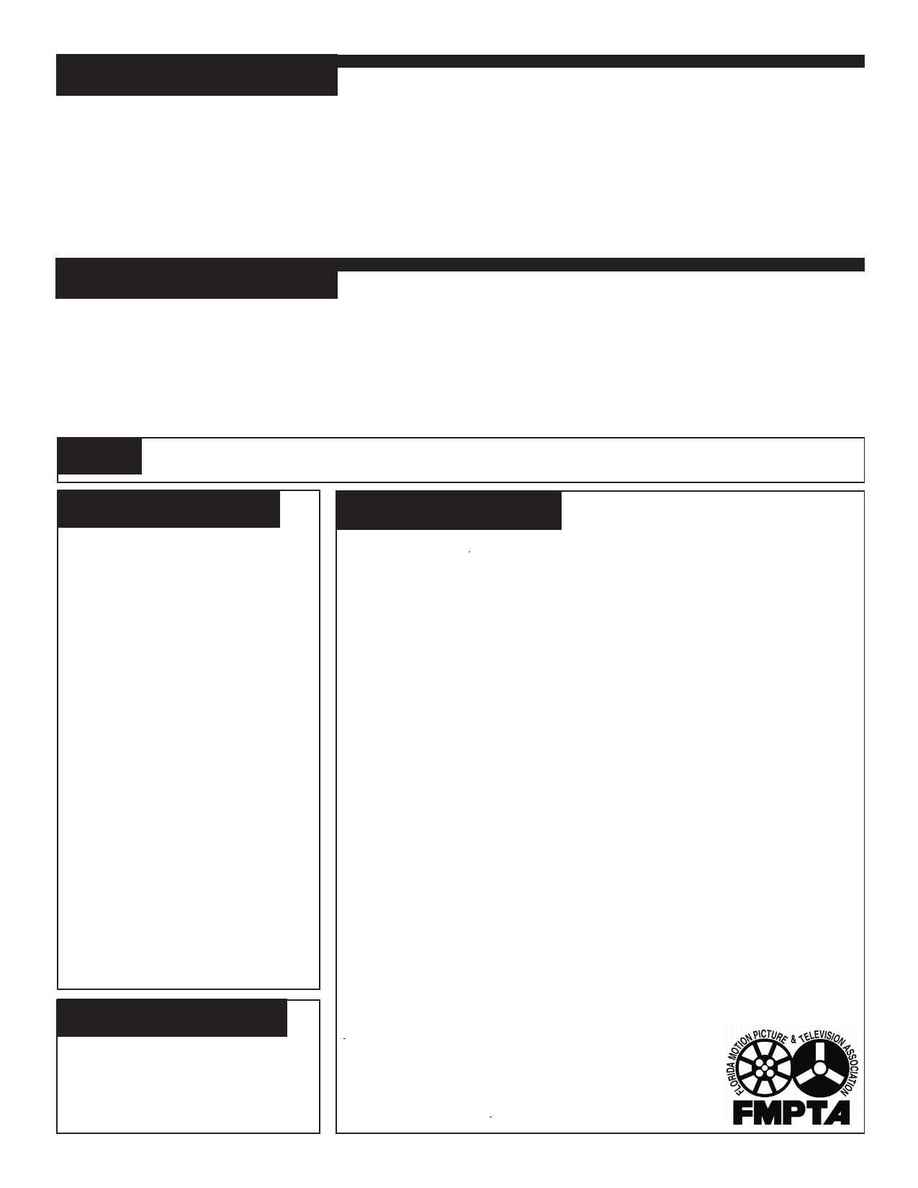 Judges are unbiased professionals representing a variety of occupations
in our industry. Entries are judged on a point basis; those earning enough
points will receive a specially designed Crystal Reel Award trophy. If no entry in a given category attains a high
enough score, there will be no Crystal awarded in that category. Second and third place will receive a special
mirror plaque: second is Silver, third is Bronze. Winners receive publicity in the form of recognition at the
awards banquet, listing in the FMPTA newsletters and press releases, and possible broadcast of the ceremony. In
the event there are more than one person involved in winning, a duplicate award may be ordered at the expense
of the recipients, based on the cost of producing and shipping the duplicates.
Entries must be submitted on VHS videocassette, DVD, CD or audio-
cassette. Scripts are to be entered in an accepted form for submission to
agents and studios. One entry per cassette, no ID leaders or slates, please. The entry form must be completed in
full and attached to the outside of the cassette. Each cassette and box must have a label on it listing the entrants
name and the Class, Type, and Category code of the entry. Entrants may use photocopies of the official entry
form for multiple entries. Entries that do not comply with these guidelines, do not have the applicable fee
enclosed, or are not received by the deadline will not be judged.
AWARDS
AND
JUDGING
HOW
TO
ENTER
A
A
2. $625,000.00 to $2 million
A
B. Broadcast Series/Pilot
C
C
G. Documentary/Special Program
H. Public Service Announcement (PSA)
K. Talk Show/News Program
M. Marketing/Corporate/Infomercial
Category 1: Best
101 Best (of Type of Production)
Category 2: Talent
205 Talk Show Host/Interviewer
207 Narration/Voice-over ­ Male
208 Narration/Voice-over ­ Female
Category 3:
Broadcast Journalism
301 Coverage of Breaking News
302 Investigative Reporting
Category 4: Writing
* A student may elect to enter as a Professional, but a school may only submit entries
into the Stutent class.
P ­ Professional/Independent
CLASS
TYPE
OF
PRODUCTION
AWARD CATEGORY
String together with dashes in this order:
Class ­ Type of Production ­ Category
Example: Entry Code for a Director of a
Student Music Video is S ­ F ­ 501
Category 5: Technical
502 Director of Photography
510 Special Effects ­ Computerized
511 Special Effects ­ Electromechanical
512 Special Effects ­ Makeup
513 Production Design/Art Direction
518 Print Media Photographer
Category 6: Music
COMPLETE ENTRY CODE
* A student may elect to enter as a Professional, but a school may only
submit entries into the Student class.