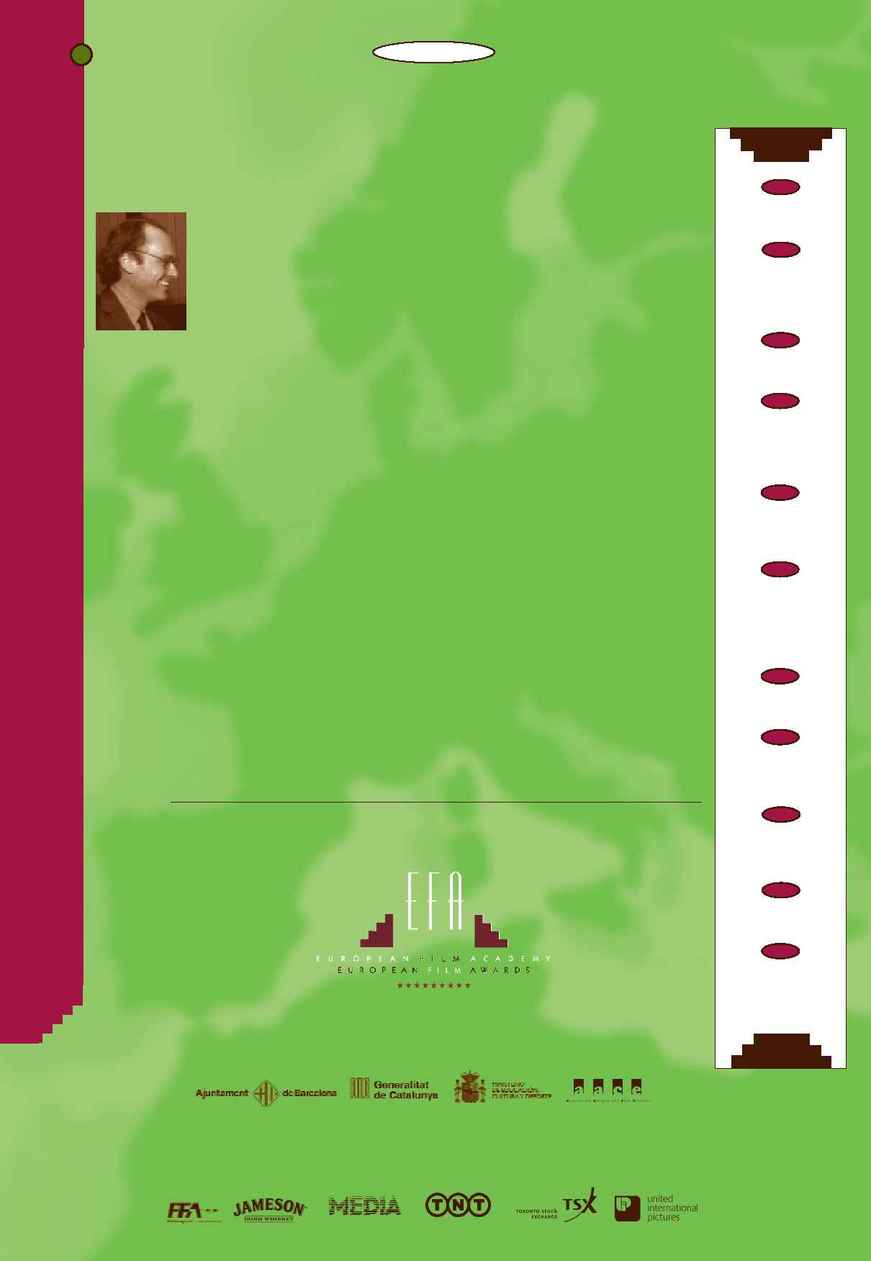 Interview
May 2004 · Number 1
6
Published by
I
LM A
What are your aims as the newly
elected chairman of the EFA Board? Is
there any upcoming projects you are
particularly excited about?
As deputy chairman I have been familiar
with the activities and developments
of the European Film Academy for a
couple of years and one of the develop-
ments I have always found crucial for
the future of the Academy is the in-
crease in our membership numbers. There
are still many countries and professions
which aren't represented well enough and I
think it should be our goal to change that
in order to represent all the different
aspects of European film culture.
What does the new incorporation of
Israeli and Palestinian filmmakers mean for
the European Film Academy as a whole?
Including Israeli and Palestinian filmmakers
means that we broaden our geographic
horizon and include a territory which has al-
ways had strong cultural links with Europe.
This is a first step in acknowledging that
European film doesn't end with the borders
In 2004, the European Film Awards will
be held in Spain for the first time. What are
your expectations?
It is important that the European Film Awards
travel and involve EFA members in different
parts of the continent ­ that's what Europe is
about, getting to know each other, establish-
ing links and friendships, living and working
together. It is also a great way to cast a special
light on a country's contribution to Euro-
pean film. And the Spanish certainly know
how to throw a good party ­ Barcelona will
For the first time, the European Film
Awards 2004 will include an award for
best music. How did this award come into
being and what is its significance?
This has taken a lot of preparation, but from
its very beginning, the European Film Academy
has been a dynamic representation of Euro-
pean film culture, growing and changing.
Some developments take longer than others
and it's great that we can now include a
music award. We are not just a club for pro-
ducers, directors and actors and this is a
step in the right direction.
Humbert Balsan
by
Elena Trapé Delgado
by Pascal Edelmann
by Amos Gitai and
George Ibrahim
T H E TA L E N T P R E S S
by Pamela Biénzobas
and Claire Chabat
H O W I L E A R N E D T O
L O V E T H E C R I T I C S
by Övgü Gökçe,
Laurence Boyce and
Saul Symonds
L E T ' S TA L K A B O U T
Thank you /
The Winners
Stephen Warbeck
The Regulations
WHAT 'S NEW?
EUR
OPEAN FILM
A
CADEMY
16
Official carrier to the
European Film Awards
The European Film Academy
Deutsche Klassenlotterie Berlin,
the German State Minister of
Culture and the Media, Medien-
H U M B E R T
B A L S A N ,
Chairman of
the European
Film Academy
Founded in 1988, the European Film Academy currently unites 1,600 European film professionals with the com-
mon aim of promoting Europe's film culture
Further information: www.europeanfilmacademy.org
The European Film Awards 2004 will be celebrated in Barcelona on December 11. They will
be presented by the European Film Academy with the support of the Spanish Ministerio de
Educación, Cultura y Deporte, Generalitat de Catalunya and Ayuntamiento de Barcelona.
A D R I A N A C H I E S A E N T E R P R I S E S
A O L T I M E W A R N E R
T H E C R E AT I V E PA R T N E R S H I P
S O N Y P I C T U R E S E N T E R TA I N M E N T
S T U D I O B A B E L S B E R G M OT I O N P I C T U R E S
U N I T E D I N T E R N AT I O N A L P I C T U R E S
A Programme of the European Union