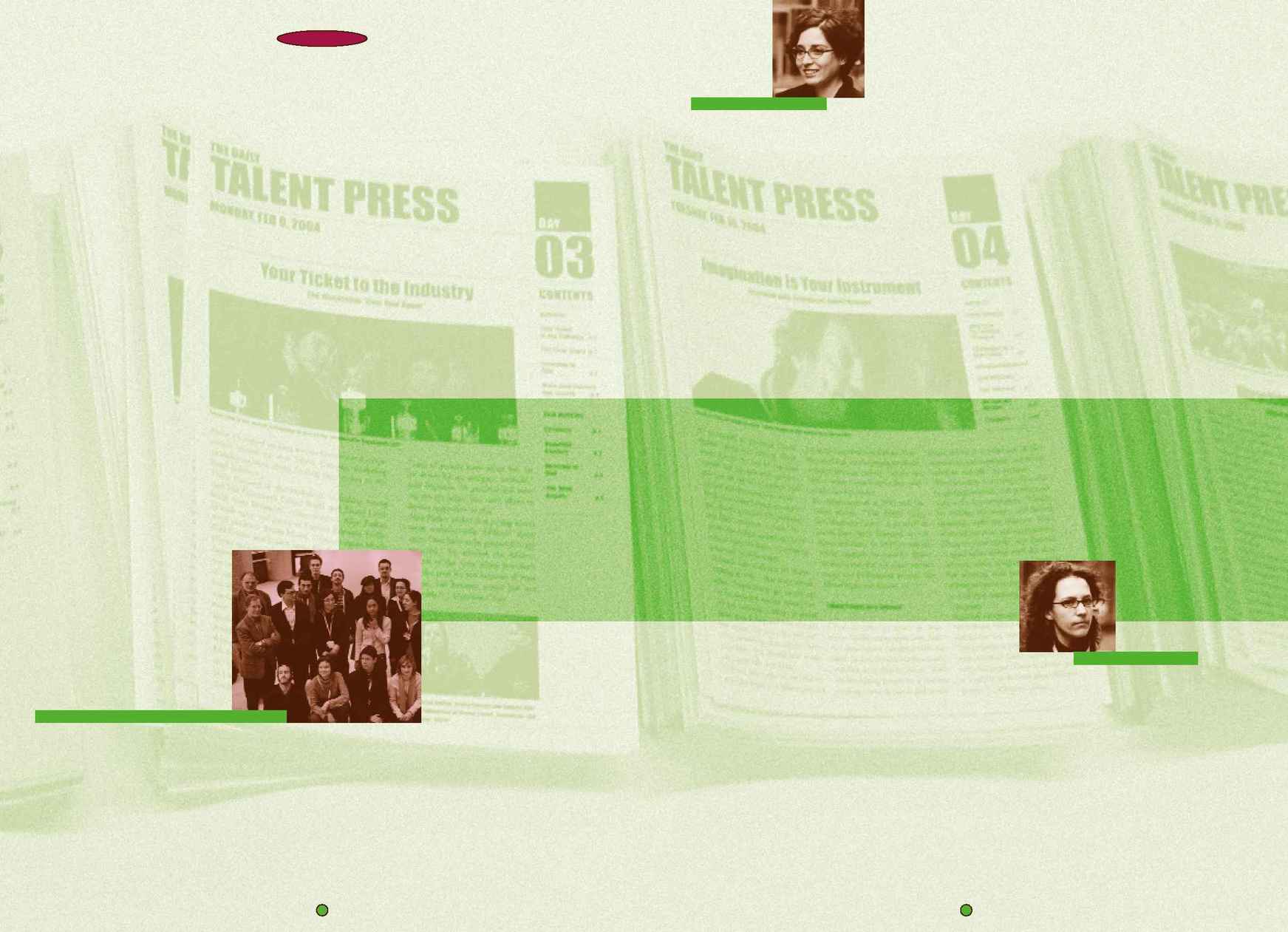 7
6
EFA Activities
THE
TALENT PRESS
During the Berlin International Film Festival, Fipresci, the Goethe
Institute, the Berlinale Talent Campus and the European Film
Academy presented THE TALENT PRESS. For the first time, eleven
young critics and film journalists from eleven different countries
were integrated into this year's Berlinale Talent Campus. Every day,
they published their reviews and articles in "The Daily Talent Press".
Was it worth it ?
I had the enormous pleasure of being part of the first "genera-
tion" of The Talent Press, the Berlinale Talent Campus' initiative
for a dozen film critics and journalists under 30 to spend a
week covering Campus events and reviewing Berlinale films.
A pleasure indeed, not because it was the first opportunity
to do this on a daily basis ≠ many of us already had a professional
background ≠ but because of how it was done. This sure was
unique. A cross between a workshop and a cinephile feast, the
project gathered us, eleven critics aged from 19 to 29 and
coming from Asia, Europe, Oceania and America (unfortunately,
our colleague from Zimbabwe could not come); plus our
host Pascal Edelmann, our editor Oliver Baumgarten from
Cologne-based Schnitt magazine and our first-rate tutors:
Fipresci secretary general Klaus Eder, The Guardian's Derek
Malcolm, Boston Phoenix's Chris Fujiwara, Aruna Vasudev from
India's Cinemaya magazine and Peter Cowie, one of the most
experienced film trade journalists. We worked together day to
day; we discussed our stories and reviews, and, wherever we
met and at whatever time of the day or night, went on talking
about our common passion.
Personally, I come from a country where being a film critic
means reviewing the seven-average weekly releases ≠ most of
them mainstream Hollywood ≠ and where there are no serious
university film studies apart from a couple of semesters in
careers in the arts or communications fields. That is why I
made the effort to follow postgraduate studies in France,
though that meant stopping my regular activity as a profession-
al film journalist. So it's easy to question your decisions and
wonder whether it makes any sense. It's easy to feel pretty
isolated and aimless in this path.
But I came back from Berlin with renewed energy, enthu-
siasm and clarity. I know I am part of something. Each one of
the people working in that typing room in the House of World
Cultures motivated me one way or another. Each one made
me want to rush out and catch up with those films I haven't
got round to; sit down and write without feeling it is sterile
work; develop my reflections on certain theoretical issues that
I was starting to feel there was nothing I could say about...
From the zeal and tremendous film culture of the youngest to
the kindness and support of the tutors (I must mention what
a great experience it was to have Derek Malcolm as my "mentor
for a week"), and, essentially, everyone's eagerness to try to rai-
se the level of our discussions regardless of the very casual at-
mosphere, it all made you feel it was worth the shot.
I know this enthusiasm is shared. We seriously discussed
giving this week's work some continuity by maintaining a regu-
lar publication where other young critics, and of course the
next generations of The Talent Press, could join in; and those
with contacts at film festivals in their countries talked about
trying to establish similar initiatives at a local level.
So, if someone wonders whether this new idea of having a
Talent Press in the Talent Campus was worth it, my answer is
that it definitely was.
A Bear, an Oyster And
the Talent Press
What do a bear, an oyster and eleven young film critics from
eleven different countries have in common? The Talent Press!
The new initiative from the Berlin International Film Festival
(Berlin's heraldic animal being a bear) opened in the House
of World Cultures (nicknamed "the pregnant oyster") and turned
into one of the finest exercises in cross-cultural film journal-
ism.
What was it like? Like a feast and an accelerator of cinema-
loving particles. Hopping from editorial meetings to workshops
at the Talent Campus to film screenings at the festival, you
couldn't but feel you are at the right place at the right time
with the right people. In five brisk days, I was fortunate to
have an interview with Alan Parker, go to the Walter Murch
conference or the John Cale performance, write and polish my
reviews with the renowned film trade journalist Peter Cowie
and meet students brimming with ideas and projects from
around the world.
At the end of this exhilarating experience, I have this re-
newed desire to write, read and talk about films and to see
film journalism a lot more through the eyes of film journalists,
whether they contribute to "revues" or teach cinema, organise
road-shows or are involved in the festival circuit, in Spain,
France, Chile, Poland, Russia, the
Indonesia or Hong Kong. The Talent Press "part 1" marks the
beginning of a great adventure and I wouldn't be surprised if
it spawned new initiatives. Why stop looking for pearls in the
oyster?
Pictures: Berlinale T
alent Campus
France
P A M E L A B I … N Z O B A S ,
Chile
P A R T I C I P A N T S A N D T U T O R S O F T H E TA L E N T P R E S S