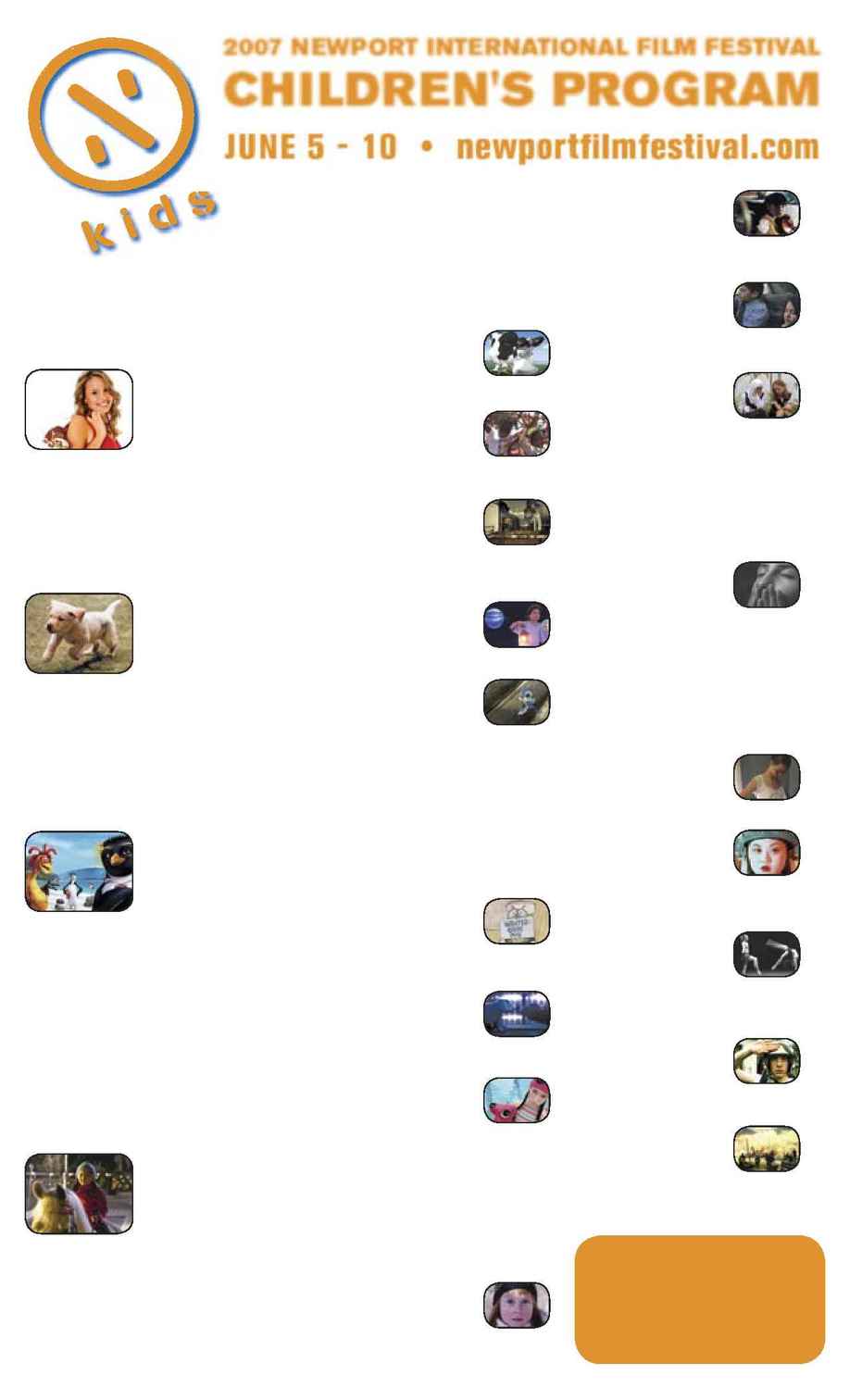 SHORTS PROGRAMS
SHORTS FOR ALL AGES
(67 MIN)
(Recommended ages: 6 to adult)
Wednesday, June 6, 10:30am at Jane Pickens
Friday, June 8, 10:30am at Jane Pickens
Saturday, June 9, 10:30am at Opera House 3
Agricultural Report
Director: Melina Sydney Padua
(IRELAND) 2004 3 min
A short film about the bliss of ignorance.
The Big Race
Director: Phil Aupperle
(MADAGASCAR) 2004 6 min
Two small boys from Madagascar show that you don't need fancy toys or
the latest technology to have some fun on a beautiful summer afternoon.
Delivery
Director: Till Nowak
(GERMANY) 2005 9 Minutes
An old man lives a lonely life under the dark shadows of industrial smog.
One day he receives a mysterious package which gives him the ability to
change his environment.
Dorme
Director: Sylvia Binsfeld
(USA) 2006 7 min
Dorme takes us on a magical journey into the enchanted world of dreams.
First Flight
Directors: Cameron Hood, Kyle Jefferson
(USA) 2006 8 min
First Flight is a computer-animated short film that tells the story of an uptight,
fastidiously organized businessman, whose perspective on life is forever
changed through an unexpected encounter with a tiny fledgling bird.
Photo credit: DreamWorks Animations First Flight
Flatlife
Director: Jonas Geirnaert
(Belgium) 2004 10 min
Hanging a painting on the wall, building a house of cards, doing the laun-
dry, and watching TV: harmless activities in the daily lives of four ordinary
people. But these people had to live next to each other.
Guide Dog
Director: Bill Plympton
(USA) 2006 6 min
Guide Dog is a sequel to the Oscar nominated short "Guard Dog". This time
our hero dog helps blind people with typical disastrous results.
One Rat Short
Director: Alex Weil
(USA) 2006 10 min
The mesmerizing ballet of a discarded food wrapper leads a New York
subway rat into an adventure of love and loss.
Swimming Lessons
Director: Ellen Raine-Scott
(USA) 2006 7 min
Swimming Lessons is the story of 8 year old Zoe, who must swim ­ or
sink- facing her fears on testing day at the swimming pool.
SHORTS FOR 10 +
(63 MIN)
(Recommended ages: 10 to adult)
Thursday, June 7, 10:30am at Jane Pickens
Sunday, June 10, 10:30am at Opera House 2
Big Girl
Director: Renuka Jeyapalan
(CANADA) 2006 14 min
Playfully competing with Mom's new boyfriend, nine-year-old Josephine
learns that letting people in can lead to wonderful things.
Chinese Dumplings
Director: Michelle Hung
(USA) 2006 8 minutes
Two young sisters will do anything to escape their daily violin
practice.
My Backyard Was A Mountain
Director: Adam Schlachter
(USA) 2005 24 min
The story of a Puerto Rican boy who has one day to find a home
for his pet goat before his family relocates to New York City.
Sirah
Director: Cristine Spindler
(USA) 2005 17 min
Sirah, a young Muslim girl born in the United States, wants to find
friendship. To do that, she must choose between the culture that
surrounds her and the one she grew up in.
GIRLS POV SHORTS
(66 MIN)
(Recommended ages: 14 to adult)
Saturday, June 9, 11am at Opera House 2
Sunday, June 10, 4pm at Jane Pickens
Alice or life in black and white
Director: Sophie Schoukens
(BELGIUM) 2006 15 min
A young girl, hovering in childhood, trapped on the threshold of
womanhood denying her heart and appetite. Will she find the
strength to soar herself into a world of color.
Dear Lemon Lima,
Director: Suzi Yoonessi
(USA) 2006 12 min
A lonely girl struggles to plant seeds of love after her narcissistic
sweetheart breaks her heart.
Fourteen
Director: Nicole Barnette
(USA) 2006 7 min
A big day in the life of a fourteen year old girl.
Fried Rice
Director: Nils Mooij
(NETHERLANDS) 2004 9 minutes
When the local butcher introduces nasi (fried rice), his adopted
Chinese daughter isn't too pleased... A tale full of narrow-minded-
ness and tactless clumsiness.
Gold
Directed: Rachel Davies
(UK) 2004 10 min
An experimental film exploring the formalities and demands of
Olympic gymnastics seen through the determination, skill and play-
ful competition of two girls.
Little Noel Wants To Fly
Director: Nassiem Valamanesh
(AUSTRALIA) 2002 8 mins
Electricity. Helmet. Sunshine. Mum. Dad. Brother. Bike. Fish.
Knives. Stamps. Ducks. Sleep. Test. Acceptance.
The Def Song
Director: Doctor L & Xavier Reyé
(FRANCE) 2004 5 min
At the sound of the «Big Bang» in an end of the world atmosphere, a
surrealistic and inspired collage on the war and conflicts of our century.
2007 NEWPORT INTERNATIONAL FILM FESTIVAL
FOR TICKETS & SCREENING TIMES:
newportfilmfestival.com
OR CALL: 401-846-4830
BOX OFFICE: 42 Spring Street, Newport
CHILDREN'S FEATURES
Her Best Move
Saturday, June 9, 2pm at Jane Pickens
High school is crazy enough, but for
fifteen-year-old soccer star Sara Davis
(Leah Pipes), it's about to get even
crazier. On the field she dances through
opponents to make impossible shots on
goal - skills honed daily by her father Gil
(Scott Patterson), a pro soccer coach.
Encouraged by best friend Tutti (Lalaine) to jump-start her life outside
soccer, Sara makes up for lost time and soon discovers there's more to life
than just sports. With U.S. Team scouts watching every shot, Sara faces the
challenge of discovering just who she is before making the best move of her
life.
Director: Norm Hunter
Quill
Saturday, June 9, 11am at Jane Pickens
Based on a true story, this beautiful
and heartwarming film follows a yellow
labrador, Quill, on his journey through
life as a guide dog. After months of
extensive training, Quill is assigned to
Mr. Watanabe, a cranky, middle-aged
man who depends entirely on his
cane and who is very distrustful of his new companion. But Quill shines
in repeated tests of diligence and patience, and eventually wins over his
master's confidence. In turn, Mr. Watanabe's life starts to change as he
begins to enjoy the world around him. This simply told, emotionally rivet-
ing tale of love and acceptance of change is a must see for children and
adults alike.
Recommended ages: 10 to adult
Director: Yoichi Sai
Surf's Up
Thursday, June 7, 5pm at Jane Pickens
Surf's Up is an animated action-com-
edy that delves behind the scenes of
the high-octane world of competitive
surfing. The film profiles teenage
Rockhopper penguin Cody Maverick
(Shia LaBeouf), an up-and-coming surf-
er, as he enters his first pro competition.
Followed by a camera crew to document his experiences, Cody leaves his
family and home in Shiverpool, Antarctica to travel to Pen Gu Island for the
Big Z Memorial Surf Off. Along the way, Cody meets surf nut Chicken Joe
(Jon Heder), famous surf promoter Reggie Belafonte (James Woods), surf
talent scout Mike Abromowitz (Mario Cantone), and spirited lifeguard Lani
Aliikai (Zooey Deschanel), all of whom recognize Cody's passion for surf-
ing, even if it's a bit misguided at times. Cody believes that winning will
bring him the admiration and respect he desires, but when he unexpect-
edly comes face-to-face with a washed-up old surfer (Jeff Bridges), Cody
begins to find his own way, and discovers that a true winner isn't always
the one who comes in first.
MPAA rated PG Directors: Ash
Branon, Chris Buck
Winky's Horse
(NETHERLANDS) 2005 96 min
Sunday, June 10, 11am at Jane Pickens
Meet Winky, a cute and spunky six year
old who is determined to fit in, even
though she has just immigrated from
China to The Netherlands and can barely
speak any Dutch. Winky may be slowly
learning the ways of her new home, but
when she meets a neighbor's horse, she
decides that she has finally found a friend. Soon, Winky begins to spend her
days biking between school, her family's restaurant, and the horse's pasture.
When it becomes clear that she can't help take care of the horse forever,
Winky goes to extraordinary means to get her own. A delightful film about a
young girl with an uncanny ability to problem solve and the courage to fol-
low her dreams. Recommended ages: 6 to 10 (Need to read. In Dutch with English
subtitles) Director: Mischa Kamp
JUNE 5 - 10 · newportfilmfestival.com