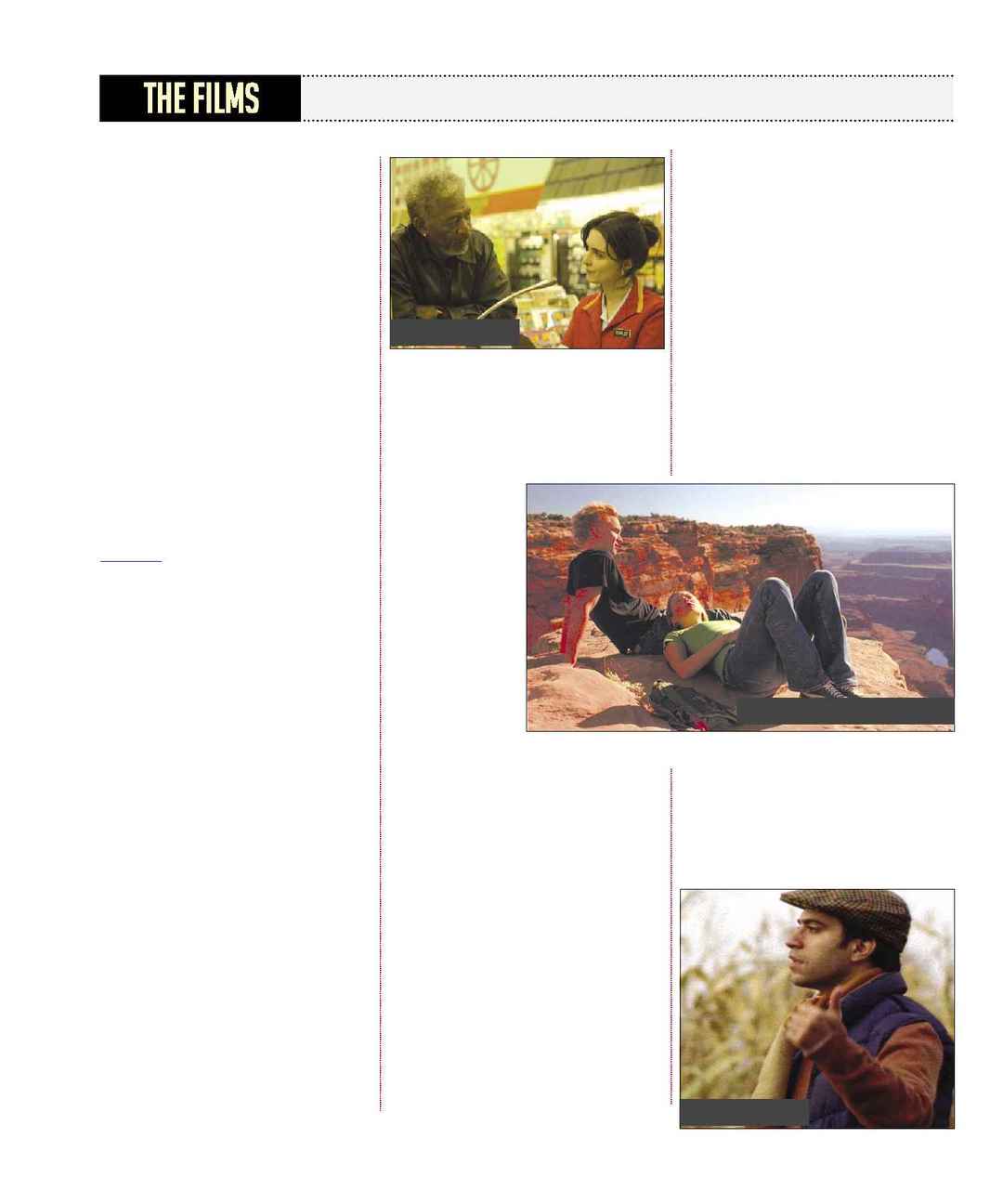 This fifteen-minute journey into a disgruntled husband's
world leads him to end his marriage and a life. He'll soon
find out that hiring a hitman in a small town can have
certain unexpected repercussions. Filmmaker will be in
attendance.
PICKLES
Feature documentary, Israel / 59 minutes, DVCam
Director, Writer: Dalit Kimor / Producer: Nitza Gonen
Challenging the custom to remain at home, 8 Moslem
Arab Israeli widows join forces and start a pickle factory
despite setbacks. As widows with no income, they are
condemned to be lonely, stay at home and raise their
children on a meager Social Security allowance. If they
remarry they would traditionally have to give up their
children. In response to their situation, they decide to join
forces and open and run a company that produces pickles
though they have never held jobs before. The film tracks
the progress and development of this unconventional
start up as these women work to improve their lives.
While their personal lives reflect the joys and sadness of
family weddings, bereavement, and loneliness, they face
numerous hurdles as the business struggles to expand to
stores throughout Israel. Southern premiere.
QUIO: SO DAZED
5 minutes, 16mm
Director, Producer: Christine Lang
www.khm.de
KING CAKE
Short documentary, Gautier, Mississippi / 18 minutes,
MiniDV
Director, Producer: S. Dixon McDowell
King Cake explores the traditional Mardi Gras sweet,
round cake with the baby inside. Street interviews in
New Orleans, Mardi Gras images, and even a trip to Paul's
Pastry Shop to see how king cakes are made, create a
lively portrait of the subject. Previously screened at Ocean
Springs Film Festival, Slo Food Festival, and Natchez
Literary and Cinema Celebration. Filmmaker will be in
attendance.
JESSE & JILL
Short narrative, New York / 17 minutes, MiniDV
Director, Writer: Dakkan Abbe / Producer: Heather Murphy
Jesse Tannen is a lonely grad student who answers an
online ad offering to pay him for sex; he thinks it's a joke,
but discovers it is all too real. What happens next changes
both of their lives forever. Southern premiere.
ROSLYN
Short narrative, Texas / 8 minutes, 16mm
Director, Writer: Will Canon / Producers: Will Canon, Phil
Montgomery
www.threefolks.com
The heart-stopping tale of a young man at the wrong place
at the wrong time. Mississippi premiere.
LOOM
Animation, California / 5 minutes, 35 mm
Director, Producer, Writer: Scott Kravitz
www.scottkravitz.com
A street musician risks his life to save a child and meets
his fate at the hands of an old woman whom is more than
she seems.

5pm, Parkway Screen A (106 min.)
10 ITEMS OR LESS
(NOT IN COMPETITION)
Feature narrative, California / 82 minutes, 35mm
Director, Writer: Brad Silberling / Producers: Morgan
Freeman, Julie Lynn, Lori McCreary, Brad Silberling, Kelly
Thomas
Starring: Morgan Freeman, Paz Vega
www.thinkfilmcompany.com
While researching a role for an independent film, an aging
actor (Morgan Freeman)
strikes up an unlikely
and life-changing
friendship with a feisty
young Latina grocery clerk
(Paz Vega, "Spanglish")
in this inspiring comedy.
Stranded
market on the edge of
Los Angeles, the famous
actor accepts a ride from
a sassy store employee,
Scarlet. The odd couple
hits the road, and so
begins a trip filled with
offbeat encounters and
surprising
"The first time we showed
the film to an audience,
someone said, Now I
know what it s like to spend time with Morgan Freeman.
Watching people who are complete strangers create
intimacy, trusting that we could hang a whole film on that
without needing to protect ourselves; that is the film." -
Brad Silberling, director. Rated R.
COLOURBARS
Animtaion, Ontario, Canada / 2 minutes, 16 mm
Director, Writer: Timothy Moore / Producer: Zachary Gans
www.geezleproductions.com/colourbars
Combining live action and traditional cell animation,
this short film depicts a typical day near the end of the
Colourbars' career. Best Animated Short 2006 Student
Shorts Film Festival, Best Experimental Film 2006
Animation Block Party Summerfest, Grand Jury Prize
2006 Toronto International Film Festival Group Student
Showcase. Filmmaker will be in attendance. Southern
premiere.
THE FRANK ANDERSON
Short narrative, California / 13 minutes, Super 16mm
Director: Dave Perkal / Producers: Orit Schwartz, Jill
Effron, Toti Levine, Mike Risner / Writer: Orit Schwartz
wwww.thefrankanderson.com
Frank Anderson has man-boobs. Losing his battle against
the insurance company to have them reduced, he wins in
other ways. This in turn starts a man-boob phenomenon.
Mississippi premiere.

SINTONIA
Short narrative, Spain / 9 minutes, 35mm
Director, Writer: Jose Mari Goenaga / Producers: Aitor
Arregi, Moriarti Produkzioak, S.L.
www.kimuak.com
It's not a question of long conversations, of long years of
living together. Sometimes, in a place where people pass
each other by, in only a few minutes, you may find yourself
connecting with someone. Mississippi premiere.
ALL THE DAYS BEFORE TOMORROW
Feature narrative, California / 100 minutes, 35mm
Director, Writer: Francois Dompierre / Producers:
Francois Dompierre and Kevin Leydon
www.allthedaysbeforetomorrow.com
This is the story of the unmistakable chemistry between
two people who are right for each other, but at the wrong
moment in time. Starring Alexandra Holden ("The Hot
Chick", "Drop Dead Gorgeous", "Friends", "Ally McBeal"),
Joey Kern ("Cabin Fever", appearances on "Sex and the
City"), and Richard Roundtree (forever known to audiences
as "Shaft", Se7en, BRICK, "Desperate Housewives").
Previously screened at the Rio de Janiero International
Film Festival and Cinequest Film Festival.
ZION HILL
Short narrative, New York / 13 minutes, 16mm
Director, Producer, Writer: Daniel Dzula
Jean Winters has lived with his grandmother all his
life, outside the small, suburban town of Zion Hill, New
Jersey. Inspired by his mother's old collection of Kerouac
novels and Beach Boys records, he decides to hitchhike
looking for love and life, but mostly in search of himself.
Filmmaker will be in attendance. World premiere.
ALL THE DAYS BEFORE TOMORROW
T
he 8th Annu
18
each film block is $5 for members, $7 for non-members