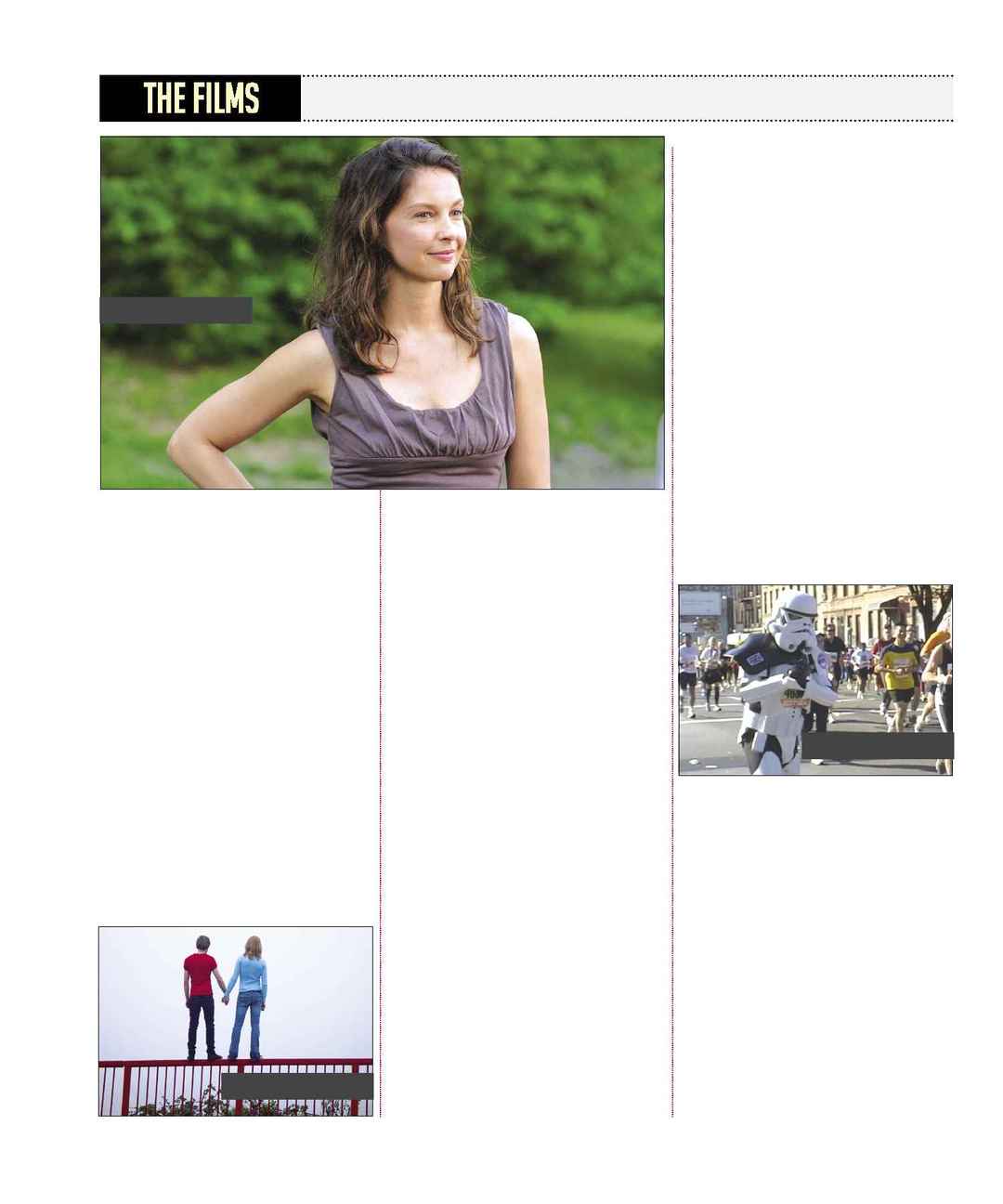 CRANIUM THEATER
Animation Illinois / 7 minutes, Digital Still
Director, Producer, Writer: Jason Sandri
www.jasonsandri.com
A quirky and surrealistic critique on the excessive
demands of church and state on the common man.
Filmmaker will be In attendance. Best Student Animation
-Chicago International Film Festival

5pm, Parkway Screen A (101 min.)
I KNOW I'M NOT ALONE (NOT IN COMPETITION)
Feature documentary / 86 minutes
Director, Writer: Michael Franti / Producer: Michael
Franti & Guerrilla Management
www.iknowimnotalone.com
Armed with an acoustic guitar and a video camera,
musician Michael Franti (frontman of the reggae/hip-hop
band Spearhead) takes us on a musical journey through
war and occupation in Iraq, Israel, and Palestine. Along
the way he shares his music with families, doctors,
musicians, soldiers and everyday people who in turn
reveal to him the often overlooked human cost of war. All
music written by Michael Franti. Best Documentary - San
Francisco International Film Festival, Best International
Documentary--Harlem International Film Festival
MY SMALL PIECE OF LAND
Short documentary, Israel / 6 minutes, MiniDV
Director: Udi Efrat / Producers, Writers: Various
www.documentarychallenge.org
One Palestinian man's experience with goats, nature,
and the desire for freedom. Made for the inaugural
International Documentary Challenge, a timed filmmaking
competition where teams from around the world had just 5
days to make a short documentary film. Best Soundtrack,
Best Use of Freedom Theme--International Documentary
Challenge. Southern premiere.

RED WITHOUT BLUE
Feature documentary, France / 77 minutes, MiniDV/
Super 8mm
Directors, Producers: Benita Sills, Todd Sills, Brooke
Sebold
www.redwithoutblue.com
Red Without Blue chronicles the close, yet sometimes
strained relationship between identical twins, Mark and
Alex, as Alex undergoes a transformation into a woman
named Clair. Through candid and extensive interviews,
each twin recounts the difficulties of growing up gay
in Montana, the deleterious effects of their parents'
separation, and the boundaries crossed as drugs and
sexual experimentation spiraled out of control. From the
twins' retelling, we experience the singular bond they
shared as children, the hardships they endured, and
Mark's evolving perspective now that his identical twin
has ceased to be identical. Audience Award - Slamdance
Film Festival 2007. Southern premiere.
THE SPACE WITHIN MEMORY
Experimental, Oxford, Mississippi / 5 minutes, MiniDV
Director, Producer: April Grayson
www.aprilgrayson.com
An abstract journey through the filmmaker's memory
and emotions about her hometown of Rolling Fork, a
small farming hamlet in the Mississippi delta. Previously
screened at Oxford Film Festival.
STARTLE PATTERN
Experimental, North Carolina / 13 minutes, 16 mm
Director, Producer, Writer: Eric Patrick
Startle Pattern is a farewell card to film in an increasingly
digital age. In this late age of emulsion, this essay is a call
of the cinematic gaze to a state of crisis: the narrative of
isolation leaves a puppet's forms tattered and decayed,
and hints at the Protagonist's delicate relationship
with reality, voyeurism, the director and the apparatus.
Southern premiere.

7pm, Parkway Screen A (113 minutes)
COME EARLY MORNING (NOT IN COMPETITION)
Feature narrative, Arkansas / 97 minutes, 35mm
Director, Writer: Joey Lauren Adams
Starring: Ashley Judd, Tim Blake Nelson, Diane Ladd,
Stacy Keach
Lucy (Ashley Judd) Is a 30-something woman who keeps
waking up with a stiff hangover and a guy she doesn't even
want to look at. Lucy begins to realize that she needs to get
In touch with her familial past and, more Importantly, with the
person she has become. Rated R. Writer/director Joey Lauren
Adams (star of "Chasing Amy") will be In attendance.
ERAMOS POCOS
Short narrative, Spain / 16 minutes, 35mm
Director: Borja Cobeaga / Producers: Oihana Olea,
Altube Filmeak, S.L.
Writers: Borja Cobeaga, Sergio Barrejon
www.kimuak.com
When his wife leaves him, Joaquin turns to his son to
help him bring his mother-in-law out of a home to do
the housework. Nominated for Best Short (Live Action),
Academy Awards 2007. Mississippi premiere.
7pm, Parkway Screen B (115 min.)
HEART OF AN EMPIRE
Feature documentary, New York
115 minutes, BetaSP
Director, Writer: Jay Thompson
Producers: Leon Clarence, Natalie Mehlberger, Jay
Thompson, David Finleyson
www.heartofanempire.com
Albin Johnson of South Carolina founded a small club
In 1997 for fans of the Star Wars Trilogy who owned
authentic costumes of the films' Imperial forces. He
dubbed it the fighting 501st Legion, consisting of such
icons as Stormtroopers and Darth Vader. This very visible,
but misunderstood group of nearly 4500 members
dressed as Stormtroopers do charity work worldwide.
We follow their public and private worlds, attempting to
explore the reasons why these adults choose to dress up
in costumes of science-fiction characters. Finally, we bear
witness to an incredibly ironic twist of fate that will reveal
what really lies at the Heart of an Empire. The filmmakers
will be In attendance along with members of the 501st
Legion. Southern premiere.
T
he 8th Annu
16
each film block is $5 for members, $7 for non-members