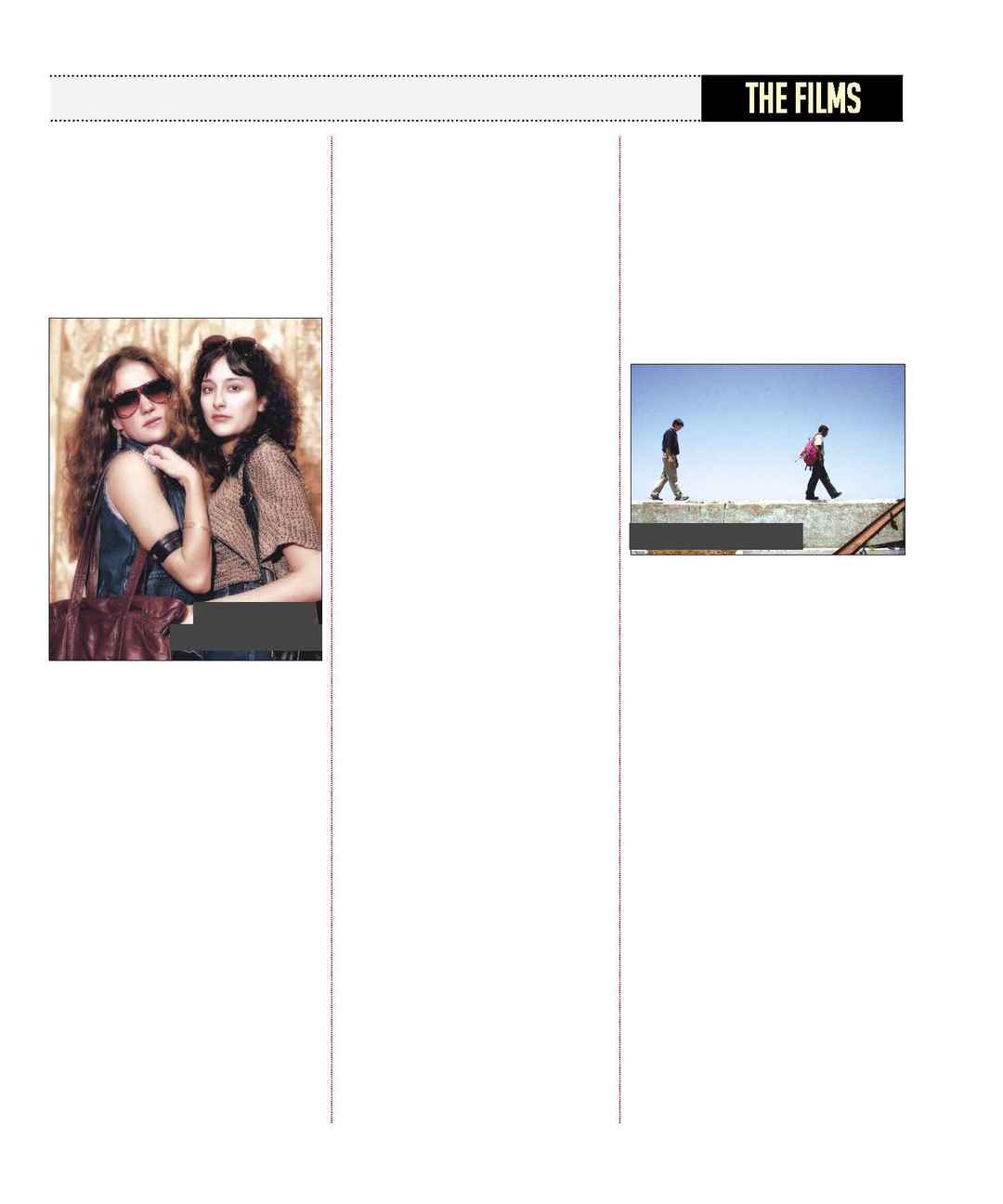 MR. EXTION
Short narrative, Alabama / 11 minutes, DV
Directors, Writers: Griffin Hood and Barry Battles /
Producers: Griffin Hood, Barry Battles, Carl Ross
www.mrextionmovie.com
Two life-long friends and aspiring filmmakers find that
developing an original idea is hard to pull off -- especially
down South. Through the span of a day, the two reveal
their true feelings on film, stereotypes, race and each
other. Best Short and Audience Choice at Southern Fried
Flicks 2007. Filmmaker will be in attendance.
Mississippi premiere.
THE CARESS OF THE CREATURE
Student, Florida / 20 minutes, 16mm
Director, Writer: Stewart McAlpine / Producer: Eric Leong
On break from construction work, the Foreman takes a
swim in the waters of Lake Habbagappee and encounters
a creature from the depths below. This awakens his desire
to experience other experiences that he has not yet had
the chance to go through. Deciding he must do anything
to stop these feelings and the unnatural creature that
created them, will the Foreman defeat the inner demons
that torment him? Will the monster forever alter society as
we know it? Will the world ever recover from the awesome
sensation caused by The Caress of the Creature!?! "The
most controversial FSU thesis film in the history of ever!"
- Random observer
1pm, Parkway Screen B (105 min.)
THE MUSIC MAKER
Short documentary, Clarksdale, Mississippi / 20 minutes, DV
Directors: Julie Drapkin, Patrick Crews / Producer:
Barefoot Workshops, Inc
www.barefootworkshops.org
Everybody who comes to Clarksdale knows Mr. Tater the
Music Maker even if they can't understand his style of
music or conversation. One of the last true Blues men
of Clarksdale, the self-taught musician and bus boy at
Ground Zero Blues Club, stutters when he talks and can't
play traditional guitar chords. But his genuine love and
determination to be true to his music inspires all who take
the time to listen.
THE DODGY TRAIN TO CLARKSDALE
Short documentary, Clarksdale, Mississippi / 12 minutes,
DV
Directors: Susana Travieso, Treyton Williams / Producer:
Barefoot Workshops, Inc
www.barefootworkshops.org
In search for answers to "what the blues is," Australian
singer/songwriter Adrian Kosky travels to Clarksdale,
Mississippi. He finds answers through the wisdom and
stories of people who helped shape the history of the
south.
BAREFOOT WORKSHOPS, GULF COAST
INTRODUCTION (9 MIN.)
THIS IS HOME: MY KATRINA STORY, PHOTO ESSAY
Short documentary, Gulf Coast, Mississippi / 3 minutes
each, DV
Directors: Students in Bay St. Louis and Waveland
Producer: Barefoot Workshops, Inc
www.barefootworkshops.org
The media has neglected to tell Mississippi's stories from
Hurricane Katrina. In June of 2006 Barefoot Workshops
ran two simultaneous workshops with high school kids
from Bay St. Louis and Waveland. Using digital video and
photo cameras, sound recording equipment and desktop
editing stations, students explored what happened during
Katrina, how they coped with the devastation, and what life
was like almost a year later. Students were led by Jackson
natives Chandler Griffin, a documentary filmmaker, and
photographer Ron Blaylock. Filmmaker Damien Blaylock
produced a behind-the-scenes video and will be in
attendance.

KATRINA'S WAKE
Short narrative, Pennsylvania / 21 minutes, HD
Director, Writer: Kathilynn Phillips / Producers:
Kathilynn Phillips, Austin Haley, Jeremy Nocon
www.katscratchfilms.com
This is the fictional story of a family who seeks refuge in
their attic from the rising floodwaters of Hurricane Katrina.
No food. No water. No escape. And, unfortunately, no one
knows they're there. Filmmaker will be in attendance.
Honorable Mention--Rhode Island Film Festival
ABOVE THE LINE: SAVING WILLIE MAE'S SCOTCH
HOUSE
Short documentary, Oxford, Mississippi / 37 minutes,
MiniDV
Director: Joe York / Producers: Andy Harper, John T. Edge,
Joe York
When Hurricane Katrina hit New Orleans and the levees
failed, Willie Mae Seaton's famed Scotch House restaurant
succumbed to the destructive power of the rising water.
Over the past year, Oxford restaurateur John Currence
has led the effort to restore this culinary and cultural
landmark and put Ms. Seaton back in her kitchen. Soon,
Willie Mae will be back cooking, sending out the plates
of fried chicken and red beans and rice that earned her a
James Beard Award (the highest culinary award bestowed
in America). Filmmaker will be in attendance.
3pm, Parkway Screen A (101 min.)
OH, MR. FAULKNER, DO YOU WRITE? (NOT IN
COMPETITION)
Feature narrative, California / 82 minutes, HD
Director: Jimbo Barnett / Producer: Audrey Malone /
Writer: John Maxwell
John Maxwell's critically acclaimed one-man show based on
the life of William Faulkner is filmed before a live audience
in Faulkner's hometown of Oxford, MS. In a rare visit to
Faulkner's study, we get a glimpse of the literary giant and
Nobel laureate's character and psyche. The story is set in
1950, as Faulkner ruminates on his past and ponders if he
should indeed accept the Nobel Prize for Literature that was
awarded to him. Writer and star, John Maxwell lives and
works in Jackson. Director Jimbo Barnett is from Meridian,
Mississippi currently living in Los Angeles. Filmmaker will
be In attendance. Mississippi premiere.
APPARITIONS UNRENOWNED
Experimental, Tupelo, Mississippi / 12 minutes, MiniDV
Director: Tony Caldwell / Producer: Missy Caldwell
www.myspace.com/apparitions_unrenowned
A lone traveler searches for meaning among the haunting
landscapes of the Mississippi Delta. Filmmaker will be In
attendance.
MY FATHER'S SON
Short documentary, Oregon / 6 minutes, Mini DV
Director, Producer, Writer: Jarratt Taylor
This film is an exploration of the effects that my father
has had on me, of what I've inherited and what I've left
behind. Through an examination of how we once took
self-portraits in a similar manner, I begin to unravel what
those portraits mean, and how the manner in which our
family histories are told has changed from an oral history
to a more pictoral one. Jarrat Is a native Mississippian and
will be In attendance. Filmmaker will be In attendance.
Mississippi premiere.
3pm, Parkway Screen B (97 min.)
LOW AND BEHOLD
Feature narrative, Louisiana / 89 minutes, Sony HD Cam
Director: Zack Godshall / Producers: Sarah Hendler,
Barlow Jacobs, Colby Johnson
Writers: Zack Godshall, Barlow Jacobs
www.lowandbeholdmovie.com
Turner Stull (Barlow Jacobs), an uninspired young man
trying to figure out what he wants to do with his life,
arrives in hurricane-ravaged New Orleans to work as an
insurance claims adjuster. Greeted by his Uncle Stully
(Robert Longstreet), a seasoned claim adjuster, he is
quickly immersed into the routine: move fast, don't get
emotionally involved, and make a lot of money. Turner, not
prepared to deal with people who have lost everything,
is totally overwhelmed. In a moment of crisis, Turner
agrees to help Nixon (Eddie Rouse), a local man, find his
lost dog. In exchange for Turner helping look for the lost
dog, Nixon lends a hand with Turner's insurance claims.
Turner and Nixon begin to navigate their way through the
storm-ravaged city, a journey that will change Turner's life.
"...what makes low and behold so satisfying [is] it shows all
sides of humanity. filmmakers will be in attendance. there's
not one emotion, but many... i never thought a movie about
tragedy could be so funny. this film covers all aspects of
humanity in a truly thoughtful way."-cinematl
.cr
o
ssr
o
15
each film block is $5 for members, $7 for non-members