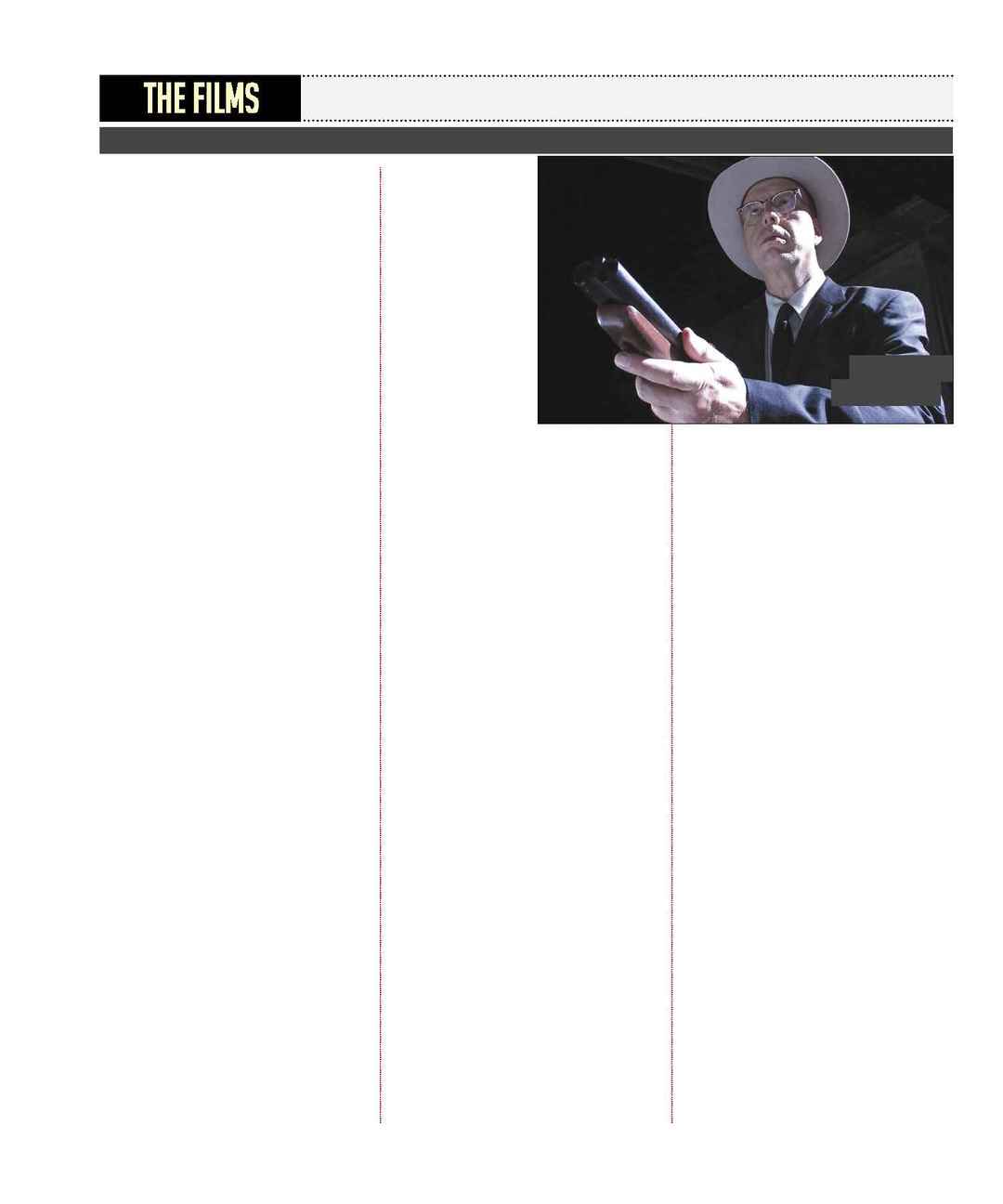 10:30am, Millsaps Olin Hall (139 min.)
CANTON YOUNG FILMMAKERS SUMMER 2006
PROGRAM (NOT IN COMPETITION)
Youth, Canton, Mississippi / 30 minutes, MiniDV
THE CASE 859 - It was summer, and it was hot!
ROSAMOND REBELLION - At the Rosamond Institute for
Higher Learning, the rules are very strict.
STAYIN' ALIVE - A 1970s pop culture fan saves the world
from mass destruction.
TROLIO TRICKERY - A family of three checks into a hotel
with a mysterious history and a trail of notes.
THE BEST SHOW EVER - The best reality show ever made
featuring all of your favorite pop celebrities.

GIALLO TRAILER
Youth, Jackson, Mississippi / 2 minutes, DV
Director, Writer: Chris Moore / Producers: Chris Moore,
Andrew Roach, and Amanda Grussautte
During Christmas Break, six high school friends go
missing. Only one has been found and it's up to the
precinct psychiatrist to find out what happened in this
throwback to the 70's Italian Giallo thrillers. Filmmaker
will be In attendance. World premiere.

NEVER BET THE DEVIL YOUR HEAD
Youth, Michigan / 21 minutes, Mini DV
Director, Producer, Writer: Christopher Jarvis
www.jarvisfilms.com
This adaptation of Edgar Allen Poe's 1841 satire, "A Moral
Tale" is about a young man of dubious morals. Toby
enjoys drinking, smoking, telling lies, and gambling.
Owning nothing of value, his favorite wager is, "I'll bet the
devil my head." His best friend implores him to stop using
this expression before it gets him into real trouble.
THE DANCE
Youth, New York / 4 minutes, 16 mm
Director, Producer, Writer: Jennifer Lim
A teenage girl energetically prepares for what she expects
to be the night of her life, only to be disappointed by the
dreariness of reality. Previously screened at the LA Film
Festival, Oxnard Independent Film Festival, ISMF, and
Berkeley Video and Film Festival.

PIECES
Youth, Michigan / 7 minutes, Mini DV
Director, Producer: Christopher Jarvis / Writers:
Christopher Jarvis and Chad Slocum
www.jarvisfilms.com
A lonely young man stuck in a paranoid routine seeks
counseling, but ends up in a bizarre chess game. This film
was a "25 Hour Festival" creation and winner, in which
teams had only 25 hours to complete the assigned project.

HAMLET
Youth, Brandon, Mississippi / 24 minutes, Hi 8
Director, Producer: Curtis Everett / Writer: William
Shakespeare (play), Curtis Everett (adaptation)
Hamlet and his friend Horatio combat Claudius, the
nefarious uncle and step-father of Hamlet. On the way,
they encounter ghosts from the past, a mysterious
briefcase, and a conspiracy that is not as camouflaged
as those who conceived it to be. The filmmaker will be In
attendance. World premiere.

ANDY AND THE PURPLE CAT: AN NJ MUSICAL
Youth, Tennessee / 12 minutes, MiniDV
Directors, Producers, Writers: Julia Huskey and Natalie
Ashker
Andy is a normal girl who
wants to make it big. With
the help of her close friends,
she won't give up until her
dreams of being a singer
come true. Filled with songs
that will make you want
to sing along, this musical
is one that everyone can
enjoy. Filmmaker will be In
attendance. Screened at
Youth Showcase at the Indie
Memphis Film Festival 2006
SO, YOU'RE A VAMPIRE,
WHAT NOW?
Youth, Michigan / 11
minutes, MiniDV
Director, Writer: Trevor Scott
/ Producer: Katie LePoer
An instructional video for
newly formed vampires, covering all of the basics of
survival and providing tips and tricks to make eternal
life easier. 1st Place, Lamar University Spinfest, Best
Screenplay and Best Overall Film, Interlochen Arts
Academy
RUNAWAY RIGHTIE
Student, Colorado / 5 minutes, DV
Director: Dab Hamilton / Producer, Writer: Will Nail
A shoe tries to escape his fate, but instead finds an
unexpected new one. Will Nail grew up in Mississippi and
lived in Jackson, but currently lives in Denver, CO.
TEENAGE BLUES
Youth, Picayune, Mississippi / 18 minutes, MiniDV
Director, Producer, Writer: Samantha Smith
Sebastian Ingles, an average boy, goes through the worst day
of his life. It seems like the world is against him, but things
aren't always as bad as they seem. Filmmaker will be In
attendance. Second Place, Southern Fried Flicks Film Festival.
RETURN TO HAUNTED HOPSON PLANTATION (NOT
IN COMPETITION)
Youth, Jackson, Mississippi / 8 minutes, MiniDV
Director, Producer, Writer: Michael Modak-Truran
Michael and a group of his friends spend the weekend
at the old Hopson Plantation In Clarksdale to celebrate
Michael's 13th birthday. Their late night laughter during
camp fire stories awakens the sleeping spirit. In the
shack, and they find themselves In a real life ghost story.
Filmmaker will be In attendance. World premiere.
1pm, Parkway Screen A (104 min.)
Offbeat Comedy Short Films
WHEN I AM ON THE MOON
Short narrative, Pennsylvania / 2 minutes, 16 mm
Director, Writer: Joseph Hicks / Producer: Jason Brewer
www.brolik.com/moon
When I am on the moon I will make a short film about
loneliness and optimism with all of my friends. There will
be robots everywhere. Filmmaker will be in attendance.
WEBB WILDER'S SCATTERGUN
Short narrative, Texas / 27 minutes, HD
Director: Steve Mims / Producers, Writers: Thomas A.
Blanton, R.S. Field, Steve Mims, Webb Wilder
Double-barrel shotgun wielding Webb Wilder descends
into a Southern gothic underworld flush with casino
cash, trailer trash, and raw-boned violence to rescue his
congenitally misinformed nephew from rural mobsters in
the droll hillbilly noir comedy Scattergun. Webb Wilder
and his films are authentic modern Mississippi myths now
shared by the nation. Filmmaker will be In attendance. "
A fertile field of free-form word play that reflects a literary
underpinning of this rock and cinema operation." -Los
Angeles Times
SCHOOL PROJECT
Student, Raymond, Mississippi / 15 minutes, 16mm
Director, Producer: Michael Usry / Writers: Michael Usry,
Dayton Douglass
The story of a hapless film student desperate to finish
a much procrastinated project. Filmmaker will be In
attendance. Previously screened at Reel South Film
Festival.
THE CHECKER QUEEN
Animation, Jackson, Mississippi / 2 minutes, MiniDV
Directors, Producers, Writers: Emily Myers and Anthony Ayres
Two strangers meet and begin a game of checkers. Upon
losing, Elwood storms out of the room. He re-enters to
find Burt in a compromising situation. In this stop-motion
animation, both unique characters are made out of objects
found by the artists. Filmmaker will be In attendance.
World premiere.
THE MALLORYS GO BLACK MARKET
Short narrative, Minnesota / 13 minutes, MiniDV
Directors, Producers, Writers: JoEllen Martinism and
William Scott Rees
www.candyeyefactory.com/mallorys.php
In this cheeky love letter to 1980's clothing, a pair of
Big Apple fashionistas and their misfit sidekick embrace
the thrills of materialism in their scheme to export two
suitcases worth of vintage casual wear to unfortunate
Russian teenagers through the black market. Winner of
the Spirit of Slamdance Award 2007. Southern premiere.
THE SADDEST BOY IN THE WORLD
Short narrative, Canada / 13 minutes, production format?
Director, Writer: Jamie Travis / Producer: Amy Belling
and Jamie Travis
www.modernfamily.ca
Timothy Higgins, picked last for the team, is the saddest boy
in the world. Friendlessness, suburban complacency and
prescription drugs have conspired against the youngster to
make this his worst year yet. Musical Chairs and birthday
cake can't save him now. At his ninth birthday party, Timothy
prepares for a show-stopping suicide.
T
he 8th Annu
14
each film block is $5 for members, $7 for non-members