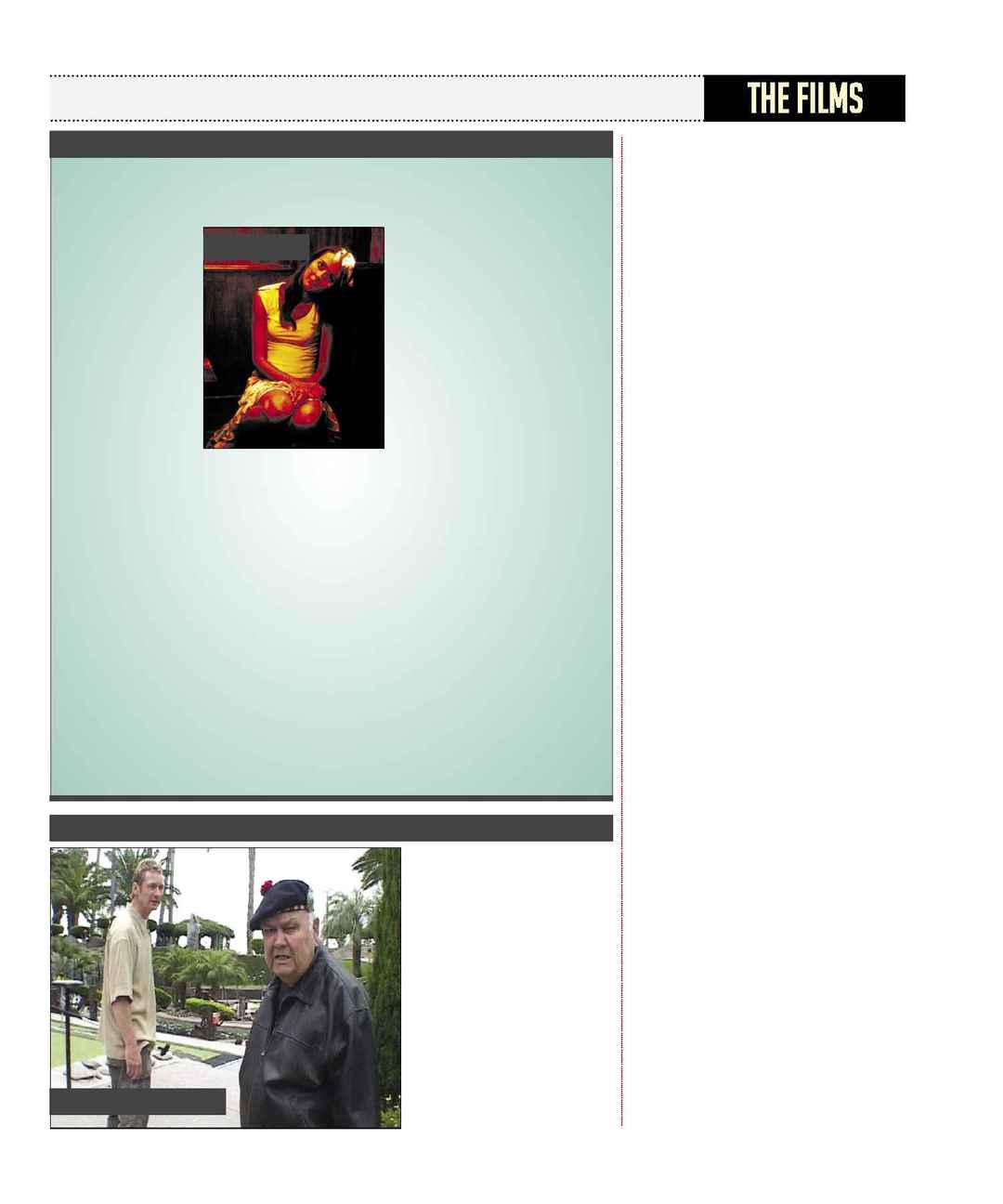 7pm, Parkway Screen A (109 min.)
THE NOVICE
Narrative feature, Alabama / 89 minutes, 35mm
Director, Writer: Murray
Robinson / Producers:
Robert Ambramoff, Scott
Lumpkin, Murray Robinson
Peter, the last of a dying
species ­ Jesuit Americanus
­ is a young seminarian
whose
about his vocation are
challenged after he falls
for a Birkenstock-wearing
flower
Jill. Starring Academy
Award winner Alan Arkin
("Little Miss Sunshine"),
Jacob Pitts, Amy Acker,
Frank
Bean, William Lee Scott.
The script was penned in Jackson, Mississippi
by Millsaps College graduate, Murray Robinson.
Filmmaker will be in attendance. World premiere.
BROKEN CIRCLE
Short narrative, California / 20 minutes, HDV
Director, Writer: Aaron Sawyer / Producer: Charles Miller
www.sunrisewest.net
When the police ask Mitchell Stevens to provide shelter
for a battered woman, he sees an opportunity to help
someone. But Mitchell's best intentions are about to
draw him into a complicated cycle of violence. Starring
Emmy winning actor, Michael Badalucco ("The Practice,"
"O Brother Where Art Thou?," "Summer of Sam"),
Deliah Cottom ("Empire"), and Laura Ceron ("E.R").
Filmmaker will be in attendance. World premiere.
7pm, Parkway Screen B (101 min.)
THE BALLAD OF A.J. WEBERMAN
Feature documentary, United Kingdom / 82 minutes
Directors, Producers, Writers: James Bluemel, Oliver Ralfe
Bob Dylan once said, "I don't think I'm gonna be really
understood until maybe 100 years from now." The
Ballad of A.J Weberman is a feature-length documentary
chronicling the life, times and crimes of notorious
Bob Dylan obsessive and Garbology inventor, A.J.
Weberman. It's an irreverent and witty exploration into
one man's obsessions, his life lived on the
New York fringes and a uniquely twisted
take on the American dream. The film
enjoys an unforgettable cast of characters
including Lower East Side street punk-poet
David Peel, former child dancer Jay Byrd
and Aaron Kay aka `The Pieman.' A rare
and astonishing telephone conversation
between Weberman and Dylan appears in
the film as an animation. And to top it all,
the film is accompanied by a vivid Americana
soundtrack performed by members of
the cast. Southern premiere. "... always
entertaining, `The Ballad of AJ Weberman'
is a comprehensive study of one man's
fascination with knowing everything about
a celebrity." - Indie Wire
CELEBRITY INTERVIEW: JAMES BROWN
Animation, Jackson, Mississippi /7 minutes, Hi8, Digital
8, Mini DV / Director, Producer, Writer: Kenneth E.
Stiggers / www.myspace.com/JourneyAgent1961
Celebrity Interview: James Brown is a humorous social-
political discussion. `Supa' Producer Mo'tel Williams
interviews James Brown about the `Say It Loud Ebonics
Speech Academy." Watch out for those dangling
participles! Filmmaker will be in attendance.
REGARDING SARAH
Short narrative, Canada / 14 minutes, 35mm
Director, Writer: Michelle Porter / Producer: Amy
Belling / www.compactfilms.com
Sarah is losing her memory. In a last desperate attempt
to maintain control of her life, she begins to videotape
everything from momentous events to the tiniest details
of daily living. Crooked lawyers and friends over for tea
are all captured on her little digital cameras. Rapidly,
this accumulation of footage becomes too much for
her to handle. She becomes obsessed with watching
herself. Finally, Sarah must confront the question
of whether her life still has meaning if she cannot
remember it.
artist and provocateur (Mearth from "Mork & Mindy,"
"It's a Mad Mad Mad World," "The Tonight Show").
It follows not only his quest as a painter wanting to
hang his work in the Museum of Modern Art, but also
exposes the truly bi-polar off-the-wall Jonathan
Winters of today. When two old ladies steal Jonathan's
favorite painting from a gallery, he goes into a funk
and claims that a witchdoctor has stolen his sense of
humor, which he draws upon to paint. After a futile search,
he enlists the help of a shrink, a Rabbi, a new age healer
and even a séance before turning to other comedians for
assistance to help him track down his sense of humor.
Filmmakers will be in attendance.
FULL METAL SLACKS
Experimental, Texas / 5 minutes, MiniDV
Director, Writer, Producer: Scott Calonico
On August 7, 1964, President Lyndon Johnson signed the
Gulf of Tonkin Resolution, authorizing the massive use of
U.S. military force in Vietnam. Over the next ten years,
over 50,000 American soldiers and 1,000,000 Vietnamese
civilians would be killed. Two days later, on August 9,
1964, President Johnson ordered a pair of pants from his
tailor in Dallas, Texas. This is the recording of that call.
COMMODE CREATIONS: THE ARTWORK OF BARNEY
SMITH
Short documentary, Louisiana / 5 minutes, MiniDV
Director, Producer, Writer: Danny Bourque
www.neverthoughtfilms.com
Barney Smith, an 80+ year old resident of Alamo Heights,
Texas, has decorated nearly 700 toilet seat lids which he
displays in his garage-altered "museum" for all the world
to see. Decorating toilet seats is not just a hobby ­ it's
what keeps him alive.
Global Audience Award for Best Anarchy Film­Slamdance
Film Festival 2007. Filmmaker will be in attendance.
THE BALLAD OF MARY SLADE
Animation, United Kingdom / 4 minutes, Digital camera
Director, Producer, Writer: Robin Fuller
www.theartknife.co.uk
A tale of passion, adultery, and murder told from an
unusual point of view. Following the death of a young
woman, the tragic story of her life and eventual demise
slowly unfolds as the insects that consume her decaying
body become actors in the fateful retelling of her
downfall.
Grand Jury Award Best Animated Short ­ Slamdance Film
Festival 2007
7pm, Parkway Screen B (101 min.)
AN AMERICAN OPERA
Feature documentary, Michigan / 93 minutes, MiniDV
Director, Producer: Thomas McPhee
www.myspace.com/eyetoeyedocumentary
An operatic version of the pets, vets, owners, rescuers and
adopters of animals following the devastation, chaos and
forced separation/evacuation of pet owners from greater
New Orleans as seen through the eyes of those who took
action in the aftermath of Hurricane Katrina. Filmmaker
will be in attendance. Mississippi premiere.
(Graphic, not suitable for children.)
HELP IS COMING
Experimental, California
8 minutes, Super 16 mm
Director, Writer: Ben Mor / Producer: Kareem Johnson
In the wake of Hurricane Katrina's aftermath, three youth
survey the desolate wasteland only to find a suspicious
looking package.
Mississippi premiere
7pm, Parkway Screen A (99
min.)
CERTIFIABLY JONATHAN (NOT IN
COMPETITION)
Feature documentary, California / 85
minutes
Director: Jim Pasternak / Producers:
Jim Pasternak, Richard Marshall, Matt
Fortnow
Starring: Jonathan Winters, Robin
Williams, Howie
Mandel, Sarah Silverman, Rob Reiner,
Nora Dunn, Ryan Stiles, Jimmy Kimmel,
Tim Conway, Jefrrey Tambor, and the
Arquettes
http://www.certifiablyjonathan.com/
This "dadamentary" is a contemporary
portrait of the comic genius Jonathan
Winters, who at 80 is still very much the
.cr
o
ssr
o
13
each film block is $5 for members, $7 for non-members