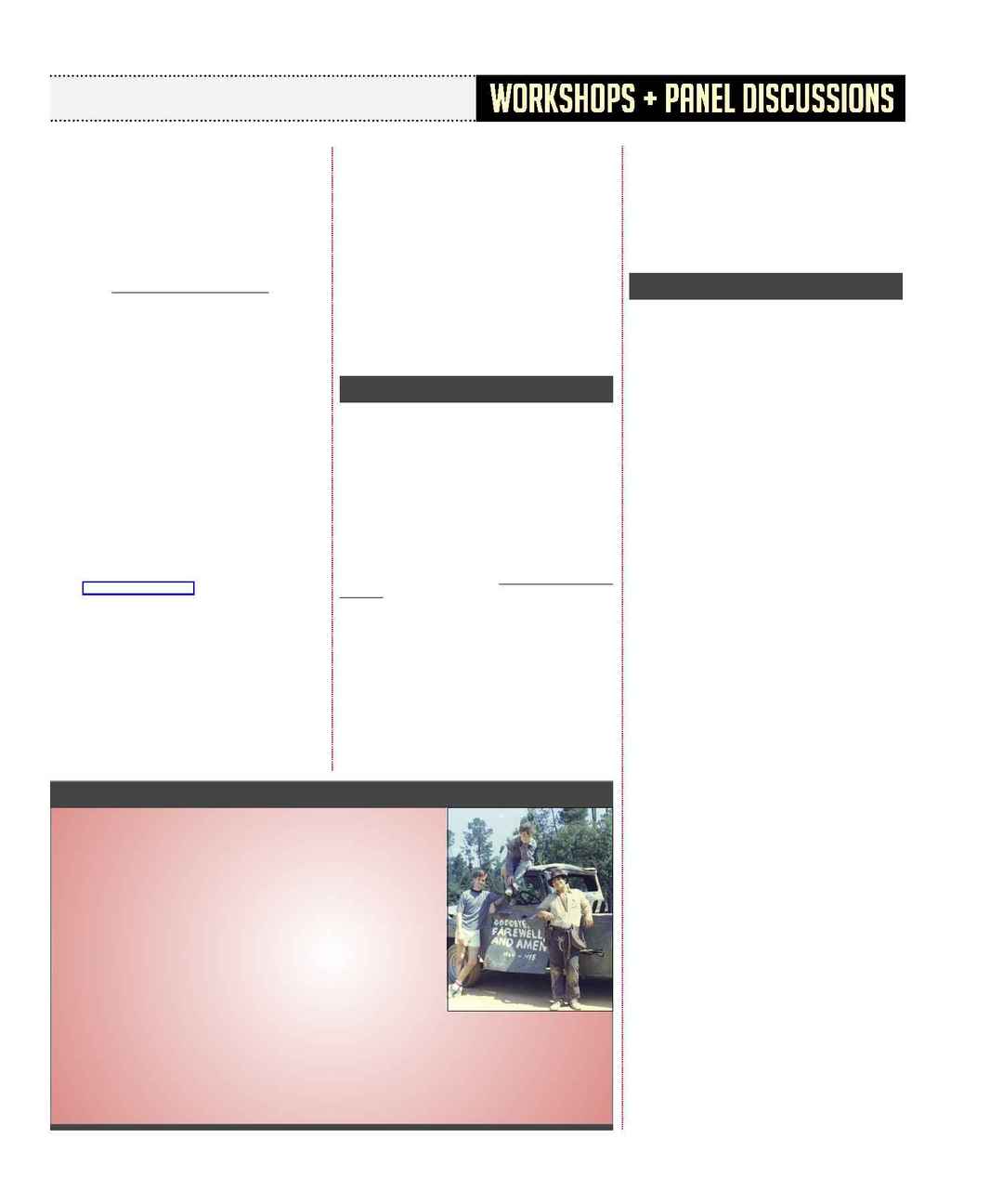 9:30 A.M. - NOON
KIDS IN THE MOVIES: HOW TO GET THERE, STAY
THERE, AND STILL BE A KID
Sponsored by the Mississippi Film Office
Admission is $15 adults, $10 children ($10, $5 for
Crossroads members) To reserve a seat for the workshop,
please email louisa.whitfieldsmith@gmail.com. Admission
paid at the door.
Nathaniel Lee, Jr. andDaniel Curtis Lee along with their
father/manager Nataniel Lee, Sr. will share their journey
from Clinton, Mississippi to Hollywood, California - how they
got their first jobs, how they continue to work successfully
in the entertainment industry, and how they've maintained
a normal family and school life throughout their acting
and musical careers. Nathaniel, Jr. has played roles in "My
Dog Skip", "The Ponder Heart", and "O Brother, Where Art
Thou?". Daniel is best known for his role as "Cookie" on
Nickelodeon's "Ned's Declassified School Survival Guide".
MISSISSIPPI FILM SUMMIT 2007: INCENTIVES,
INVESTING, AND LEGAL ISSUES
Sponsored by the Mississippi Film Office
Department of Education auditorium (formerly Central
High School)
E-mail bblack@mississippi.org to reserve a free seat.
HOW TO FIND THE MONEY
This seminar will highlight federal and state tax incentives, as
well as film funds all over the country, including Wall Street.
Discussion led by attorney and producer, Hal "Corky" Kessler.
LEGAL AND BUSINESS PITFALLS FROM
SCREENPLAY THROUGH DISTRIBUTION
This seminar will address issues regarding securing your
screenplay, building a production team, creating the proper
business vehicle to raise your money, attaching talent, and
directing your marketing and sales efforts. Discussion led
by attorney and producer, Hal "Corky" Kessler.
THE 2007 MISSISSIPPI MOTION PICTURE
INCENTIVE PROGRAM
The 2007 Mississippi Legislature passed an enhanced
incentive program, and the Governor's signature in
March made it effective immediately. Film Office Director
Ward Emling will discuss the new program and answer
your questions regarding how it will apply to your
productions.
at Millsaps College, Olin Hall
(Parking available on campus, cafeteria open for lunch,
Fondren trolley will be going from campus to Fondren
during lunch hour)
sponsored by Cellular South
9:00-10:30 AM
CHILDREN'S ANIMATION WORKSHOP WITH PHILLIP
GENTILE
(Ages 4 and up; parents are encouraged to attend)
Phillip Gentile, filmmaker and professor of film at
the University of Southern Mississippi, will conduct a
camera-less animation workshop for kids of all ages. Each
participant will create an animated film and view them
with music at the end of the workshop.
Free, Millsaps College, Olin Hall 240.
To reserve a seat, please email louisa.whitfieldsmith@g
mail.com.
10:30 AM
YOUTH FILMMAKERS SHOWCASE (ALL AGES)
Sponsored by the Canton Convention and Visitors Bureau
and Film Office
Admission is $7 adults/$5 children under 12 (Crossroads
members receive $2 discount),
Millsaps College, Olin Hall 100
(139 minutes) - Canton Young Filmmakers, Giallo Trailer, Never
Bet the Devil Your Head, The Dance, Pieces, Hamlet, Andy
and the Purple Cat, Haunted Hopson Plantation, So, You're a
Vampire, Now What?, Teenage Blues, Runaway Rightie
1:15PM - 3PM
"SHOOT IT" - TEEN FILM MAKING WORKSHOP
WITH ASH TAYLOR (AGES 12-17)
This interactive workshop is for both the young filmmaker
and actor. Ash Taylor, actor and director, will teach you the
ins and outs of working behind the camera and in front
of the camera. Participants will learn techniques used in
blocking a scene, lighting a scene and acting in a scene.
Free, Millsaps College Olin Hall 240.
March 31
st
(Saturday), Millsaps College, Olin Hall
Admission is $15, $10 for Crossroads members
(workshops are not individually priced; this fee gives
access to all). To reserve a seat for a workshop, please
email louisa.whitfieldsmith@gmail.com. Admission paid
at the door.
10AM - 11:30AM
HURRICANE KATRINA IN FILMMAKING AND ART
Join the filmmakers from "Low and Behold", "Katrina's
Wake", "An American Opera", "Above the Line: Saving
Willie Mae's", and the Gulf Coast Barefoot Documentary
workshops for a discussion about Hurricane Katrina and
how it has affected their creative work; moderated by
Jackson artist, Ginger Williams.
Free, Millsaps College, Olin Hall TBD
10AM - NOON
WRITING FOR TELEVISION
Learn creative techniques and the business of writing
and producing for television. Guest panelists include
professional television writers and producers: Carolina
Paiz from "Grey's Anatomy", Emmy Award-winning writer/
producer Laura Schrock who developed "Golden Girls",
"Alf", "Judge Judy", "Moesha" among many others, and
Hudson Hickman, the former Senior Vice-President of
Production for Television at MGM and now an independent
producer; moderated by University of Southern Mississippi
film professor, Dixon McDowell.
Millsaps College, Olin Hall 120
1PM - 3PM
GETTING YOUR TELEVISION IDEA PRODUCED,
FROM PITCH TO PILOT
Award-winning writer/director Diego Velasco will take you
step by step through the process of formulating an idea into a
powerful pitch for a television pilot, building episodes around
the idea, and finally taking the final steps of shooting a pilot
to present to television studio executives.
Millsaps College, Olin Hall 120
3PM - 4:15PM
A CONVERSATION WITH JOEY LAUREN ADAMS
Raised in North Little Rock, Arkansas, actress/writer/director
Joey Lauren Adams is well known for her distinct voice and
her roles in the films of Kevin Smith, including "Chasing Amy"
(nominated for a Golden Globe for best actress), "Mallrats,"
and "Jay and Silent Bob Strike Back." With appearances
in over 30 films, Joey made her debut as writer/director
of the feature film "Come Early Morning" starring Ashley
Judd, Jeffrey Donovan, Diane Ladd, Tim Blake Nelson, and
Laura Prepon. The film was nominated for the Grand Jury
Prize at the Sundance Film Festival in 2006. After 19 years
in Los Angeles, Joey now calls Oxford, Mississippi home.
Donna Ladd, editor of the Jackson Free Press, will have a
conversation with Joey about her career as an actress, her
debut as a writer and director, and how being a Southern
woman has affected her career. Conversation will be followed
by Q&A with audience.
Millsaps College, Olin Hall 100
RAIDERS OF THE LOST ARK:
THE ADAPTATION
Narrative feature / 100 minutes
Director: Eric Zala / Producer: Chris Strompolos
Writers: George Lucas, Philip Kaufman, Lawrence
Kasdan
http://www.theraider.net/films/raiders_adaptation/
index.php
n 1982, Eric Zala, Jayson Lamb and Chris Strompolos
began filming a shot-for-shot remake of Raiders of
the Lost Ark. They were twelve years old and living
on the Mississippi Gulf Coast. Six years later, the
film was in the can. This labor of obsessive love has
everything -- the rolling boulder, the live snakes, the
heart-thudding truck sequence, and everywhere flames,
flames, flames. With a few inventive substitutions -- a
puppy dog stands in for a monkey, a boat for a plane
­ they didn't skimp on production value and even
included a submarine, a truck on fire, a melting face,
and the same copy of a 1936 Life magazine used in the
original. Their production wrapped in 1989, and was
shelved and forgotten until 2003 when Eli Roth (Cabin
and put it in the
hands of Steven
Speilberg. A feature
film based on their
childhood is now
in production with
Dan Clowes (Ghost
World)
the script, which
resulted in Producer
Scott
Pictures buying the
intellectual property rights to their childhood.
Raiders of the Lost Ark: The Adaptation is like no other
film you have ever seen (except of course, Raiders of
the Lost Ark). This trio of filmmakers showed more
tenacity, originality, heart, courage and skill than ten
independent production teams put together, and all
before puberty!
SATURDAY, MARCH 24 | 1 PM & 3 PM | NEW STAGE THEATRE
.cr
o
ssr
o
11
KIDS AND STUDENTS WORKSHOPS
WRITING & DIRECTING WORKSHOPS