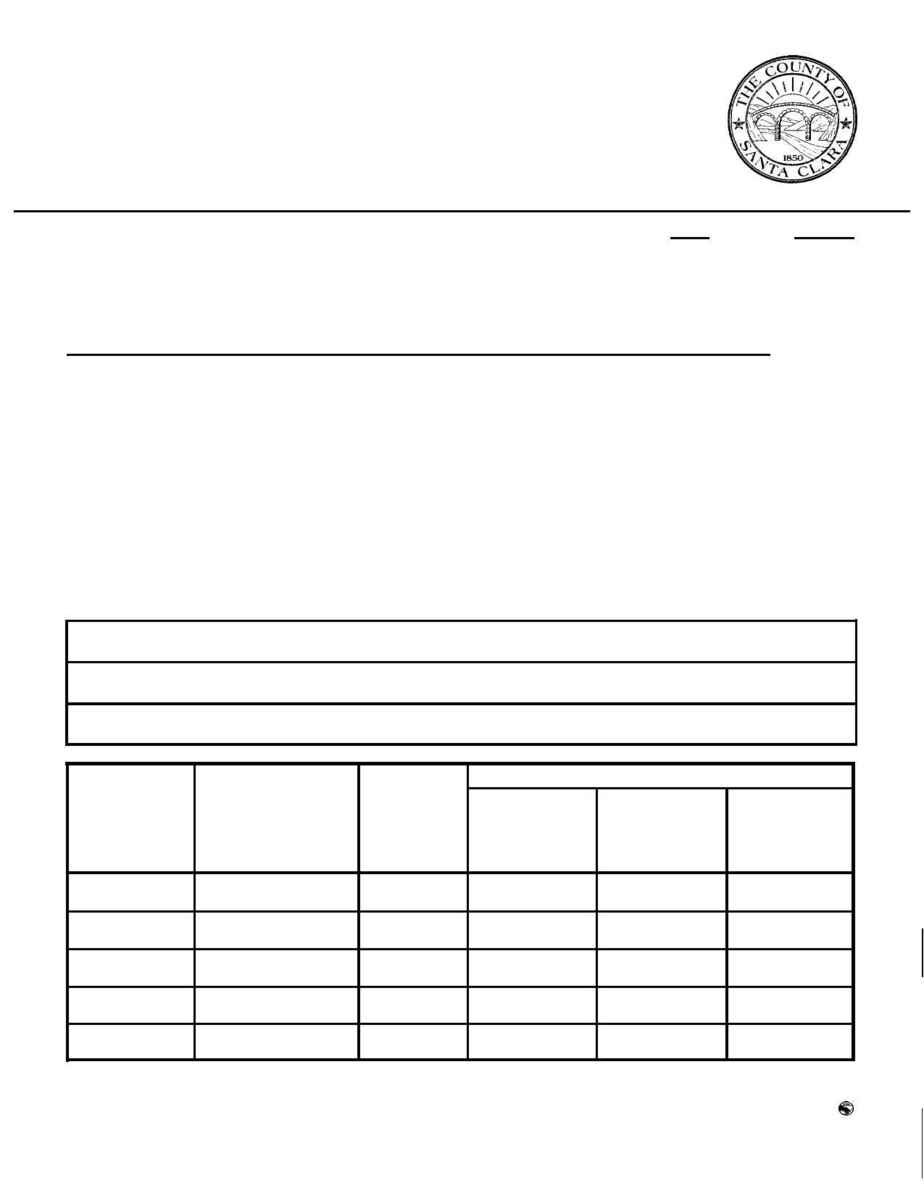 County of Santa Clara
Office of the County Assessor
County Government Center, East Wing
70 West Hedding Street
San Jose, California 95110
(408) 2 9 9 - 2 4 0 1 F A X 2 9 8 - 9 4 3 9
Lawrence E. Stone, Assessor
Assessor's Parcel Number
______
-
____
-
_______
or
Account #
________________
-
___________
-
___
-
-
-
-
&
Assessment #
____
-
_____________
-
__
- -
-
- - - - - - -
APPLICATION FOR REASSESSMENT OF PROPERTY DAMAGED BY MISFORTUNE OR CALAMITY
California law provides property tax relief for taxpayers whose property was damaged or destroyed. This property tax
relief is available to owners of real property, business equipment and fixtures, and to owners of aircraft, boats or certain
mobile homes. Damage to personal property, such as household furnishings, or to growing crops is not eligible since it
is not assessed for property tax purposes. This program requires reassessment of the property to reflect its damaged
condition, and the subsequent reduction or partial refund of the current year's taxes. After the property is fully repaired,
owners will retain their previous base year value if the property is rebuilt in a like or similar manner. Property suffering
a gradual deterioration over a long period of time does not qualify.
Eligibility requirements:
1. The damage is equal to or greater than $5,000 (Market Value).
The damage is sudden, caused by a misfortune or calamity and not the fault of the property owner.
Claims for value reduction should be filed within 60 days of the damage or 30 days from the receipt of a claim
form, whichever is later. In no case may the claim be filed later than six months following the disaster.
ASSESSEE'S NAME(S) (DBA, Business Only)
MAILING ADDRESS (Street Number , Street Name, City, Zip)
PROPERTY ADDRESS (Street Number , Street Name, City, Zip)
APPLICANT'S OPINION OF VALUE
DAMAGED DESCRIBE CAUSE DATE Value Prior to Cost or Value of
Value After Damage
PROPERTY OF DAMAGE* DAMAGE Damage Damage or Loss
CATEGORlES*
OCCURRED
estimates or contract cost)
i.e. Fire, Flood, Wind, etc. (Month, Day, Year)
(Column #1)
(Column #2) (#1 less #2)
LAND
IMPROVEMENTS
(Structures)
IMPROVEMENTS
(Business Fixtures)
PERSONAL
PROPERTY **
*
Provide additional detail and explanation on the reverse side.
Examples: Business personal property, aircraft, boats or certain mobile homes, but do not include
nonassessable items such as personal effects, household furnishings, or business inventories