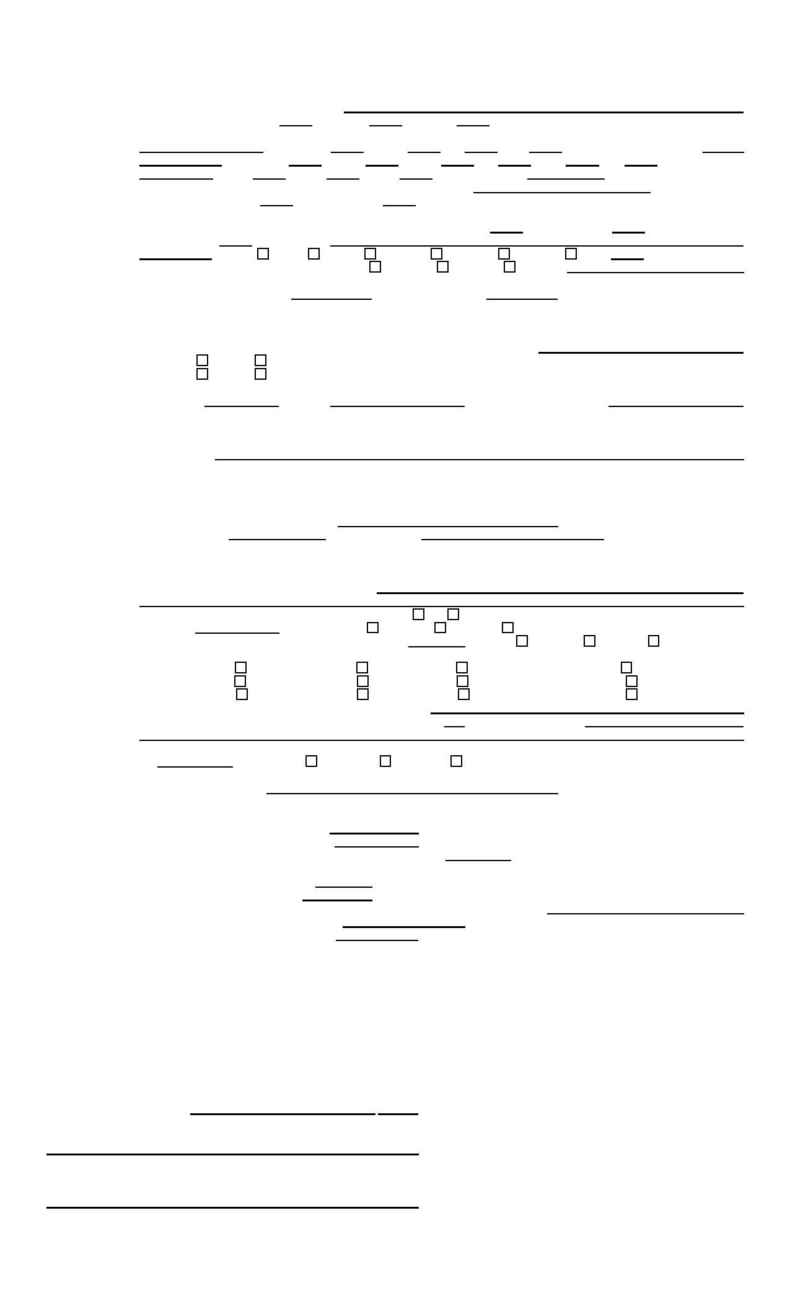 PROPERTY DISCLOSURE STATEMENT

8) ELECTRICAL
SYSTEM
Are you aware of any damaged, malfunctioning or illegal installation of electrical equipment inside or outside
the building No / Yes If so, explain
Electrical wiring is: Copper Aluminum Unknown
9)
HEATING, AIR CONDITIONING, OTHER EQUIPMENT
Air Conditioning System: Heat Pump Electric Gas Other Age/Date Last Serviced:
Heating System: Heat Pump Electric Fuel Oil Gas Other Age
Solar Heating: Owned Leased Rented Date last serviced
If there are any Fuel Tanks (oil, LP, etc.) where are they located?
Are they Above Ground Underground
Are they currently in use? No / Yes
If underground tank is no longer in use, it has been: Filled with sand Filled with water
Still contains oil
Security Alarm System: No / Yes Owned
Do you have a Sprinkler System? No / Yes
If yes, do you have a timer?

10)
MOLD AND TOXIC SUBSTANCES
A.
Are you aware of any toxic substances past or present (structure or soil) such as asbestos, PCB's, accumulated
radon, lead paint, fuel oil, mold, fungi or others? No / Yes If yes, explain:
knowledge of any Lead Based Paint in building.
knowledge of any past or present unacceptable Radon levels.
Has the property been tested for radon or lead based paint? No / Yes
. Company conducting test:
11) NEIGHBORHOOD
Are you aware of any condition or proposed change in your neighborhood that could adversely affect the value or
desirability of the property, such as noise or other nuisance, threat of condemnation or street changes? No / Yes.
If `yes' explain:
12)
CONDOMINIUMS (or Maintenance-Free properties)
A.
Is the property part of a condominium or other common ownership or is it subject to covenants, conditions, and
restrictions (CC&R's) of a homeowner's association? No / Yes
If no, you may ignore the remainder of this section.
If yes, the dues are paid to (company):
Is there any defect, damage, or problem with any common elements or common areas which could affect their value
or desirability? No / Yes / Unknown
Is there any condition or claim which may result in an increase in assessments or fees? No / Yes / Unknown If
your answer to C or D is Yes, explain in detail:
Are there any MASTER ASSOCIATION DUES? Yes
F. What are your association MAINTENANCE dues? $
What utilities and maintenance is covered by the dues?
Building Exterior
Are there any other fees/dues (other
Are any of the above fees included in your County Tax Bill?
Are there any CDD's (Community Development District) taxes/fees required in this development? If so, the amount
is $
Is this amount included in your Hillsborough County Property Tax Bill? No / Yes
13) SALE/CONTRACT/LISTINGS

Is the property listed for sale? Yes / No
If so, how much is the asking price $
How long has it been on the market?
Has the price been reduced? Yes / No
Is the property under contract? Yes / No
If so, what is the contract price? $
When is it scheduled to close?
Will you be taking back any financing? Yes / No If so, what are the terms?
When did you purchase the property?
How much was the purchase price? $
Did the sale reflect a market price? Yes / No
14) LEASES

Is the property currently leased? Yes / No
Is the lease arm/length or inter company?
Please provide copies of all leases to the appraiser.


The foregoing answers and explanations are true and complete to the best of my/our knowledge. This statement has been prepared to
assist the appraiser to evaluate the property. This statement is not meant to be a warranty or guarantee as to the condition of my/our
property. I/we hereby authorize the appraiser to disclose the information in this statement to our client.


ACCEPTED & APPROVED
, 200
Owner



Owner