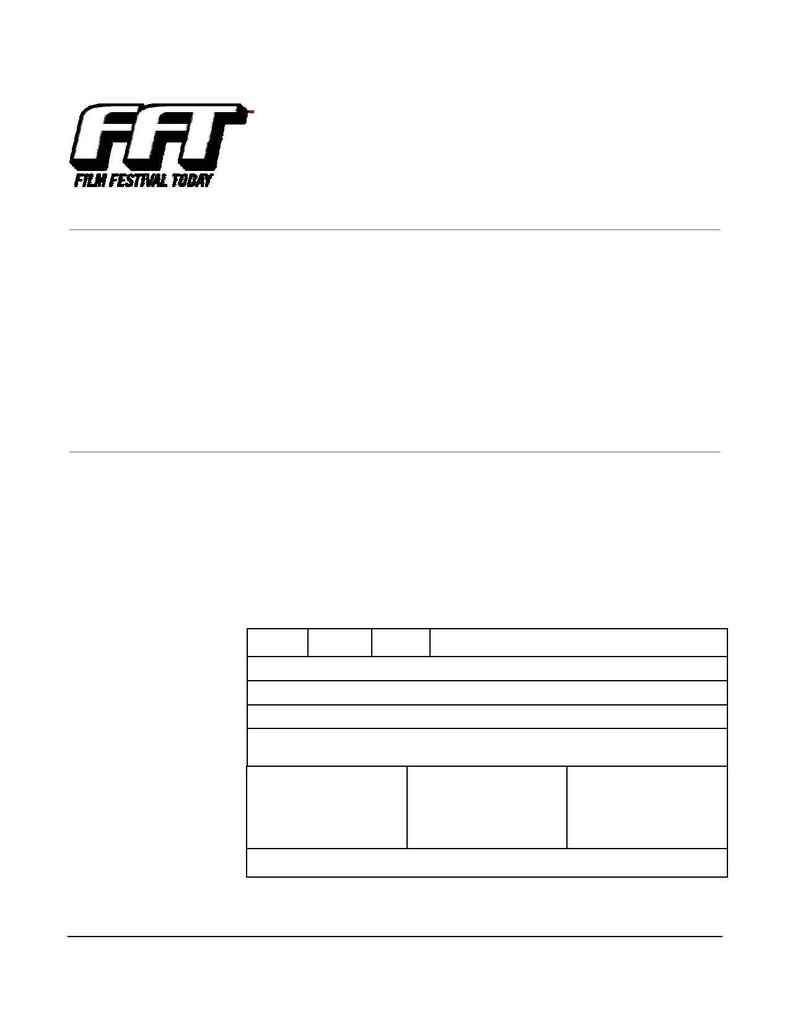 F i l m F e s t i v a l T o d a y · T h e L o o k - t o F i l m F e s t i v a l A u t h o r i t y · w w w . f i l m f e s t i v a l t o d a y . c o m
Mail completed form to: Film Festival Today ATTN: Subscriptions · P.O. Box 1432 · NYC, NY 10028
s u b s c r i p t i o n s @ f i l m f e s t t o d a y . c o m · h t t p : / / w w w . f i l m f e s t i v a l t o d a y . c o m · F i l m F e s t i v a l T o d a y © 2 0 0 3
MAIL----IN SUBSCRIPTION FORM
&
This is page 1 of 1 of FFT Mail-In Subscription Form
FFT Magazine is the complete guide and resource of the film and film festival communities.
Our quarterly magazine features:
Exclusive interviews with the movers and shakers and emerging talents
Previews and reviews of film festivals
Reviews and commentary on everything related to the film and film festival industries
Listings for call-for-entries and film festivals
To subscribe by mail, simply complete the form below and mail it with your check to:
Film Festival Today
ATTN: Subscriptions
P. O. Box 1432
New York, NY 10028
Please make your U.S. dollar-denominated check out to: Film Festival Today
Mr.
Mrs.
Ms.
Send as a gift subscription to
One Year US$12.00.
Outside United States,
add US$12.00 for
Postage & Handling
Two Years US$20.00
Outside United States,
add US$20.00 for
Postage & Handling
Three Years US$27.00
Outside United States,
add US$27.00 for
Postage & Handling
Renewal