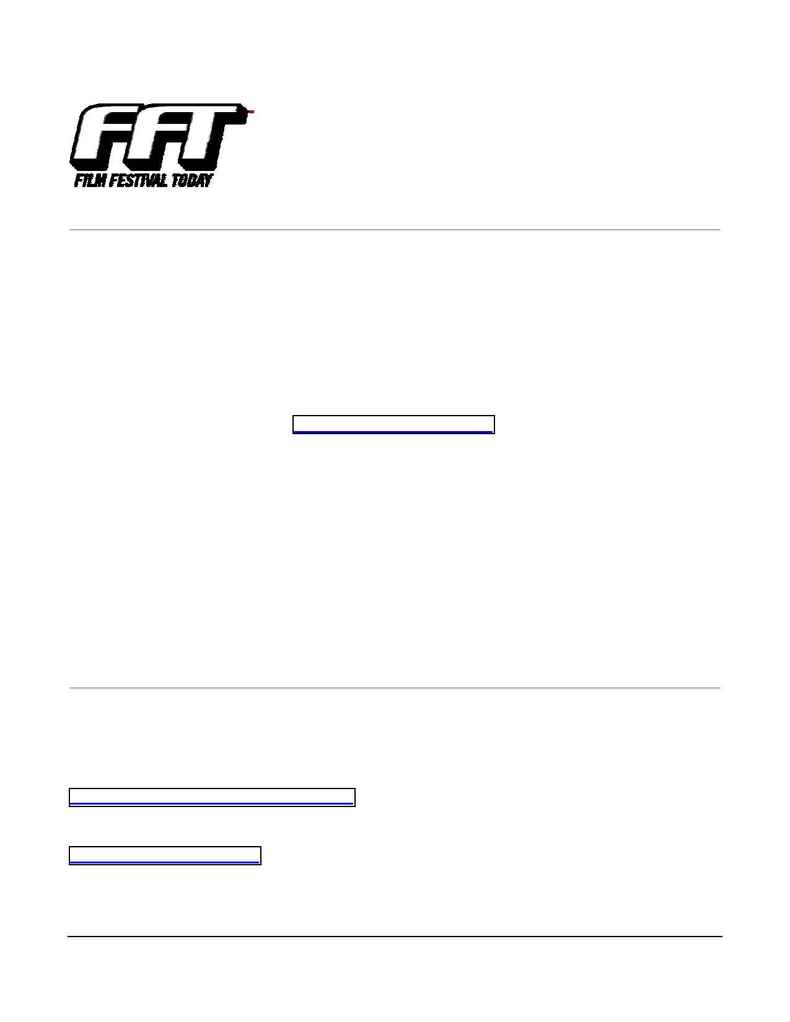 F i l m F e s t i v a l T o d a y · T h e I n d u s t r y ' s M o s t W i d e l y D i s t r i b u t e d R e s o u r c e · w w w . f i l m f e s t i v a l t o d a y . c o m
E-mail completed form to: adsales@filmfestivaltoday · Or mail to: Film Festival Today Ads, P.O. Box 1432, NYC, NY 10028
a d s a l e s @ f i l m f e s t t o d a y . c o m · h t t p : / / w w w . f i l m f e s t i v a l t o d a y . c o m · F i l m F e s t i v a l T o d a y © 2 0 0 3
ADVERTISING FORM
&
This is page 1 of 2 of FFT Advertising Form
Film Festival Today ("FFT") magazine distributes at all the major film festivals from Sundance to Toronto
and all the fests in between ­ that's some 1,600 film festivals happening worldwide. FFT is published
quarterly, prints 100,000 copies annually, and is distributed through controlled circulation mailings to
industry leaders and film-centric distribution points, with complimentary distributions at over 100 film
festivals worldwide.
Through trade shows and specialized locations (alternative cinemas and events), our targeted circulation
has grown 25% per issue over our year and half of publication.
FFT also maintains a Web site at:
http://www.filmfestivaltoday.com
. Providing a strong complementary
online presence for our readers, FFT Online has been redesigned for accessibility and interactivity. In
addition to much of the magazine content, the site also features Web exclusives, daily bulletins from major
festivals, and an articles archive. Detailed information is added to the FFT Web site regularly. FFT Online
offers multichannel media buys such as banners and buttons but also text ads in FFT E-News mailings and
special online offerings to our subscriber base. Rich media and specialty electronic ads are also available.
Our advertisers include:
American Express, Showtime, Sony, Canon, Laser Pacific, Technicolor;
Support
services:
Edgewise Media, Hello World Communications, Moviola, Pro8mm, A-1 Film Lab, HD Cinema,
Withoutabox.com, Avon Car/Truck Rental, tix.com, Goldcrest, Professional Sound Services, Tu-Vets
Printing;
Restaurants:
Blind Dog Grill, Eating Est, Morning Ray Café, Sugar, Salaam Bombay;
And film
festivals and industry events, large and small:
Sundance, Cannes, Tribeca, Toronto, Atlanta, IFP Market,
NAB, ShowBiz Expo, NY/LA DV Show, First Glance, Tallgrass, Sidewalk, Stony Brook, Nashville, Sarasota,
et al.
Complete the form below and e-mail as an attachment or mail it to FFT and an Account Executive will get in
touch to discuss your advertising plans.
For more information about advertising with FFT, please visit our Web site at:
Any questions can be addressed to the mailing address below or e-mailed to:
adsales@filmfestivaltoday.com
Or call FFT at
917.957.1540
to discuss your advertising plans.