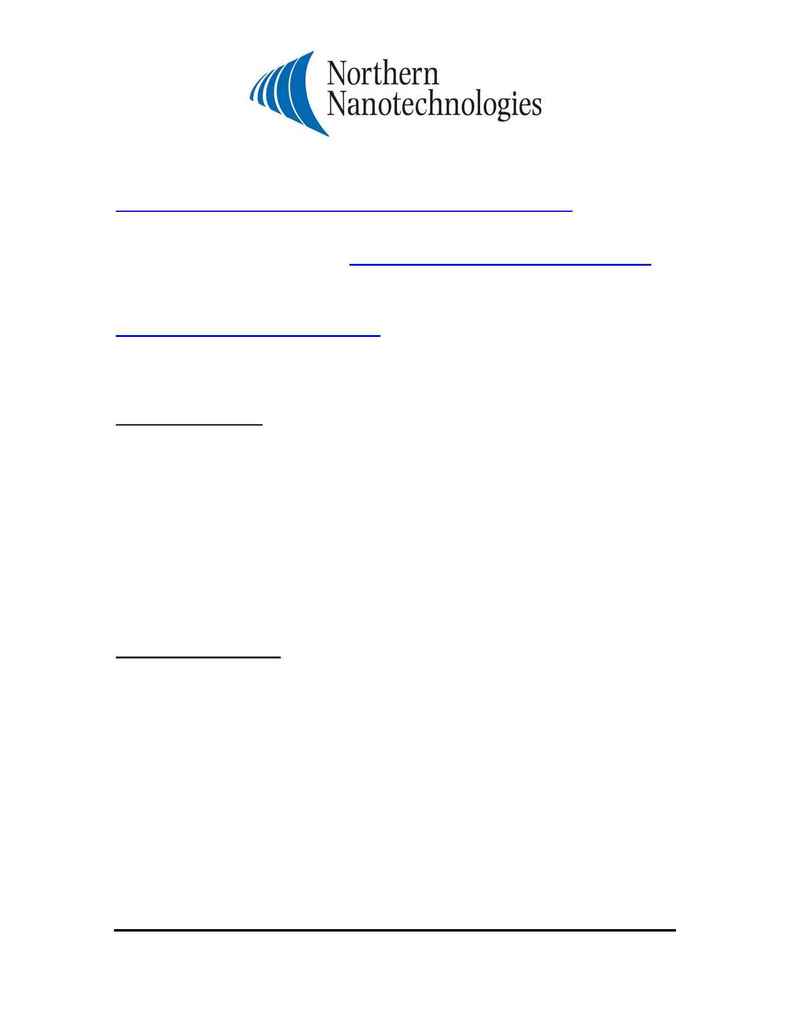 Pohanish, R.P. (2002). Sittig's Handbook of Toxic and Hazardous Chemicals and
Carcinogens (4th Edition). William Andrew Publishing/Noyes.
Version disponible en ligne sur :
http://www.knovel.com/knovel2/Toc.jsp?BookID=421&VerticalID=0


Base de données CHEMLIST sur
http://www.cas.org/CASFILES/chemlist.html

ECB-ESIS: European Chemical Substances Information System (INventaire
Européen des Substances chimiques Commerciales Existantes - EINECS) sur
http://ecb.jrc.it/esis/esis.php?PGM=ein

Manuel de référence sur les exigences du SIMDUT


NOTICE JURIDIQUE

Northern Nanotechnologies Inc. ("NNT") demande à ce que tous les utilisateurs
de ce produit lisent la Fiche Signalétique (FS) et soient conscients de tous les
produits dangereux et des informations de sécurité. Les données de cette FS
concernent seulement ce produit spécifique, désigné ci-dessus, et ne relatent
pas l'utilisation de ce produit en combinaison avec d'autres substances ou
d'autres processus.
Pour encourager l'utilisation sans danger de ce produit, tous les utilisateurs
devraient notifier leurs employeurs, représentants et contacteurs des
informations présentes dans cette FS et tout autre produit dangereux et
information de sécurité.
DEMENTI JURIDUQUE

Les informations contenues dans cette FS sont censées être exactes à la date
de sa préparation. NNT ne se porte pas responsable ou ne donne aucune
garantie que ce soit, expresse ou implicite, en ce qui concerne l'exactitude ou la
perfection d'information contenue ci-dessus. Puisque l'utilisation de ces
informations et les conditions d'utilisation du produit ne sont pas sous contrôle de
NNT, c'est donc l'obligation de l'utilisateur de déterminer la convenance de tout
matériel et les conditions d'une utilisation sans danger de ce produit par toutes
les parties concernées.
NNT n'assume aucune responsabilité pour l'exactitude ou la totalité d'information
contenue ci-dessus ou pour la manipulation ou l'utilisation incorrecte du produit
ou encore des risques inhérents impliqués par la nature du produit lui-même.
Tous les matériaux peuvent présenter des risques inconnus et doivent être
Northern Nanotechnologies Inc.,
700 Bay St., Suite 1100, Toronto, ON M5G 1Z6 Tel (416) 260-8889 Fax
(416)
260-8839