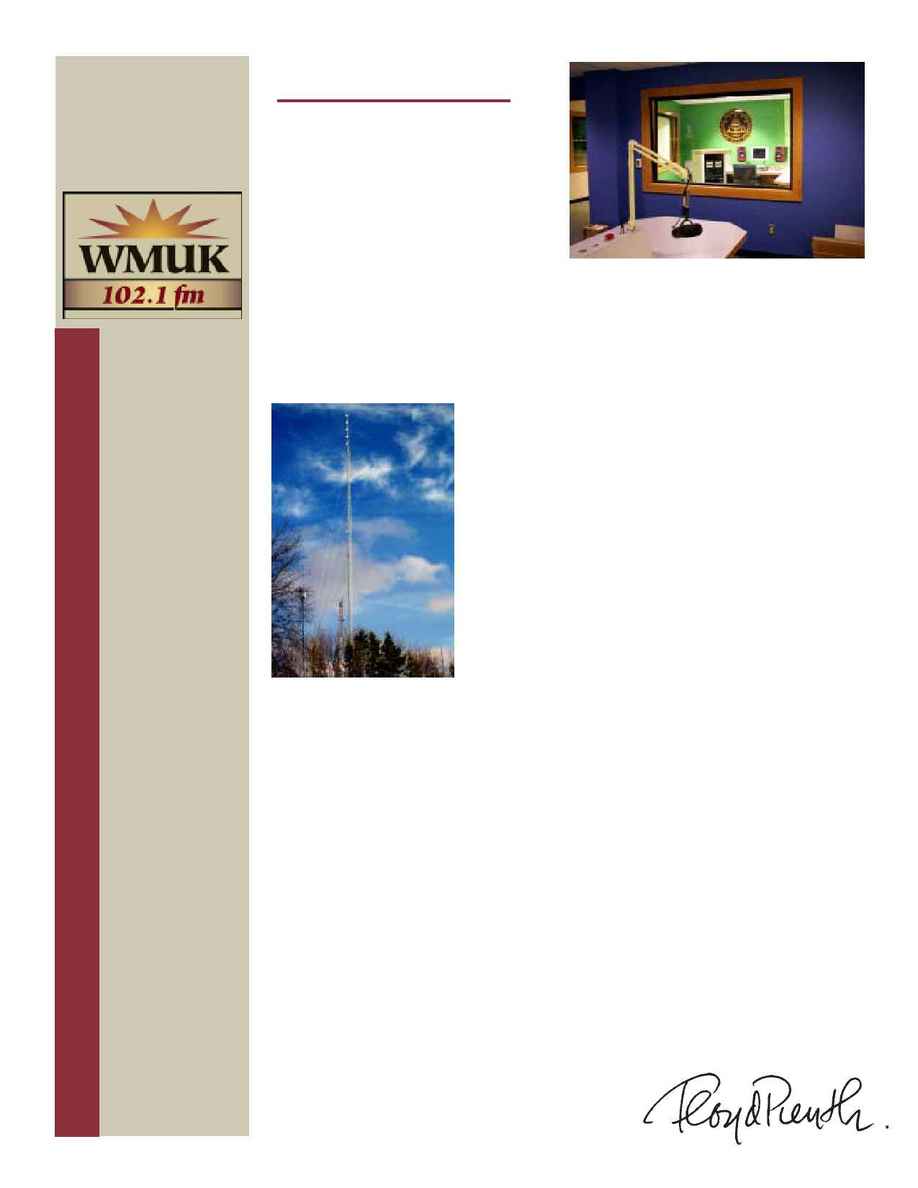 Year-in-Review
Dear Friends and Listeners,
The fiscal year that's just ending has
been challenging and rewarding. I'd like to
share a brief retrospective with you and
address the major topics and questions you
raised during the past 12 months.
Capital Campaign Update: The most
talked about subjects have been our new
tower and our studio renovation. We continue
to share photos of our progress on the web to
keep you up to date. Now we're closing in on
our goal of $1.1 million and expect to
complete the
campaign by
the end of
2003.
We know
reliability and
a strong signal
are important
concerns. I'm
glad to report
that in recent
weeks, we've
enhanced our
main
transmitter and
acquired a
rock-solid
backup which should nearly eliminate the
annoying outages which plagued us earlier this
year. We're now hooking up our new studios
and awaiting authorization for a new studio-
to-transmitter link which will make a dramatic
difference in the quality of sound you'll
experience. The next phase of our rebuild
involves work in our off-air production
facilities, our music library, and designing an
artist-friendly performance studio. Additional
information about plans for the new
performance studio can be found on the back
cover of this newsletter.
Garrison Keillor & A Prairie Home
Companion: In the midst of the chaos of
renovation and construction, we successfully
competed for a spot on Prairie Home's
national tour and organized the show's
T
ransMission Log
nationwide broadcast from Miller
Auditorium on June 21st. The show sold
out almost immediately, and we regret
that we couldn't provide tickets to
everyone who wanted them. (We had
inquiries from as far away as Florida!)
Special thanks to our event sponsor, the
Kalamazoo Radisson Plaza Hotel, and
our other partners, Portage Printing,
Sweetcorn, the Athena Book Shop,
Encore Publishing Group, Consort
Display, Brown & Brown Recording
Gordon Water Systems, and the WMU
Theatre Department.
Our Website (
WMUK
.
ORG
): Listeners
used our website to make donations and
pledges in record numbers during the
past year. Webcasting is truly becoming a
worldwide phenomenon: friends as far
away as Hawaii and Belize listen to our
webstream. We'll continue to update this
service to accommodate your needs for
music, information and convenience.
Coming soon: WMUK has recently
established an internship program in
news, specifically aimed at training young
people in career skills as radio reporters.
Working in partnership with the
Communications Department at Western
Michigan University, Kalamazoo
College, and WKDS at Loy Norrix
High School, we'll bring you the
perspectives of an important segment of
American society rarely heard in the the
media: people under the age of 21. We're
excited about this outreach project.
The new tower is shown here just
completed, as the old one beside it is
being taken down.
Studio C as seen from Studio A. We move in this July.