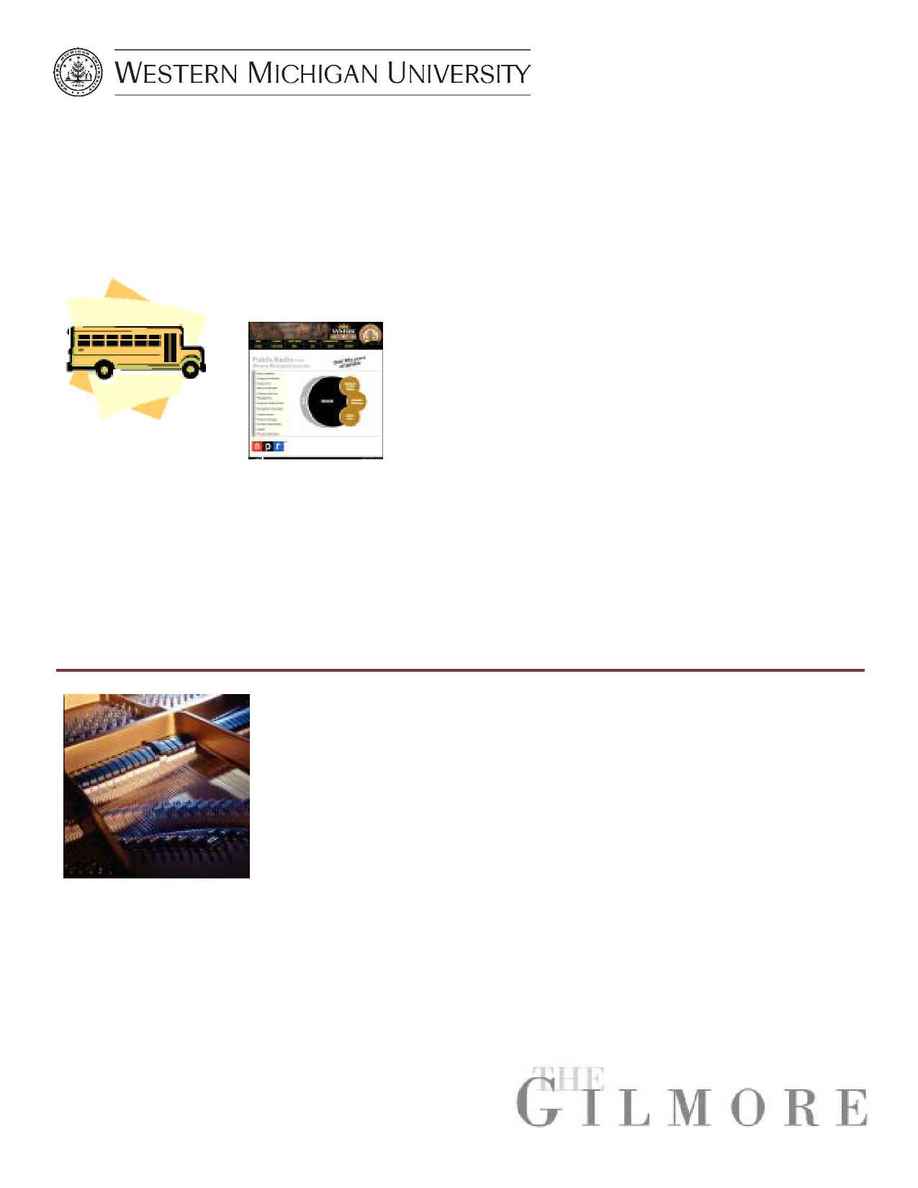 WMUK
1903 W. Michigan Avenue
Kalamazoo, MI 49008­5003
W
I
N
T
E
R
2 0 0 4 N
E
W
S
L
E
T
T
E
R
...check our website - wmuk.org -
for the latest information!
"As close to piano heaven
as you're likely to get."
That may be the best way to
sum up the Gilmore Keyboard
Festival, an international
showcase for the world's
keyboard treasures, soon to
take center stage all across
southwest Michigan. Among
the luminaries who will
perform are Emanuel Ax,
Alfred and Adrian Brendel, Richard Goode, Angela Hewitt,
Leif Ove Andsnes, Pierre-Laurent Aimard, Christopher
Taylor, and Piotr Anderszewski. But the Festival is far more
than superb piano artistry. We'll also be treated to performances
by the Australian Chamber Orchestra, the Zurich Tonhalle
Orchestra, the Boston Camerata, the Mendelssohn String
Quartet, Apollo's Fire, and the Cleveland Baroque Orchestra.
Jazz fans will be entertained by legends like Ray Bryant, Dr.
John, Hilton Ruiz, Jacques Loussier, and Ahmad Jamal. Even
George Gershwin's spirit will come to life in the person of actor,
playwright and concert pianist Hershey Felder, who will present
his one-man show several times at Kalamazoo's downtown
Civic Theatre.
NPR will be on hand for the festivities, as will WMUK
(we're sponsoring the remarkable Fringe Concerts at the Epic
Center once again this year) ­ and you should be too.
Tickets are on sale at the Miller Auditorium and Epic
Center Box Offices. If you prefer, you can order your tickets
by phone (269-387-2300 / 800-228-9858) or online at
A special bonus for WMUK listeners this year will be
broadcast previews of many Gilmore events, hosted by pianist
Lori Sims (also a featured festival artist). Lori will discuss
and illustrate some of the special nuances and pleasures of the
repertoire to be performed during the festival. Listen for her
commentaries on WMUK throughout February, March and
April. And for more information on the The Gilmore, call
the festival office at 269/342-1166.