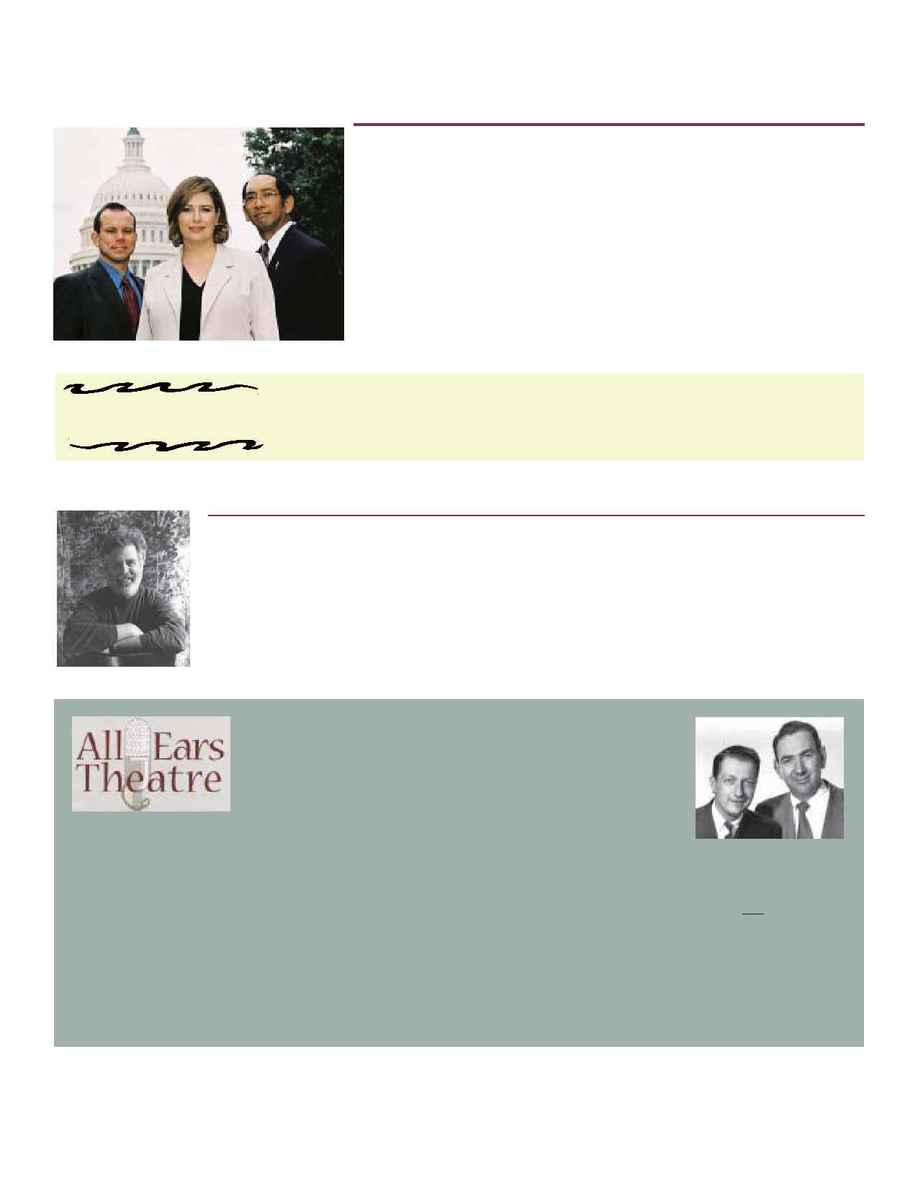 We regret that cuts in state funding to Western Michigan University make it necessary for us to discontinue mailing our
newsletter to non-member listeners after this issue. This will save significant postage expenses. WMUK contributors will
continue to receive the newsletter by mail. It will also be available on line at
WMUK
.
ORG
. Thanks for your understanding.
WMUK News has always given a high priority to covering your elected
officials in Washington. In a major enhancement to that service, WMUK is
now the only public radio station in Michigan with the added resources of
PRI's Capitol Hill Bureau. Veteran Washington journalists Melinda Wittstock,
Chad Pergram and Max Cacas cover legislative developments in Congress with
stories tailored to your needs and interests. The legislative activities of Carl
Levin, Debbie Stabenow, Fred Upton, Peter Hoekstra, Vern Ehlers and Nick
Smith will be the focus of their special reports, keeping you informed on how
your representatives in Washington are responding to important issues on the
national agenda and the challenges faced by our region.
Our Capitol Hill News Bureau
Exclusive Coverage for WMUK Listeners
Exclusive Coverage for WMUK Listeners
Exclusive Coverage for WMUK Listeners
Exclusive Coverage for WMUK Listeners
Exclusive Coverage for WMUK Listeners
Kalamazoo's own great radio theatre group will be on-the-
air once a month on WMUK during the coming year ,
Sunday nights at 6. (Don't miss the live performances
held at First Baptist Church, 315 W. Michigan, at 6 pm
on: January 10 & 24, February 7 & 21, March 6 & 20,
April 3 & 17, May 15 & 29, and June 12 & 26).
THE GREEN HORNET: The Face in the Television
MATT FINISH: A Poole of Blood
THE ODYSSEY OF RUNYON JONES
DAN TURNER, HOLLYWOOD DETECTIVE: Homicide Highball
ETHEL & ALBERT: The Trip to New Orleans
Alternating with ALL EARS THEATRE on Sunday nights, WMUK presents the ever-popular comedy stylings
(of whom Kurt Vonnegut said: "Bob and Ray are funnier than anyone else, including each other.")
Since joining our schedule last Summer, PRI's World Café has generated very positive listener feedback
and is already developing a loyal and supportive audience. It's now available five nights a week on
WMUK. Host David Dye presents a two-hour program of alternative contemporary music for adults
covering a broad range of innovative sounds ­ from reggae and rock to English folk music and Brazilian
pop. Special guests like songwriter and film composer Randy Newman add the spice of insight to the
mix. Designed for listeners who enjoy music that is varied and fresh, David Dye keeps the show two
steps ahead of the mainstream. Tune in at 8 pm and find out what the excitement is all about!
World Café: creating a buzz on the cutting edge
GRAY MATTERS
The award-winning documentary series returns Wednesday evenings at 7 to explore the new
field of neuroimmunology, the social and legal implications of brain research (neuroethics),
Alzheimer's disease, the brain's creative process, and much more.