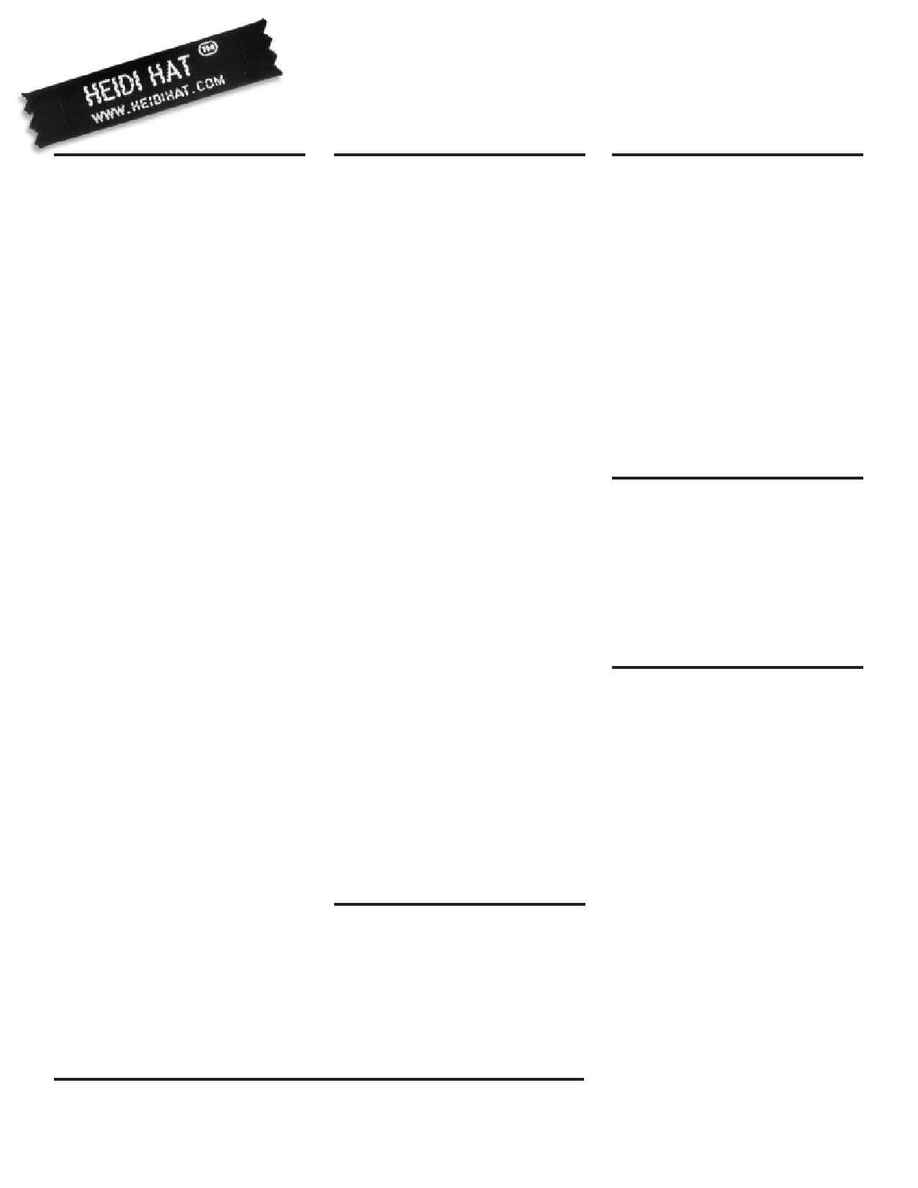 the small print
Heidi Hat StyleS
Classic Pillbox
The classic pillbox shape with fold around ears
and round top. All fleece classic pillbox hats
can be made in the pony-tail pillbox style (for
an additional price).
Pony-tail Pillbox
Can't find a place for that pony? the classic
pillbox shape with pony-tail hole and velcro
closure in back.
Beanie
form-fits your skull.
Brim
keep the sun and the snowflakes out of your eyes
with the brim style hat.
Headband
velcro closure in back. won't mess your tresses.
Scarf
elegant scarves have fabulous beaded fringe
and are guaranteed to attract attention and get
you compliments. measures approximately 6"
by 60", but variations occur due to the nature of
different fabrics.
Shawl
perfect for covering your shoulders without the
bulk of a jacket. measures approximately 20"
by 80".
Neckgator
don't let your décolletagé get chilly when skiing
or cruising the gift shops. fits comfortably
around your neck, while protecting you from the
sun.
Baby Beanie & Blanket Set
for smaller craniums and those kids that are
too cool for ski school. Beanie fits infants up to
1
year-olds. after that, 2 years and up, those
skulls are adult-sized, believe-it-or-not. Blanket
measures approximately 30" by 30". Comes as a
set, but beanie can be ordered alone.
Nose Cover
prevent frost bite and sun burn with this essential
nose cover. velcros to the inside of your goggles,
so you won't fog them up, like what happens
when you pull your neckgator up too high. very
necessary, don't end up lookin' like rudolph after
hittin' the slopes.
Heidi Bottom StyleS
Hot Shorts
Short & sweet. Ideal for yoga. Fitted.
Hot Shorts with Bandeau
Short & sweet, with a comfy bandeau
waistband for extra flexibility. Fitted.
Board Shorts
For the inner surf girl goddess within you.
Bandeau waist. Measures about 12 inches
long, with scalloped side slit.
Capris
Tres chic comfort. Low-rise waist, relaxed fit,
lace around bottom of capris. Measures about
20 inches from crotch, coming to mid-calf.
Capris with Bandeau
Tres chic comfort. Bandeau waist, relaxed fit,
lace around bottom of capris. Measures about
20 inches from crotch, coming to mid-calf.
Pants
Form-fitting, pant inseam measures 29 inches,
elastic waistband.
Pants with Bandeau
Form-fitting, pant inseam measures 29 inches,
fancy bandeau waist accentuating your
hotness.
Skirt
A true traffic-stopper, this "A-frame" skirt hangs
about 20 inches, finished with elegant lace
waistband.
Skirt with 2 Slits
Sexy in the classy way, this is a pencil-shaped
skirt, which hangs to your knees, about 20
inches long.
2 slits sneak up the sides, about 9 inches,
which is just enough. Lace waistband.
little Girl Skirt
Exactly the same fit as the adult skirt, just in the
mini-me version, so your little girl can look just
as great as you.
aPPliCaBle SaleS tax
Colorado residents only add 2.9% to order.
Colorado residents in Garfield County,
Colorado, add 3.9%.
SHiPPiNG rateS
Standard Ground delivery & Handling
fees
order
value
shipping
charge
Please note
extra shipping costs
are incurred for AK & HI
Contact Heidi Hat about
2-Day & Next-Day Delivery and
International Orders
SiziNG GuideliNeS
in General --

We realize not all bodies were built equally, and
no one is really average, so let us know if you
need a little special attention. Heidi Hat is always
up for a challenge.
SiziNG iNformatioN
Will your Heidi Hats fit my cranium?
Generally speaking, Heidi Hats fit the average
head; they are one size fits most. The fleece
fits comfortably, stretching and giving, but also
forming to you and your needs. If you're extra
intelligent and have a massive skull, definitely
let us know, we can alter a hat for you, and vice
versa if you're small-headed (but not by any
means less intelligent).
What if i don't like what i purchased?
Tough luck. No, just kidding, Heidi Hat is happy
to do an exchange with you, for something else
you may like instead, within 30 days of purchase.
Yeah, you heard it, no refunds. We are a small
company, and it starts getting complicated
sending out refunds and all that jazz. To keep it
simple, we want to help you find something you
will like and cherish. You pay the shipping. Give
us a holler, we'll help you out and make sure you
are satisfied and smiling.
How can i buy a Heidi Hat or Heidi
Bottom that i saw somewhere but is not
pictured on your fabulous site?
So glad you asked. Simply contact the stylish
divas over at Heidi Hat, we'll assist you and make
sure you find exactly what you're looking for.
aNy otHer CommeNtS, CoNCerNS, queStioNS, Creative ideaS?
email us preferably, heidihat@comcast.net, or drop us a line or fax us at
970.963.2565.