IP Nanoker Knowledge Dissemination Page 1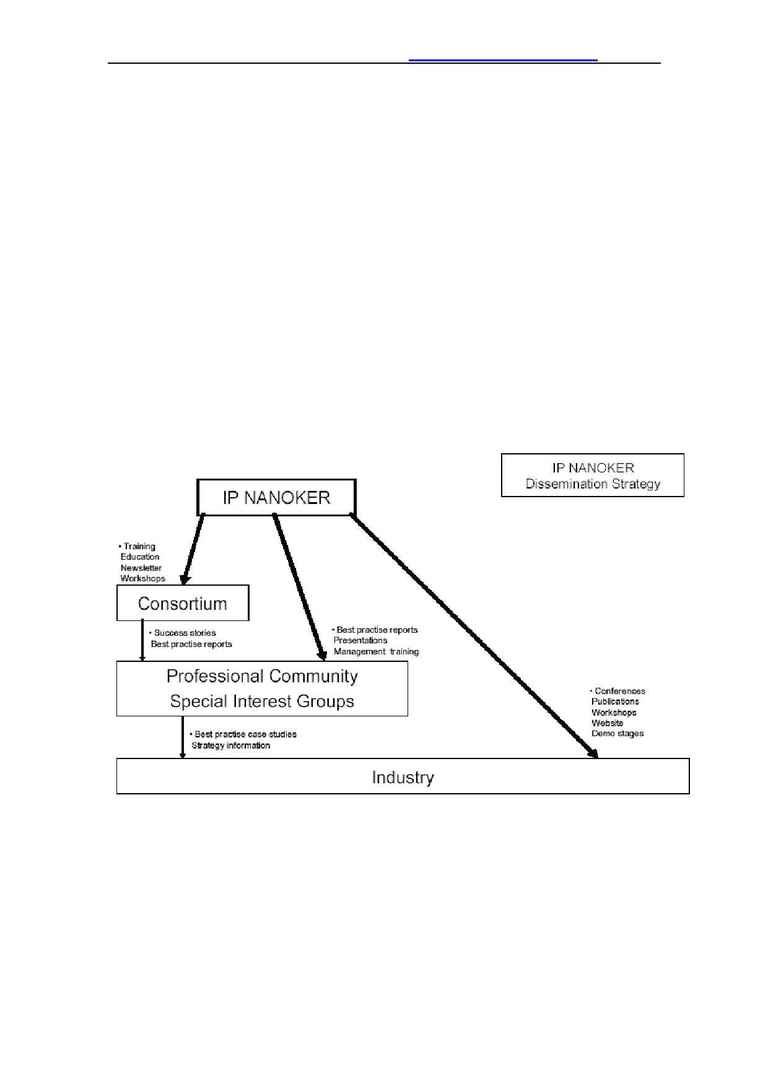 Project Summary- IP NANOKER:
www.nanoker-society.org
Knowledge Dissemination
Knowledge dissemination and exploitation among the partners and the Europe-wide scientific and
industrial community needs special attention. The project-phase-related work programme defines
dissemination and exploitation requirements and activities to most effectively meet the particular
requirements. The programme includes also scientific and industrial training courses.
The initiatives of the serve multiple objectives:
· to spread the new knowledge among the European scientific community and students,
· to train and enable industry, esp. SMEs, in applying the knowledge gained from the project
· to monitor and evaluate together with the industry and users the industrialization process and
the first applications of the new material,
· to find new areas of application and thereby new users,
· to detect and explore new needs to be able to plan new RTD programmes for today and
Dissemination of knowledge derived from this project has to serve in three directions:
· Spreading of knowledge and practices derived from the project into industry to support and
advance the transformation of European Industry into a knowledge-based, added value
oriented direction. This activity will be systematically planned and undertaken by a European
Innovation Relay Centre as well as by regional training centres at participants' sites.
· Education of students: The project participants fully realize that a pre-requisite for the lasting
transformation of the European Industry is to guide young students towards science and to
involve them actively. High school students will be addressed by the "Open Day" systems of
the participant's research institutions, universities, as well as those of industrial enterprises.