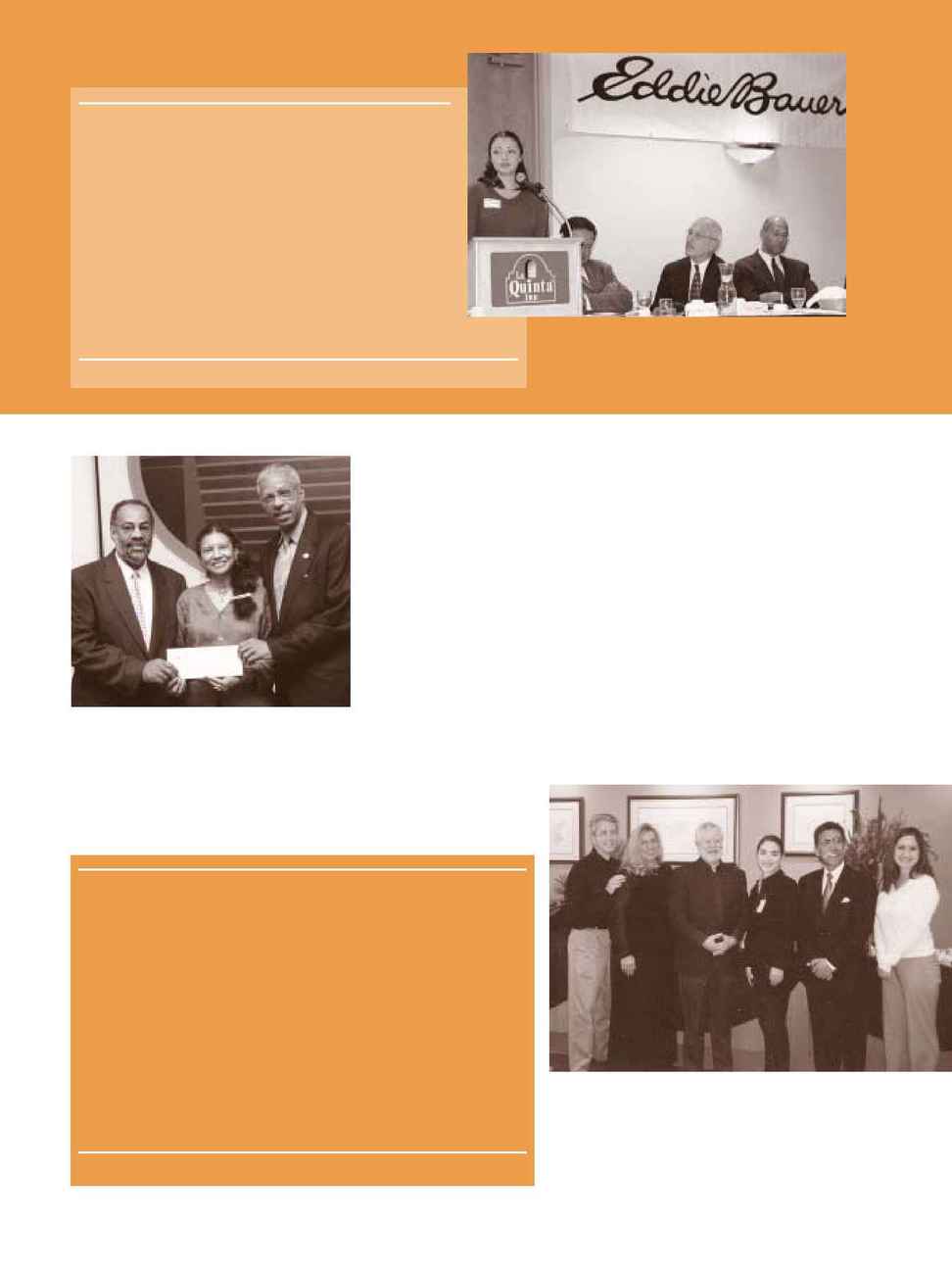 College Fund, Howard University, Clark Atlanta University, and the
University of Washington. Additionally, we contribute to scholar-
ship funds of other organizations such as the NW Asian Weekly
Foundation, the Congressional Black Caucus Foundation, and the
Latino Educational Achievement Project.
Our involvement with these organizations does not begin and
end with writing a check. We take great pride in getting to know the
students who receive scholarship funds and participating with the
organizations to increase the visibility of their critical work. In this
manner, we strengthen our ability to make a difference and to
advance the values we believe will secure a brighter future for gen-
erations to come.
"
Scholarship dollars from Eddie Bauer have helped 24
deserving Latino students attend college. Many of the
thousands of young men and women who receive help from
the Hispanic College Fund are the first in their families to
graduate from high school and go on to higher education.
When they do so, they are not just helping themselves; they are
uplifting their parents, their siblings and their communities.
We are extremely proud to have corporate partners like
Eddie Bauer who share our commitment to give talented
students a chance to succeed.
"
Adam Chavarria, Executive Director, Hispanic College Fund
"
It was very gratifying for me to see public
universities sponsor the Latino/a Educational
Achievement Project's first Educational Conference.
I was quite impressed to see Eddie Bauer there, too.
I want to become a bilingual teacher, and I am
encouraged to see such influential organizations
and corporations supporting me and other
Hispanic students who many times think we can't
make it to college. We can and I will.
"
Rick Fersch, Eddie Bauer President and CEO, hosts a
luncheon for the Hispanic College Fund. Pictured with
Rick, from left, are Kathy Snowden, DVP Retail; Frank
Blethen, publisher of the Seattle Times and the
Yakima Herald; Veronica Calvillo, a student at Seattle
University; Adam Chavarria, executive director of the
Fund; and Bertha Aguilar, a student at Central
Washington University.
Clark Atlanta University President
Dr. Thomas Cole (right) and Ed Davis,
Dean of the School of Business, accept a
check from Eddie Bauer's Public Affairs
Director Lurma Rackley.
College student Norma Cuevas speaks at
the first Latino/a Educational Achievement
Project conference about the importance of
equal opportunity in education.