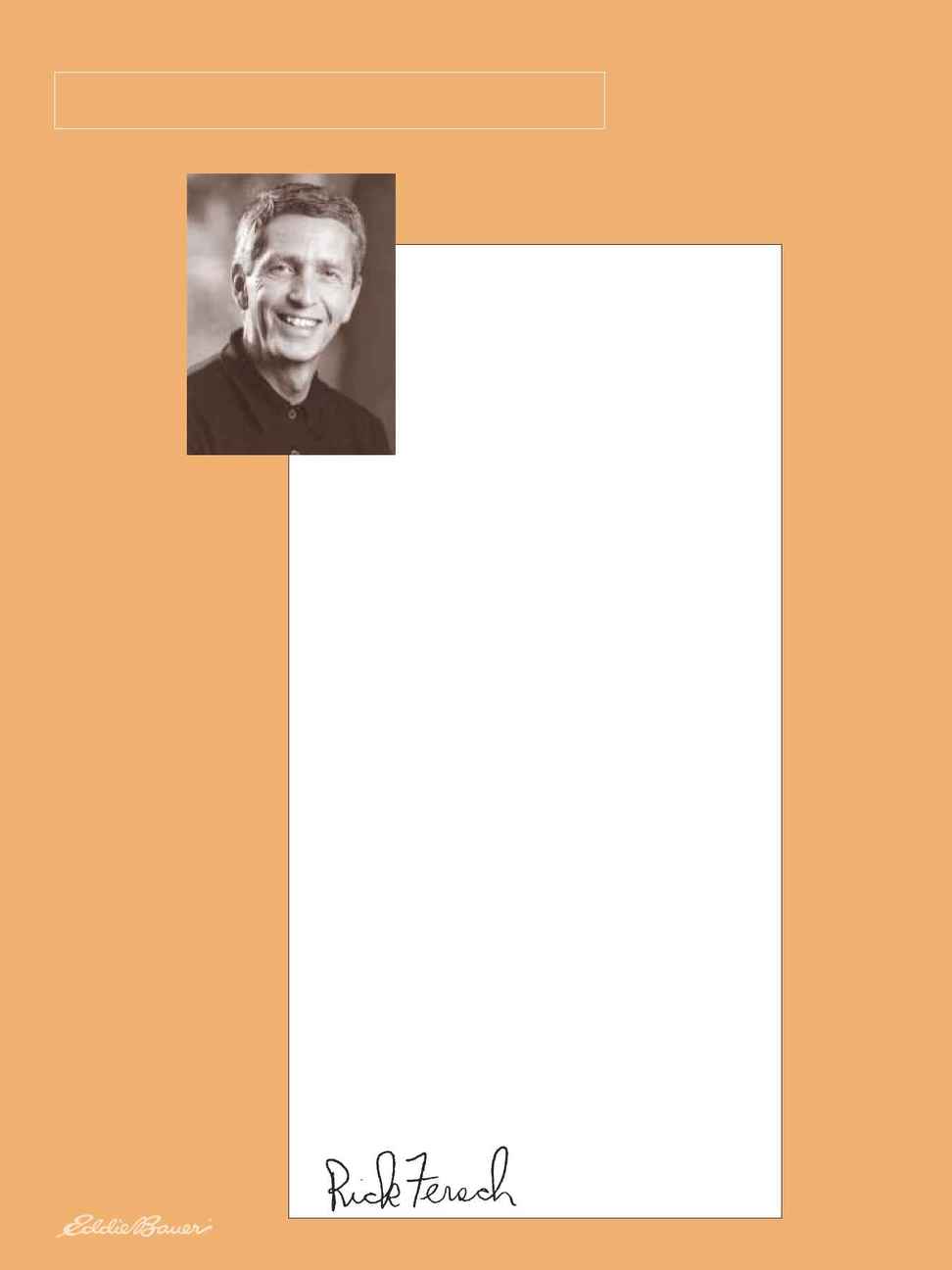 Message from the President and CEO
ne of the advantages of doing business in
the 21st century is the speed with which we
can communicate with our customers. Whether by
mail, phone, or more often, email, Eddie Bauer's
customers hear from us and give us feedback on
the quality of our products and service. Just as
regularly, customers contact us with compliments
or questions about business ethics and corporate
social responsibility programs. How we conduct
ourselves means a great deal to more and more
people, and they let us know.
We truly value this contact because we believe it helps us grow.
While we certainly have programs in place to address critical
issues, hearing from our customers helps us strengthen our resolve,
validate our direction, or in some cases, shift course. In partnership
with organizations and people like you, we feel we can
positively influence business-community relations and social
progress domestically and internationally.
In this report, you will find examples of these partnerships. They
give us great pride, allow involvement that boosts the morale of
our associates, and permit our customers to know the people
behind the logo. After all, a company does not stand apart from its
people; rather, it reflects the deep beliefs and firm commitment of
the men and women who work there.
Eddie Bauer prides itself on being a company that attracts and
supports people who are invested in their communities. In our 500
stores across the US and in Canada, you will find associates from
diverse backgrounds who give their personal time and energy to
causes that promote a better world. Through United Way and a
wide range of other organizations that support education, health,
the environment, arts, housing, and more, Eddie Bauer associates
are there, making a difference.
The leaders of our company also are involved. They hold positions
on national and local non-profit boards, and they give fully to our
annual giving campaign. All these efforts complement the educa-
tional and environmental projects supported through our
corporate philanthropy program.
Please take a few minutes to review this report, then let us know
your thoughts. We're just an email away, at www.eddiebauer.com,
and we'd love to hear from you.