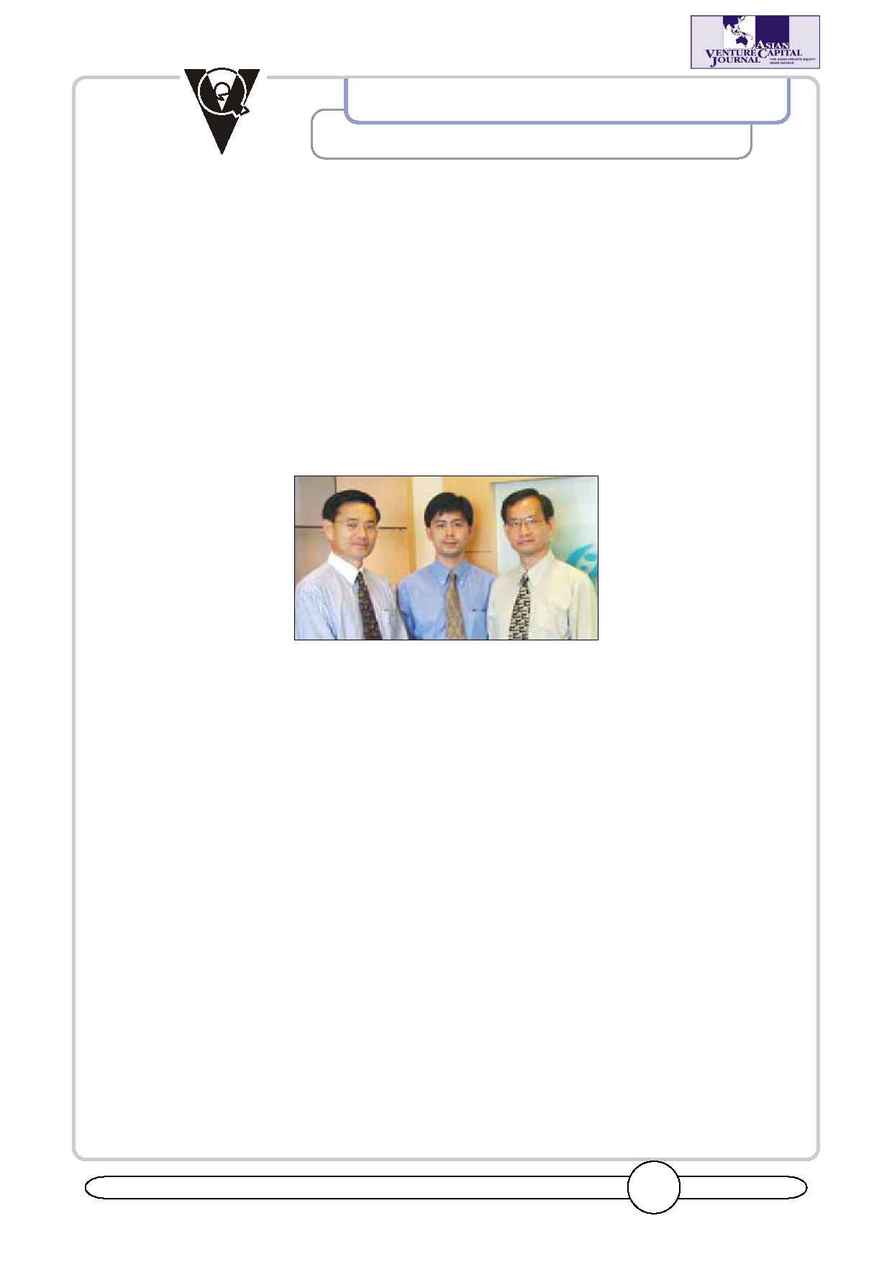 Asia's top entrepreneurs and their quest for venture capital.
f nanotechnology is really the next big thing, Asian
investors have a lot of catching up to do. AVCJ research
shows there were only four investments with less than
$4 million injected in nanotechnology companies in the
past 12 months.
However, Singapore-based NanoMaterials Technology
was able to convince EDB Investments and Juniper Capital
Ventures to invest $1.6 million. The company attributes its
success to the commercial application of its technology
and mass production of nanomaterials, which is rare in this
nascent industry.
"You probably have heard that
nanotechnology will be leading
the next industrial revolution,"
says Jimmy Yun, Technical
Director and General Manager
the company. But he notes wryly
that many of the applications are
not even properly developed.
Finding applications
NanoMaterials found some of
the applications and is currently tapping into the huge
industrial market with a tiny material -- nano-sized
precipitated calcium carbonate (NPCC). The company aims
to replace the precipitated calcium carbonate (PCC) used
in the plastics, paint and coding industry with its low-priced
NPCC.
Sales Director Danny Tan says NPCC has tremendous
cost-efficiency over PCC, particularly in strengthening
PVC. "Comparing our NPCC product to specialty
chemicals, we are easily half the price of those products,"
says Tan.
The company produces NPCC with the use of high
gravity reactive precipitation (HGRP), a technology
acquired from Beijing University of Chemistry Technology.
HGRP produces nano-sized particles with control over its
shape and size through chemical reaction under a high
gravity environment.
"If you want to deliver the particle through air, you will
have to have particles designed to fit into the system," says
Yun. Such control allows the particles to perform at a higher
efficiency or a manner that fits its application.
Apart from producing NPCC for the plastic and paint
industries, HGRP can also develop various particles in
different industries, like electronics and pharmaceuticals,
the company claims. CEO Patrick Chui asserts the HGRP
technology can produce nano-sized drugs, which can reach
NanoMaterials Technology raises capital with nascent technology
the problem area of the human body faster at a lower dosage
and serve as an alternative to existing therapies. In the
electronics industry, HGRP can modify the ceramic powder
used in electronic devices. He adds that applications of
HGRP could be many and the company is planning to roll
out 10 more products in the next three years.
As NPCC is a novel product in the industry, the
company has embarked on educating industrial users about
the product's technology and its advantages. There are about
100 companies testing the product.
indeed we can make such a
product, they may have materials
that they want to make into
nano-sized powders with our
technology, so this evaluation
phase is a very exciting stage for
us," says Chui.
in Shanxi, where NPCC
production commenced in
December 2001 and is expected
to launch three more plants by early next year. The Shanxi
plant is generating low sales levels, but Tan is confident the
company will turn cash-flow positive by early 2003.
Raising funds for novel technology
While Tan concedes that other companies are producing
similar materials, he thinks a lot of them are using
conventional technology and they will find it difficult to
develop nano particles for mass production.
"I think that's another reason why the two VCs we've
talked to did not take a lot of convincing before they put the
money in our company," says Chu. NanoMaterials closed
the funding in November, after six months of negotiation.
Chui agrees that after the tech-wreck of the past year, it
is difficult for VCs to invest in novel technology. But that
sentiment is not restricted to Asia, it's worldwide. He claims
even NASDAQ-listed nanomaterial companies are not
generating big revenues. Citing the example of Nanophase
Technology, he points out that it is producing on a very
small scale and charging $100-$250 per kilogram. "We are
talking about tonnes, when a lot of companies are talking
about kilograms," says Tan. Chui adds that being able to
produce on a large scale at a low price is essential for the
commercialization of nanomaterials.
VENTURE QUEST
(From left) Danny Tan, Jimmy Yun and Patrick Chui