WBAB FM 102.3/WHFM FM 95.3 wbabcom advertising information Page 1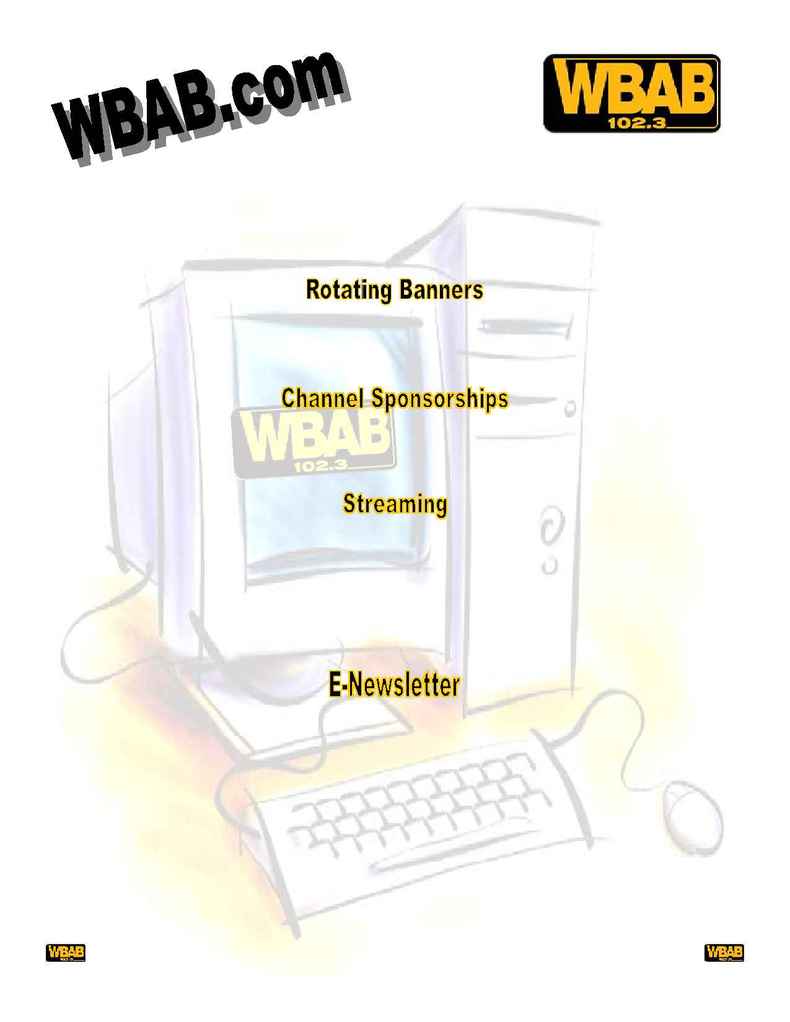 These banners rotate throughout every page of the site. New banners appear each time someone
clicks on another page or refreshes the current page. When visitors click on the banner they can go
to your web site or a custom bridge page created by our web producer.
Streaming commercials have the potential of reaching over 30,000 listeners per month. When
visitors listen to the station via streaming audio, all on-air radio commercials are blocked out for
clients who advertise on the web. The Internet broadcast audience is a very special, highly focused
group of consumers. While WBAB's live broadcast is playing on the media player window your
company's custom banner ad will be displayed on the media player. The banner ad on the media
player will allow listeners to immediately click their way to our website or a custom bridge page to
learn more about your product or service.
Each week WBAB.com sends out 30,000 newsletters to VIP subscribers. Each subscriber has
signed up and requested they receive the newsletter via email, creating a unique marketing
opportunity for only 3 advertisers to take advantage of. You will have the opportunity to be in front
of 30,000 of WBAB's most interactive listeners. Your banner will be prominently displayed on the
WBAB.com E-Newsletter. Within the newsletter, subscribers have the opportunity to get
information before it hits the air, giving them the "inside scoop". Some of the fantastic opportunities
our subscribers have had the opportunity to take advantage of are local hot spots, pre-sale concert
tickets, and station news.
To find out more about these and other Internet Advertising opportunities on WBAB.com,
please contact your local Account Manager at (631) 587-1023.
Interested in advertising on WBAB? Check out the
most popular ways to get your message out there
via WBAB.com:
These are sponsorships of the channels throughout WBAB.com including the Event Guide, Last
Songs Played, Roger and JP, and other major areas available through our site navigation bar.
Your graphic appears next to the channel header.
WBAB 102.3 555 Sunrise Highway West Babylon, NY 11704 Phone: (631) 587-1023 Fax: (631) 587-1282