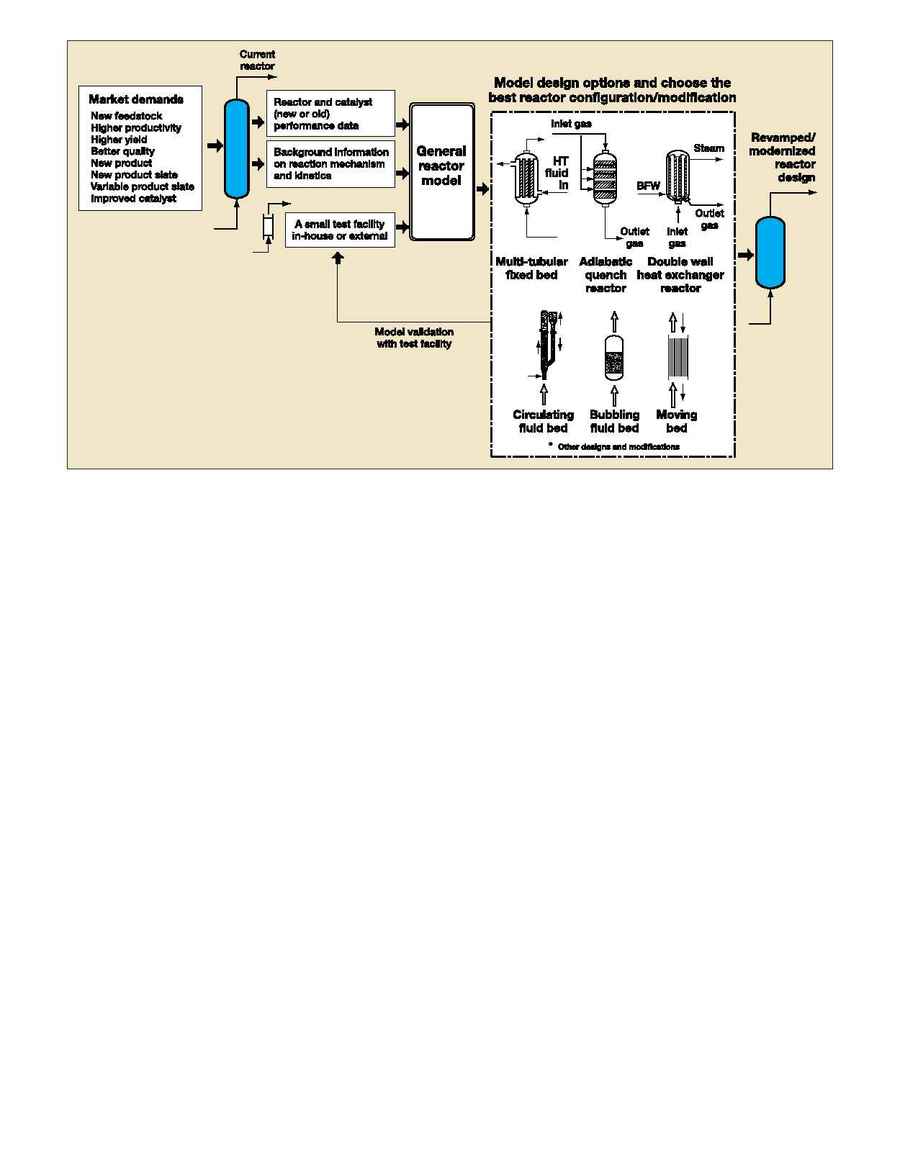 complexity. They handle any G
R
S reaction system,
where G is the number of gaseous reactants and prod-
ucts, S is the number of solid reactants and products
and R is the number of reactions for any complexity
and kinetics. They apply to both catalytic and noncat-
alytic gas-solid reactions, and also to nonstoichiometric
reactions of refineries and coal conversion processes.
Conventional gas-solid reactor type--fixed-bed (vari-
ous types), fluidized-bed (bubbling, turbulent, circu-
lating or entrained) or moving-bed, or any combina-
tion--can be simulated. They also can evaluate many
design modifications such as, product recycle, multi-
ple feed injections, multi-staging and temperature pro-
gramming. The model should include all necessary cor-
relation and methodologies for heat and mass transfer,
and hydrodynamic calculations necessary for each reac-
tor configuration. The model must be customized for a
unique design feature(s) not covered by conventional
reactor configurations.
Modeling--a powerful tool.
modeling in process operations has several benefits:
Boost your yield and productivity. Using a model,
the operator can predict the optimum processing condi-
tions for operating unit reactors. Switching to those con-
ditions can increase yield and productivity. Different
operating conditions can be evaluated via the model
without interfering with normal operation. Conditions
outside the normal operating envelope can be studied
for stability, safety and productivity. In some cases such
as in acetylene converters in ethylene plants, the con-
verters are operated at extreme conditions to avoid
breakthrough of unwanted contaminants. At break-
through, valuable process products are lost. In such
cases, a good reactor model integrated with advanced
control system could allow plants to back up conditions
to avoid production losses and boost productivity.
Custom-tailor products. With a general model,
users can change operating conditions or modify an
existing reactor. For example, adding a new recycle or
feed stream, or programming of reactor temperature
profile can be simulated when developing new or vary-
ing product composition or quality. This is a burning
need in today's refineries. A general model can be used
to develop modified design and/or operating conditions
promptly and reliably.
Modernize the reactor. Superior reactor designs
can be simulated for future plant expansions for a new
facility. For example, converting from a conventional
fixed-bed to a fluidized-bed reactor can substantially
decrease capital costs and gain dramatic improvement
in both yield and productivity. Currently, this oppor-
tunity exists in many production schemes that involve
partial oxidation reactions. For a very fast reaction sys-
tem, for example cracking, switching from a fluidized
bed to an ultra-rapid reactor system, can boost the yield
of desired products. A general model can critically
examine the pros and cons of each conversion. Equally
important, it can be used to develop the detailed design
for the new system.
Revamp for a new product line. A new catalyst or
a different reaction system can be a good candidate for
an operating reactor that is no longer profitable. The
general model allows the user to promptly evaluate
this situation. The model can then be used to revamp
the reactor for a new product line based on the new cat-
alyst and reaction system.
Improve product quality. Processing facilities
can add a secondary booster or polishing reactor to
improve conversion or selectivity, and minimize impu-
rities or harmful traces. Often, environmental regu-
lations are the drivers for polishing and waste-reduc-
HYDROCARBON PROCESSING / JULY 1999
Fig. 2. General reactor model applications that respond to market demands.