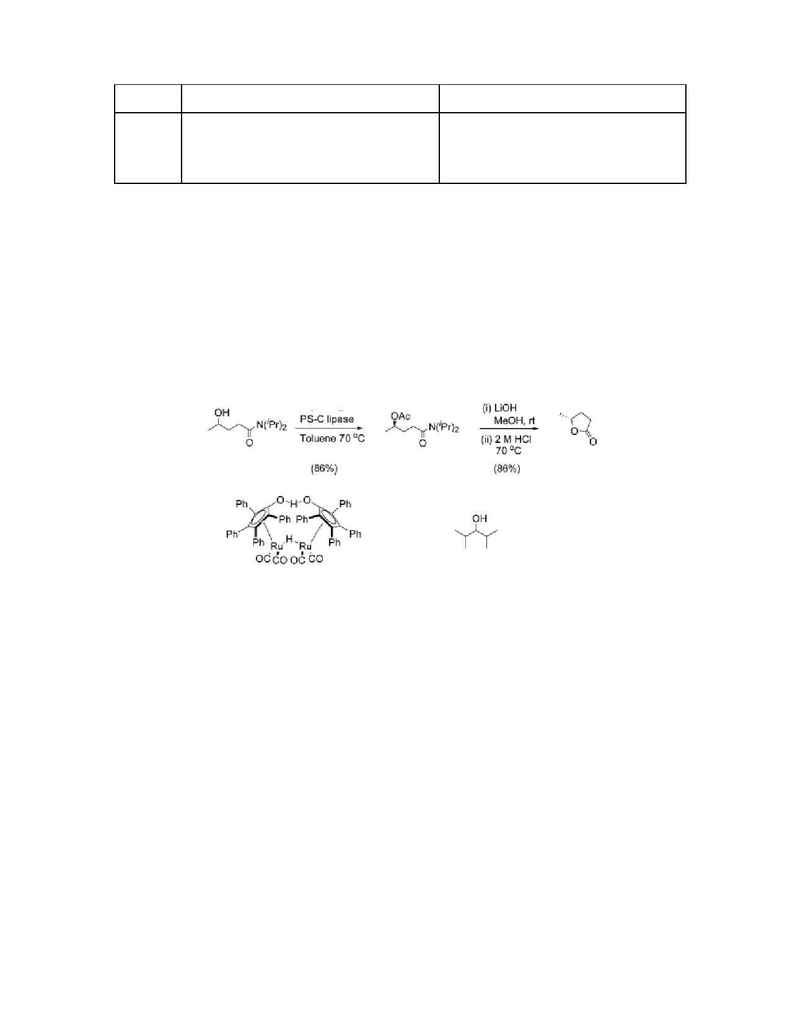 Toluene, tert-butyl methyl ether (TBME),
diisopropyl ether (DIPE), cyclohexane
Ethers and cyclohexane gave a lower
enantioselectivity compared to toluene.
(1) 2,4-dimethyl-3-pentanol, (2) 2,6-dimethyl-4-
heptanol, (3) hydrogen gas, (4) HCOOH and (5)
HCOOH.Net
With (4) and (5), slower reaction observed and
decreased selectivity. With (1), (2) and (3)
formation of ketone is suppressed. Reaction is
faster in (3) but (1) appeared to be a better
hydrogen donor due to better enantioselectivity.

The kinetic resolution of
-hydroxy amides (4) using PS-C and the acyl donor 4-chlorophenyl acetate
(1)
with a ruthenium-catalyzed racemization process via hydrogene transfer employing the dimeric Ru-
precatalyst (2) in toluene. The proposed conditions for the dynamic kinetic resolution synthesis process
are illustrated using the practical synthesis of the versatile intermediate (R)-5-methyltetrahydrofuran-2-
one (6) as shown in Figure 2. The enantiomerically enriched acetate (5) was isolated in 86% yield from
N,N-diisopropyl-4-hydroxypentanamide (4) on a 0.8 mmol scale with an enantioselectivity of 98%. 4-
chlorophenyl acetate (1) was chosen as the primary acyl donor, 2,4-dimethyl-3-pentanol (3) as the
hydrogen donor. The optimum performance of the PS-C is about 55-60░C. Acetate (5) was transformed to
the (R)-lactone (6) via a one-pot two-step procedure involving hydrolysis with LiOH in methanol
followed by acid-catalyzed lactone formation.













(2)
(3)
Figure 2. Synthesis of Lactone


CURRENT AND FUTURE DEVEPLOPMENT

Enzymatic methods will be used increasingly in research and industry for the preparation of chiral
compounds. There are wide scopes of research in the enzyme-mediated synthesis. Among those are
continually improvement on immobilization techniques, Yashimoto et al (2005) reported a novel
immobilized liposomal glucose oxidase system using channel protein OmpF and catalase. The novel
biocatalyst gave about 80% of glucose conversion while conventional immobilized glucose oxidase gave
only 60% conversion.

Another chemoenzymatic asymmetric synthesis was reported by Jiang et al (2005). The enzymatic
resolution of the substrate Boc-aminocyclopenten-1-ol followed by Pd(0) catalysis produced the final
product polycyclic pyrazolo[3,4-d]pyrimidine with higher than 90% conversion plus more than 99% ee.
The reported process used immobilized enzyme Candida Antarctica B (CAB) to enable recycle of
enzyme.

Recombinant DNA and RNA techniques are developing rapidly, and with their development, the design
and engineering of synthetic catalysts may become feasible. The practice of genetic engineering can now
transfer the synthesi of almost any protein into a micro-organism, or some other cell which will grow in a
fermenter. The commercial value of the recombined proteins is shown in Table 3 (Roberts et al: 1995).
1 (3.9 eq.)
2 ( 6mol%)
3 (0.5 eq.)
4
5
6