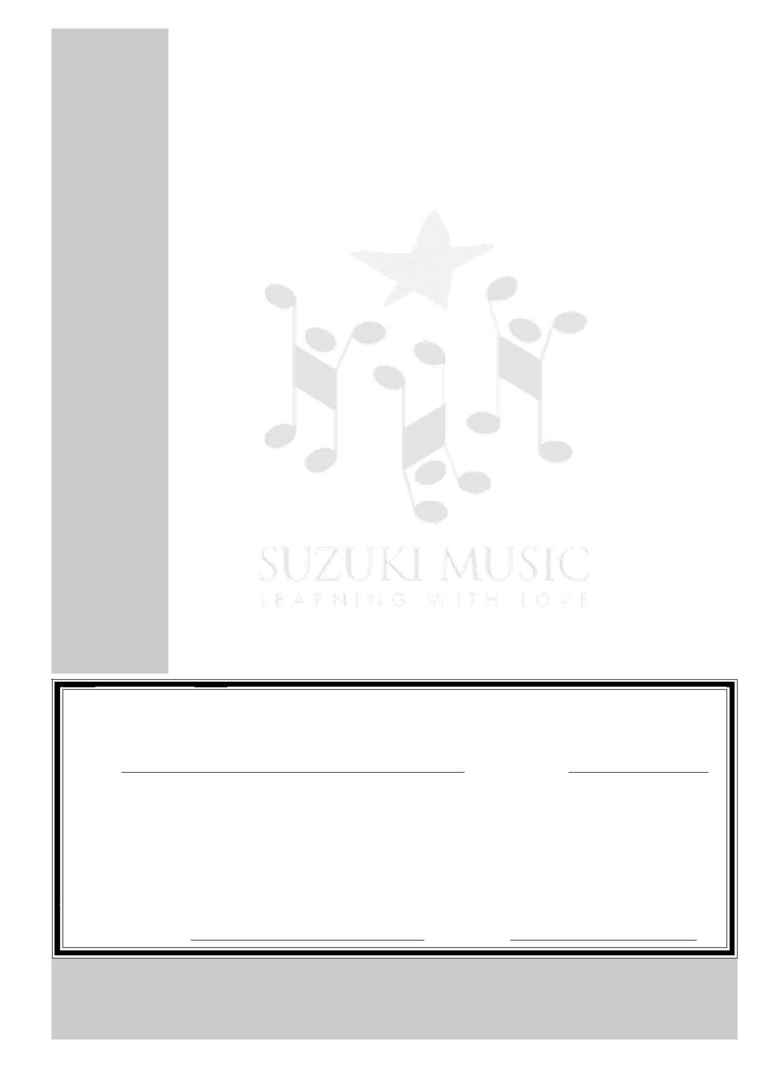 De-Mystifying Adolescence
SUZUKI MUSIC
170 Southbank Blvd Southbank VIC 3006
(03) 9681 6933 Fax (03) 9681 6977 Email info@suzukimusic.org.au
Suzuki Talent Education Association of Australia (Vic.) Inc. Reg. No. A5744 ABN 14 080 413 955
ALL INSTRUMENT PROFESSIONAL DEVELOPMENT
Incorporating Suzuki Music AGM
SUNDAY 14 MARCH 2004
1:30--5:30
Meeting Room, Hawthorn Library, Glenferrie Road, Hawthorn
Cost: $69 (or $34.50 for 2004 Primary Trainees)
Suzuki teachers understand how to work with younger students but...
those students all grow up and our teaching needs to reflect those
developmental changes.

This session will address pertinent issues concerning adolescent development to
facilitate your work with students in this age group and their families.

Program
1.30--3.00 Dr Patricia Coulton

Trish is a psychiatrist working with children and adolescents and is
also a Suzuki mum to three children each learning two instruments.
3.15--4.15 Suzuki Music AGM
4.30--5.30 Lois Shepheard, Violin and Viola Teacher Trainer
The
for lifelong learning and is not
exclusively for young students. The changing dimensions of the
Suzuki triangle will be the focus of our discussion session, lead by
Lois, one of the founding Suzuki teachers in Australia.
Annual Professional Development Requirement Credit--2.5 hours
Please note that teachers enrolled in the Intermediate Lecture Course do not
need to apply separately for this session. This is included in your course costs.
Please complete the slip below and return to Suzuki Music by
Monday 1 March.
ALL INSTRUMENT PROFESSIONAL DEVELOPMENT
Sunday 14 March 2004

Name

Payment Details
69
$ 34.50 for 2004 Primary Trainees
Card (Bankcard/Mastercard/Visa)
_ _ _ _ / _ _ _ _ / _ _ _ _ / _ _ _ _