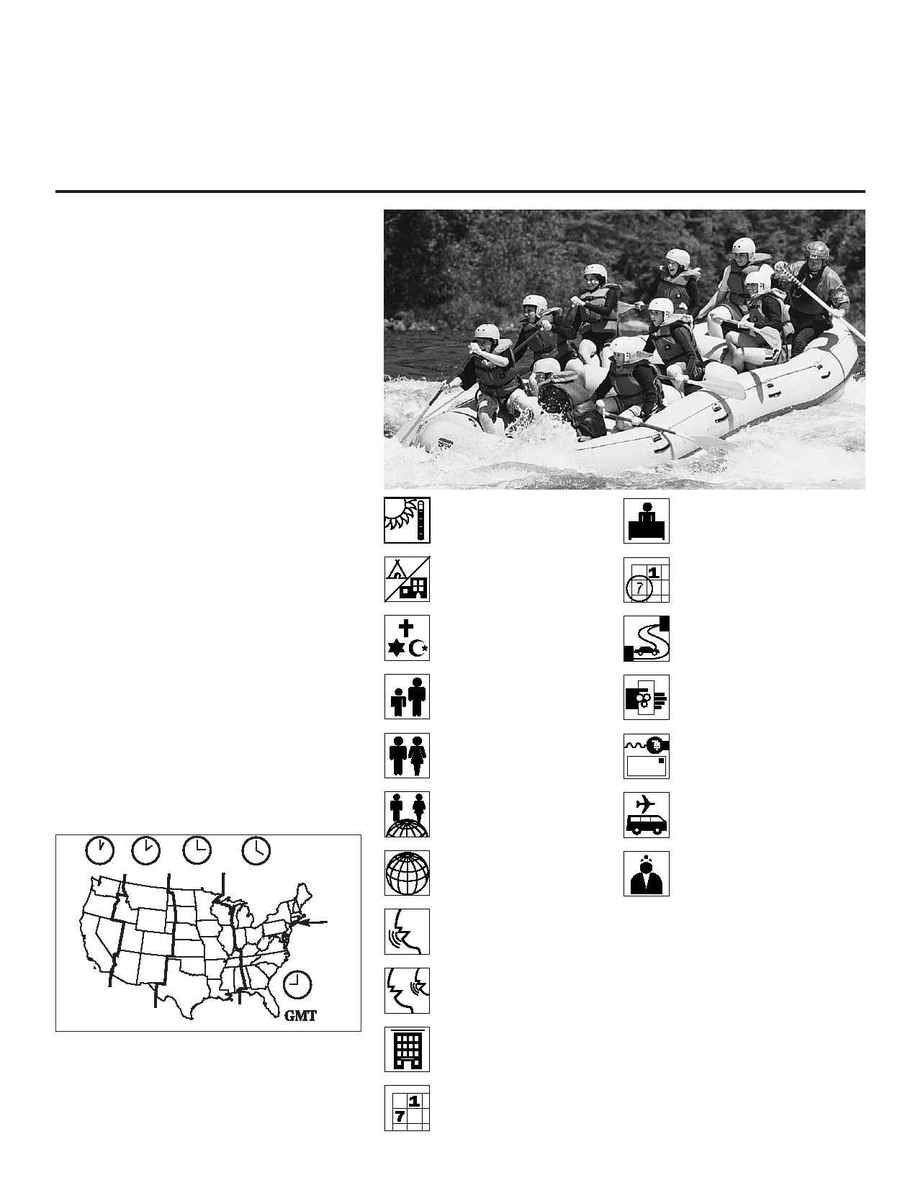 ravel throughout the USA, Canada, Europe, Australia,
or Belize. Choose from adventures, tours, golf trips,
language study, or community service in the most
exciting destinations including California, Hawaii, and Alaska.
Activities include surfing, rafting, snowboarding, SCUBA, city
touring, and exciting nightlife. Caring and experienced leaders
accompany each group.
Viaje por los Estados Unidos de América, Canadá, Europa,
Australia o Belice. Escoja entre aventuras, viajes turísticos,
viajes de golf, estudio de un idioma, o servicio comunitario en
los lugares más excitantes que incluyen California, Hawai, y
Alaska. Las actividades incluyen surfing, descenso en balsa
(rafting), snowboarding, SCUBA, visitar ciudades y una vida
nocturna excitante. Cada grupo es acompañado por líderes con
experiencia y comprensivos.
Voyagez et découvrez les États-Unis, le Canada, l'Europe,
l'Australie ou Belize. Choisissez de partir à l'aventure,
d'effectuer un circuit, de jouer au golf, d'étudier une langue
étrangère ou de participer aux services mis à la disposition des
communautés, et ceci dans des lieux fascinants comme la
Californie, Hawaii et l'Alaska. Vous pourrez faire du surf, du
rafting, du snowboard, de la plongée, participer à des
excursions pour découvrir une ville et profiter des animations
de la vie nocturne. Chaque groupe sera encadré par des
responsables expérimentés et attentifs.
W
ESTCOAST
C
ONNECTION
Mark Segal, Director
154 East Boston Post Road
Mamaroneck, NY 10543
Phone: 914-835-0699 Fax: 914-835-0798
E-mail: info@westcoastconnection.com
URL: http://www.westcoastconnection.com
32 km from Kennedy Airport; 32 km from New York City, NY
A 32 km del aeropuerto Kennedy; a 32 km de la ciudad
de Nueva York, NY
A 32 km de l'aéroport Kennedy ; à 32 km de New York City, NY
Available · Disponibles · Disponibles


Nondenominational · Sin afiliación religiosa ·
Non confessionnelle


Rolling · Continuo · Continuelles


Las Vegas, Los Angeles, San Francisco
Varies 15% · Varía · Varie
Brazil, Canada, England, France, Italy
Minimal proficiency necessary · Se requieren
conocimientos mínimos · Aptitude minimale requise
Dormitories, hotels/resorts · Residencias estudiantiles, hoteles/centros vacacionales · Dortoirs,
hôtels/complexes


June­August · junio ­agosto · juin­août
6 8
6 8
Local hospital · Hospital de la localidad ·
Hôpital local