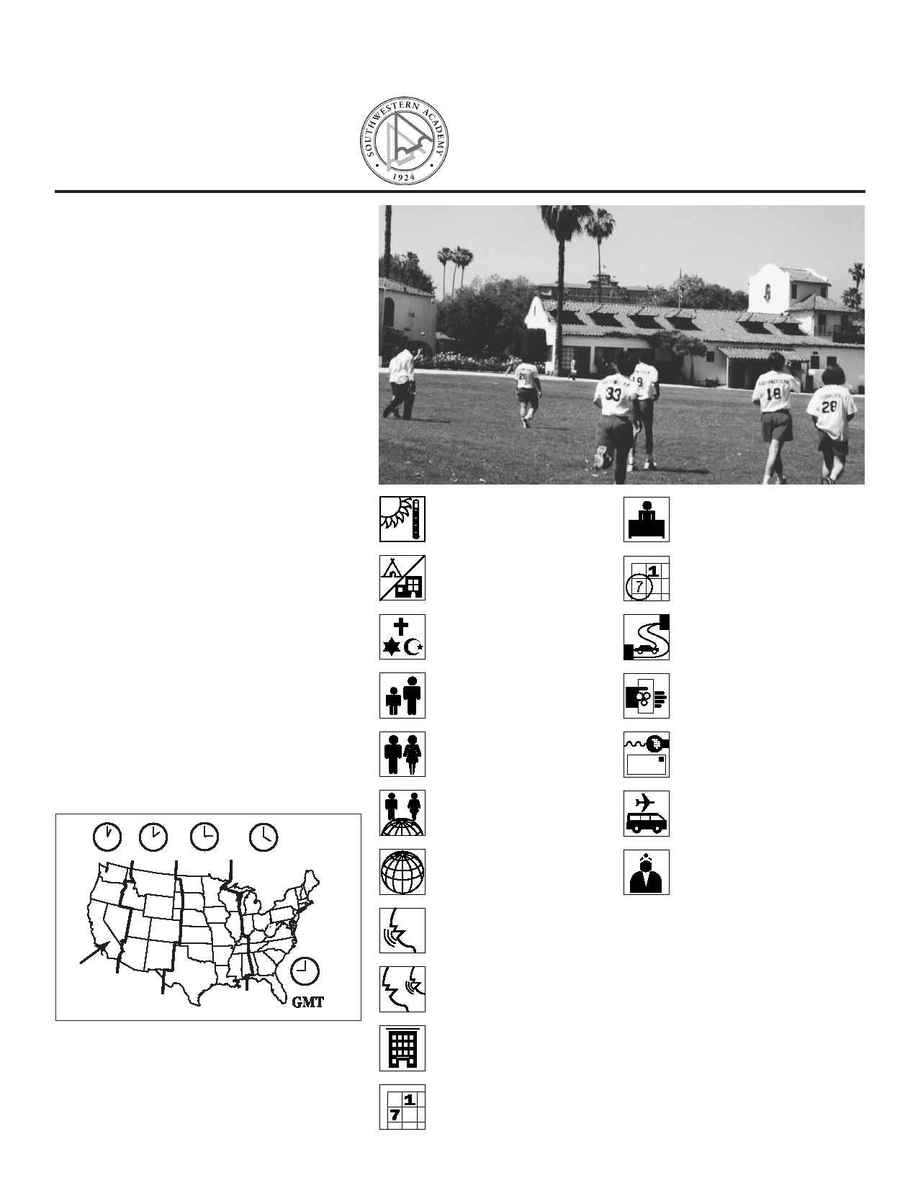 outhwestern Academy's International Summer
School program is offered at our San Marino,
California campus. Full-semester, half-semester, and
shorter sessions are available. Summer is an excellent time
to start or finish your ESL requirements. We have a
beautiful and safe campus with friendly and helpful
faculty.
El programa internacional de la escuela de verano de
Southwestern Academy se ofrece en nuestro recinto de
California, en San Marino. Se encuentran disponibles
sesiones de semestre completo, medio semestre y sesiones
más cortas. El verano es un tiempo excelente para
completar los requisitos de inglés como segundo idioma
(ESL). Contamos con un recinto seguro y hermoso y con
un profesorado amigable y que ofrece ayuda.
Été de l'école internationale Southwestern Academy est
offert sur notre campus californien de San Marino. Les
sessions sont proposées par semestre, demi-semestre ou sur
une période encore plus courte. L'été est un moment
excellent pour terminer la préparation a l'examen
d'Anglais comme langue étrangère. Nous sommes situés
dans un environnement sur et agréable avec un corps
enseignant aimable et dévoué.
S
OUTHWESTERN
A
CADEMY
S
OUTHWESTERN
I
NTERNATIONAL
S
UMMER
S
CHOOL
Jane Whitmire, Director of Admission
2800 Monterey Road
San Marino, California 91108
Phone: 626-799-5010 Fax: 626-799-0407
E-mail: admissions@southwesternacademy.edu
URL: http://www.southwesternacademy.edu
48 km from Los Angeles International Airport; 3 km from
Pasadena, CA · A 48 km del Aeropuerto Internacional de Los
Angeles; a 3 km de Pasadena, CA · À 48 km de l'aéroport
international de Los Angeles; à 3 km de Pasadena, CA
Los Angeles
Los Angeles 48 ; Pasadena , CA 3
Dormitories · Residencias estudiantiles · Dortoirs
Mid June­Mid September · Mediados de junio­mediados de septiembre · Mi juin­mi septembre
Suburban · Suburbano · En banlieue
Nondenominational · Sin afiliación religiosa ·
Non confessionnelle
Rolling · Continuo · Continuelles
Disneyland, Knotts Berry Farm, Magic
Mountain, Southern California beaches,
Getty Museum, Huntington Library
$5000-$16,500, $500-$1000
China, Japan, Korea, Russia, Taiwan
No proficiency necessary · No se requieren
conocimientos previos · Aucune aptitude requise
Three levels of ESL; No extra fee · Tres niveles de ESL; sin costo adicional
Trois niveaux d'Anglais comme langue étrangère; Pas de frais supplémentaire.
Local hospital · Hospital de la localidad ·
Hôpital local
Southwestern Academy San
Marino
ESL