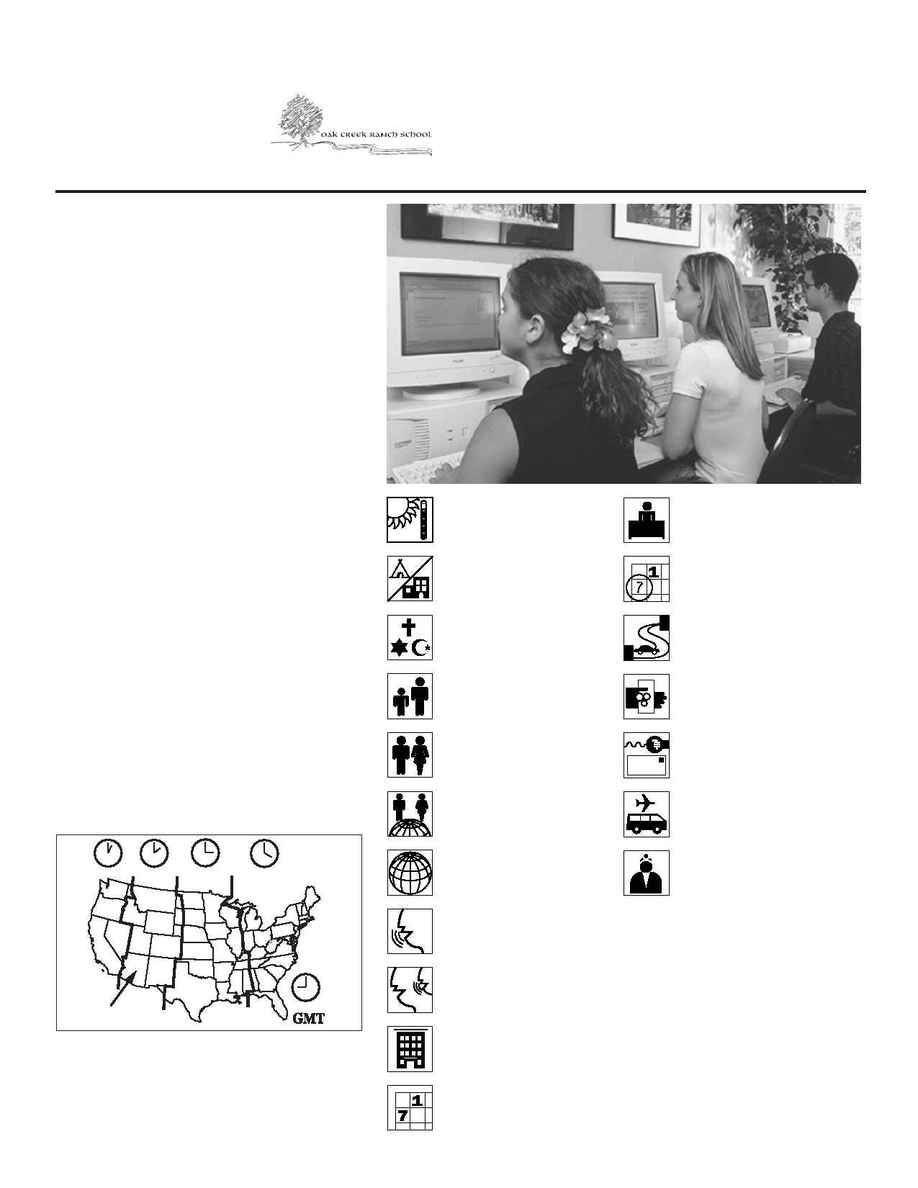 tudents are instructed by experienced, certified teachers in all
educational fields. Summer school is both academic and
adventurous. Small classes and high technology help students
excel in a structured and safe environment. Academics include
ESL, TOEFL prep, computer science, math, science, and study
skills. Activities include swimming, horseback riding, paintball
games, Grand Canyon trips, and water parks. Sessions are 4 weeks.
Los estudiantes reciben instrucción de maestros certificados con
experiencia en todos los campos de la educación. El colegio de
verano incluye programas académicos y actividades al aire libre.
Clases con pocos alumnos y dispositivos de alta tecnología ayudan
a los estudiantes a destacarse en un ambiente estructurado y
seguro. Los cursos académicos incluyen inglés como segundo
idioma (ESL), preparación para el TOEFL, ciencias de
computación, matemáticas, ciencias y técnicas de estudio. Las
actividades incluyen natación, equitación, juegos de paintball,
excursiones al Grand Canyon y parques acuáticos. Las sesiones
duran 4 semanas.
Les étudiants reçoivent un enseignement dispensé par des
professeurs certifiés et expérimentés dans tous les domaines
éducatifs. Le programme d'été est aussi bien académique que
récréatif. Grâce à des classes restreintes et à un excellent support
technologique, les étudiants se réalisent pleinement dans un
environnement sécuritaire et structuré. Le programme académique
comprend l'anglais comme langue étrangère, la préparation au
TOEFL, l'informatique, les mathématiques, les sciences et les
techniques d'étude. Les activités comprennent la natation,
l'équitation, des jeux de "paintball", des voyages au Grand Canyon
et des journées dans des parcs d'attractions nautiques. Les cours
sont de 4 semaines.




ESLTOEFL


4
O
AK
C
REEK
R
ANCH
S
CHOOL
Jay Wick, Headmaster
P.O. Box 4329
West Sedona, Arizona 86340
Phone: 928-634-5571 Fax: 928-634-4915
E-mail: admissions@ocrs.com
URL: http://www.ocrs.com
161 km from Phoenix International Airport; 72 km from Flag-
staff, AZ · A 161 km del aeropuerto internacional de Phoenix; a
72 km de Flagstaff, AZ · A 161 km de l'aéroport international de
Phoenix ; à 72 km de Flagstaff, AZ
Phoenix 161 Flagstaff, AZ 72
Phoenix 161 Flagstaff, AZ 80
Sessions begin June 10, June 24, July 8 · Las sesiones comienzan el 10 de junio, el 24 de junio y el 8 de
julio · Les cours commencent le 10 juin, le 24 juin et le 8 juillet
Hong Kong, Japan, Korea, Thailand
Grand Canyon, Phoenix, Flagstaff,
Sedono, Cottonwood, AZ
No fee · Gratuito · Gratuit
Rolling · Continuo · Continuelles
Nondenominational · Sin afiliación religiosa ·
Non confessionnelle
No proficiency necessary · No se requieren
conocimientos previos · Aucune aptitude requise
No fee · Gratuito · Gratuit
Dormitories · Residencias estudiantiles · Dortoirs
Available · Disponibles · Disponibles
Local hospital, On-site medical persornel·
Hospital de la localidad, personal médico en
las instalaciones· Hôpital local, personnel
médical sur place


ESL TOEFL