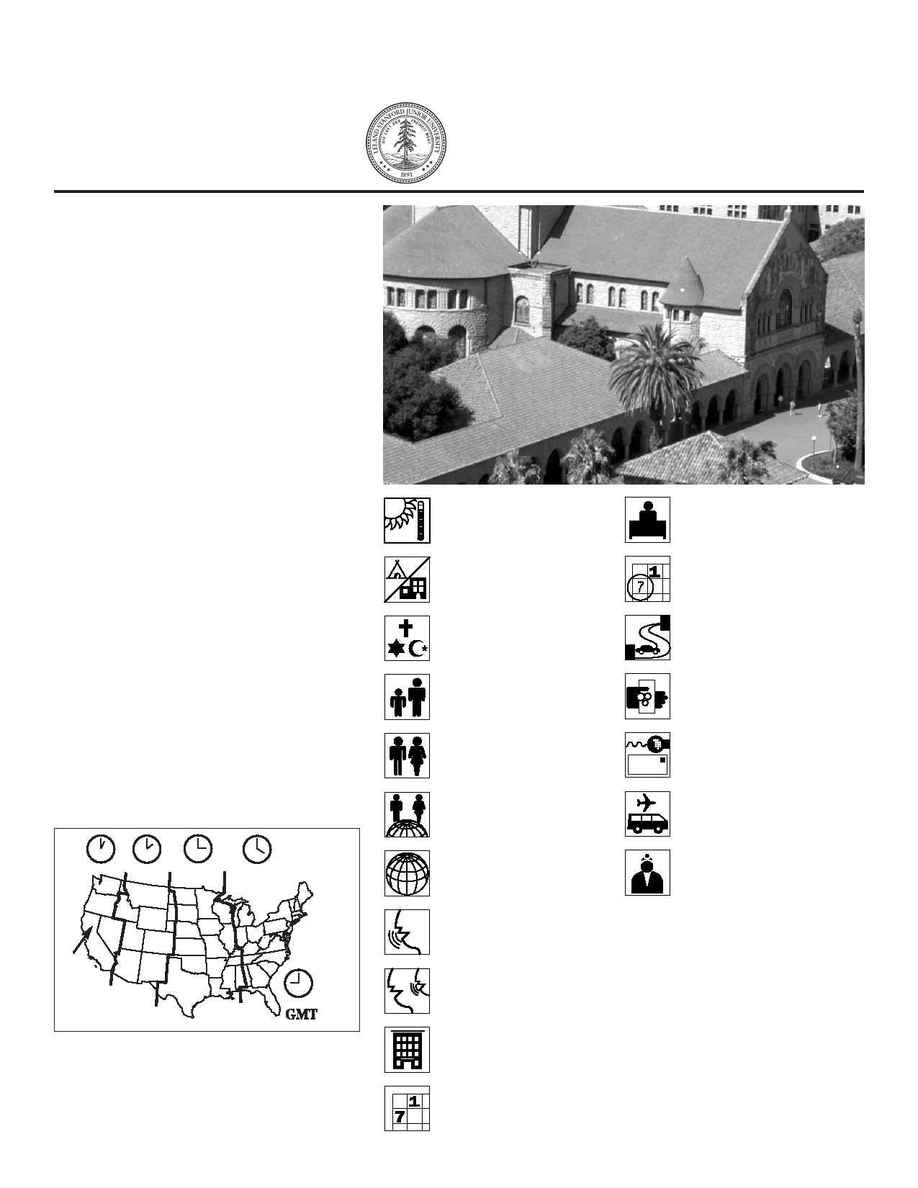 ocated on a stunning 8,100-acre campus in Northern California,
Stanford University is renowned for its dedication to scholarly
pursuits. The Summer College for high school students opens the
campus to academically motivated students who have completed their junior
or senior year of high school; applications from accomplished high school
sophomores are also considered. Courses include anthropology, art and art
history, biological science, chemistry, computer science, drama, economics,
engineering, English literature, foreign languages, mathematics, physics,
political science, psychology, statistics and writing.
Ubicado en un impresionante campus de 3.278 hectáreas en el norte de
California, Stanford University es famosa por su dedicación a los logros
académicos. El Summer College para estudiantes secundarios abre el recinto a
estudiantes motivados académicamente que han terminado su tercer o cuarto año
de secundaria; también se consideran solicitudes de estudiantes sobresalientes de
segundo año. Los cursos incluyen antropología, arte e historia del arte, ciencias
biológicas, química, informática, drama, economía, ingeniería, literatura inglesa,
idiomas extranjeros, matemáticas, física, ciencias políticas, psicología,
estadísticas y redacción.
Située sur un magnifique campus de plus de 3 278 hectares en Californie du
Nord, Stanford University est renommée pour stimuler la recherche sous tous ses
aspects. Le Collège d'été pour les étudiants du secondaire ouvre les portes du
campus à des étudiants motivés qui ont complété leurs années d'enseignement
secondaire « junior » ou « senior » ; les candidatures des élèves du secondaire «
sophomores » sont également considérées. Parmi les cours offerts, on peut citer
l'anthropologie, l'art, l'histoire de l'art, les sciences biologiques, la chimie,
l'informatique, le théâtre, l'économie, l'ingénierie, la littérature anglaise, les
langues étrangères, les mathématiques, la physique, les sciences politiques, la
psychologie, les statistiques et la rédaction.
S
TANFORD
S
UMMER
C
OLLEGE
FOR
H
IGH
S
CHOOL
S
TUDENTS
Stanford Summer Session
482 Galvez Street
Stanford, California 94305-6079
Phone: 650-723-3109 Fax: 650-725-6080
E-mail: summersession@stanford.edu
URL: http://summer.stanford.edu
48 km from San Francisco International Airport; 64 km from San
Francisco · A 48 km del Aeropuerto Internacional de San
Francisco; a 64 km de San Francisco · À 48 km de l'aéroport
international de San Francisco; à 64 km de San Francisco
San Francisco 48kmSan Francisco 64km
San Francisco 48 San Francisco
64
Suburban · Suburbano · En banlieue
Nondenominational · Sin afiliación religiosa ·
Non confessionnelle
Rolling, Jan. 2, May 8 · Continuo/2 de enero, 8 de
mayo · Continuelles/2 janvier , 8 mai
San Francisco, Monterey, Pacific coast beaches
Available · Disponibles · Disponibles

The Americas, Asia, Europe, the Middle East
Total command of English · Se requiere pleno dominio
del inglés · Maîtrise parfaite de l'anglais
Not available · No está disponible · Non
disponible


Dormitories · Residencias estudiantiles · Dortoirs
June 23­August 19 · 23 de junio­19 de agosto · 23 juin­19 août
6
On-site, hospital · En las instalaciones,
hospital · Sur place, hôpital

3278