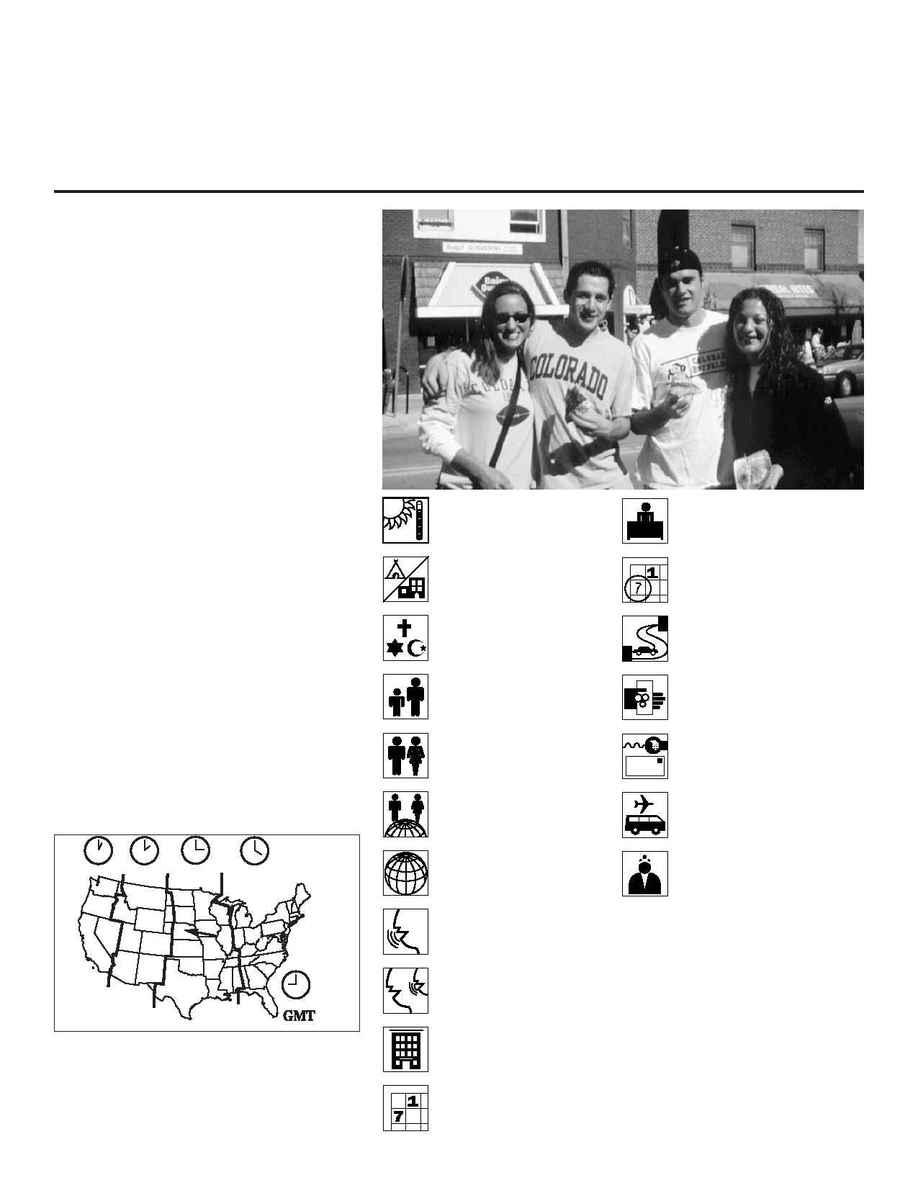 his total pre-collegiate, college credit program combines a strong
academic program at a western university with sports, recreation, and
outdoor activities. Program fee includes outstanding daytime athletics
and recreational activities, and weekend excursions to Vail, Denver, Pikes
Peak, etc., all amidst the great Rocky Mountains. Activities include
whitewater rafting, horseback riding, mountain biking, rock climing, hiking,
and more. Courses include art, chemistry, computers, English, environmental
studies, law, math, photography, SAT/ACT preparation, science, soccer,
and tennis.
Este programa completo pre-universitario, que concede créditos que serán
reconocidos en la universidad, combina un exigente programa académico en
una universidad del Oeste, con deportes, y con actividades recreativas y al
aire libre. El precio del programa incluye extraordinarias actividades
deportivas y recreativas, que se realizan durante el día y excursiones durante
los fines de semana en Vail, Denver, Pikes Peak, etc todo esto en medio de
impresionantes paisajes de la Montañas Rocallosas. Las actividades
incluyen piragüismo en aguas rápidas, montar a caballo, ciclismo en
montaña, escalada en roca, excursionismo y más. Los cursos incluyen: arte,
química, computadoras, inglés, estudios ecológicos, leyes, matemáticas,
fotografía, preparación para los exámenes SAT/ACT, ciencias, fútbol
(soccer) y tenis.
Dispensé dans une université, l'ensemble de ce programme, qui s'adresse
aux étudiants du secondaire et permet d'obtenir des unités de valeur
universitaires, combine un solide cursus scolaire, des activités sportives, des
loisirs et des activités de plein air. Sont compris dans le prix du programme
l'accès à d'excellentes activités sportives et récréatives dans la journée ainsi
que des excursions le week-end à Vail, Denver, Pikes Peak, etc, le tout au
sein des magnifiques Rocky Mountains. Les activités comprennent le
rafting, l'équitation, le VTT, la varappe, des randonnées et bien d'autres.
Les cours comprennent l'art, la chimie, l'informatique, l'anglais, l'étude de
l'environnement, le droit, les mathématiques, la photographie, la préparation
au SAT/ACT, les sciences, le football et le tennis.



Vail




SAT/ACT
S
UMMER
S
TUDY AT THE
U
NIVERSITY OF
C
OLORADO AT
B
OULDER
S
UMMER
P
ROGRAM AT
B
OULDER
, C
OLORADO
Mr. Bill Cooperman, Executive Director
900 Walt Whitman Road
Melville, New York 11747
Phone: 631-424-1000 Fax: 631-424-0567
E-mail: info@summerstudy.com
URL: http://www.summerstudy.com
Available · Disponibles · Disponibles




Vail


SAT/ACT

Rural · Rural · Rurale


Nondenominational · Sin afiliación religiosa ·
Non confessionnelle


Rolling · Continuo · Continuelles


Outdoor excursions · Excursiones al aire libre ·
Excursions en plein air


$5995 - 5 weeks, $65­$295, $200
$3595 - 3 weeks
England, Japan, Puerto Rico, Switzerland
Moderate proficiency necessary · Se requieren
conocimientos moderados · Aptitude modérée requise
No fee · Gratuito · Gratuit
Dormitories · Residencias estudiantiles · Dortoirs


Early July­Late July (3 weeks) · Principios de julio ­fines de julio (3 semanas) ·
Debut juillet­fin juillet (3 semaines)
7 7 3
7 7 3
Available · Disponibles · Disponibles