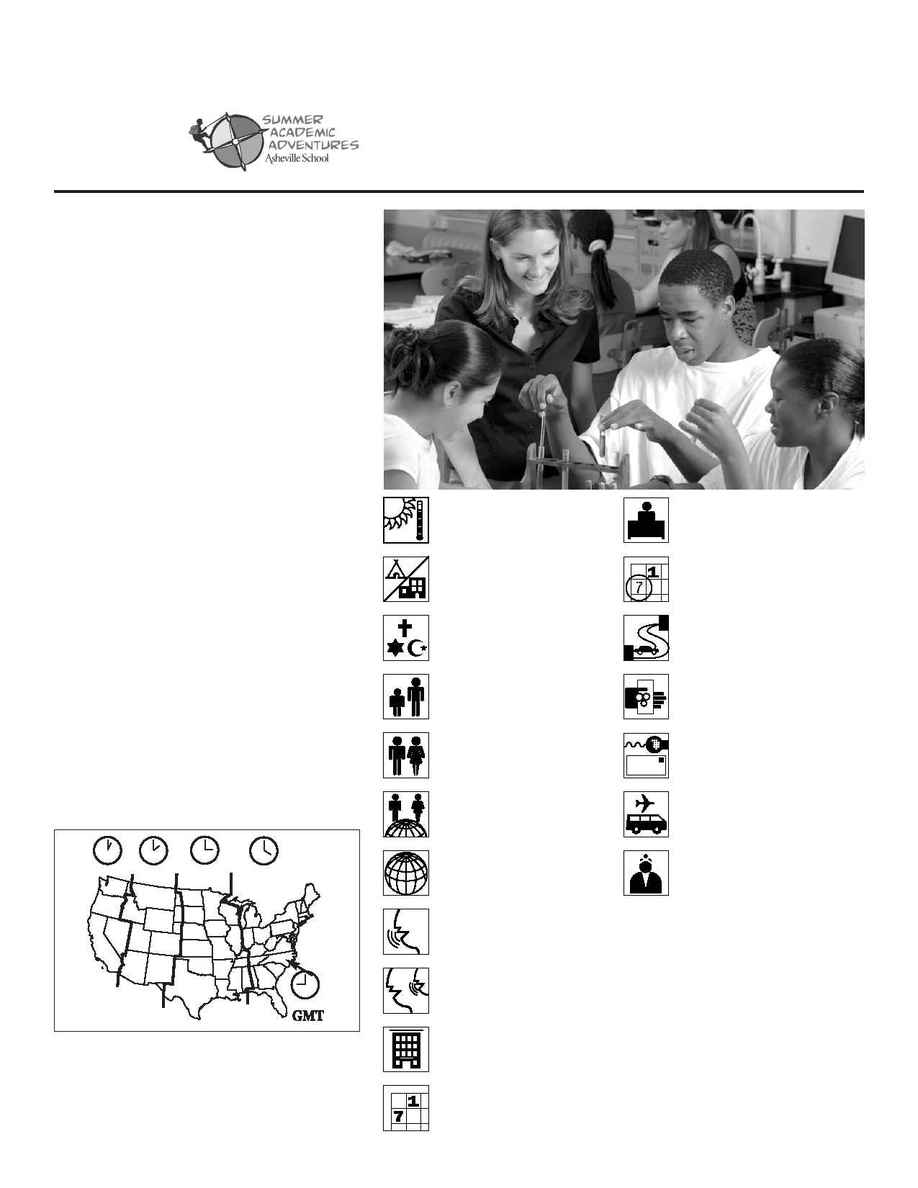 et on 300 acres in the cool, picturesque mountains, Asheville
School's Summer Academic Adventures is a program designed for
talented, high-achieving students in grades 6-11. Students choose
from among exciting enrichment courses in mathematics, Intermediate
ESL, creative writing, acting, experimental science, visual arts, and
literary studies, among other subjects. In addition, rising 9-11th graders
may choose Immersion Adventures in Art, Wilderness, Film, and
Leadership. In the afternoons, students participate in outdoor challenge, as
well as a wide range of intramural athletics-tennis, basketball, swimming,
soccer, Frisbee, and more. Weekend excursions include whitewater
rafting, as well as trips to cultural and recreational destinations.
El programa "Aventuras Académicas de Verano" de Asheville School, que
se lleva a cabo en 121 hectáreas de un pintoresco paraje montañoso de
clima fresco, está diseñado para estudiantes talentosos que desarrollan al
máximo su potencial para los grados 6-11. Los estudiantes pueden elegir
cursos en matemáticas, actuación, ciencias experimentales, artes visuales,
literatura y otros, todos igualmente estimulantes y enriquecedores.
Además, los estudiantes de 9-11 podrán escoger aventuras de inmersión en
arte, cinematografía, conservación de la vida silvestre, y liderazgo. En las
horas de la tarde, los estudiantes participan en actividades al aire libre, así
como en una amplia gama de deportes dentro del colegio: tenis,
baloncesto, natación, fútbol (soccer), Frisbee y otros. Las excursiones de
fin de semana incluyen navegación en balsa en aguas rápidas, así como
visitas a sitios culturales y recreativos.
Asheville School, établissement situé sur 121 hectares au coeur de
montagnes pittoresques, offre les « Summer Academic Adventures », un
programme conçu pour les très bons élèves des classes de niveaux 6-11 («
grades 6-11 »). Des cours d'enrichissement intéressants sont proposés aux
étudiants dans différents sujets, tels que les mathématiques, l'anglais
comme langue étrangère (ESL) niveau intermédiaire, la création littéraire,
l'interprétation, les sciences expérimentales, les arts visuels et la
littérature. Par ailleurs, les aspirants aux niveaux 9-11, peuvent choisir des
activités d'aventure et d'immersion dans les arts, la nature, le film ou le
leadership. L'après-midi est consacré aux activités de plein air et aux
différents sports offerts sur le campus, comme par exemple l'athlétisme, le
tennis, le basket-ball, la natation, le football et le frisbee. Le week-end, les
excursions comprennent le rafting en eau vive ainsi que des sorties vers
des destinations culturelles et récréatives.
Asheville School
121

ESL
A
SHEVILLE
S
CHOOL
S
UMMER
A
CADEMIC
A
DVENTURES
Emily Johns, Director
360 Asheville School Road
Asheville, North Carolina 28806
Phone: 828-254-6345 Fax: 828-210-6109
E-mail: saa@ashevilleschool.org
URL: http://www.ashevilleschool.org
300 km from Atlanta Airport; 200 km from Charlotte, NC ·
A 300 km del Aeropuerto de Atlanta; a 200 km de Charlotte, NC ·
À 300 km de l'aéroport d'Atlanta ; à 200 km de Charlotte, Caroline
du Nord
Atlanta 300 km North Carolina Charlotte
200 km
Atlanta 300 Charlotte, NC 200
Boarding school · Internado · Internat
Nondenominational · Sin afiliación religiosa ·
Non confessionnelle
Rolling/May 1 · Continuo/1 de mayo ·
Continuelles/1 mai
5 1
5 1
Biltmore Estate, white-water rafting
Available · Disponibles · Disponibles
Bahamas, Canada, China, Germany, Korea,
Kazhakstan, Korea, Malaysia, Russia,
Thailand
Moderate proficiency necessary · Se requieren
conocimientos moderados · Aptitude modérée requise


No fee · Gratuito · Gratuit
Dormitories · Residencias estudiantiles · Dortoirs
June 19­July 9, July 10­July 29 · 19 de junio ­9 de julio, 10 de julio­29 de julio ·
19 juin ­9 juillet, 10 juillet­29 juillet
6
On-site, hospital · En las instalaciones,
hospital · Sur place, hôpital
No fee · Gratuito · Gratuit
Asheville School 121 "
" 6-11
ESL
9-11