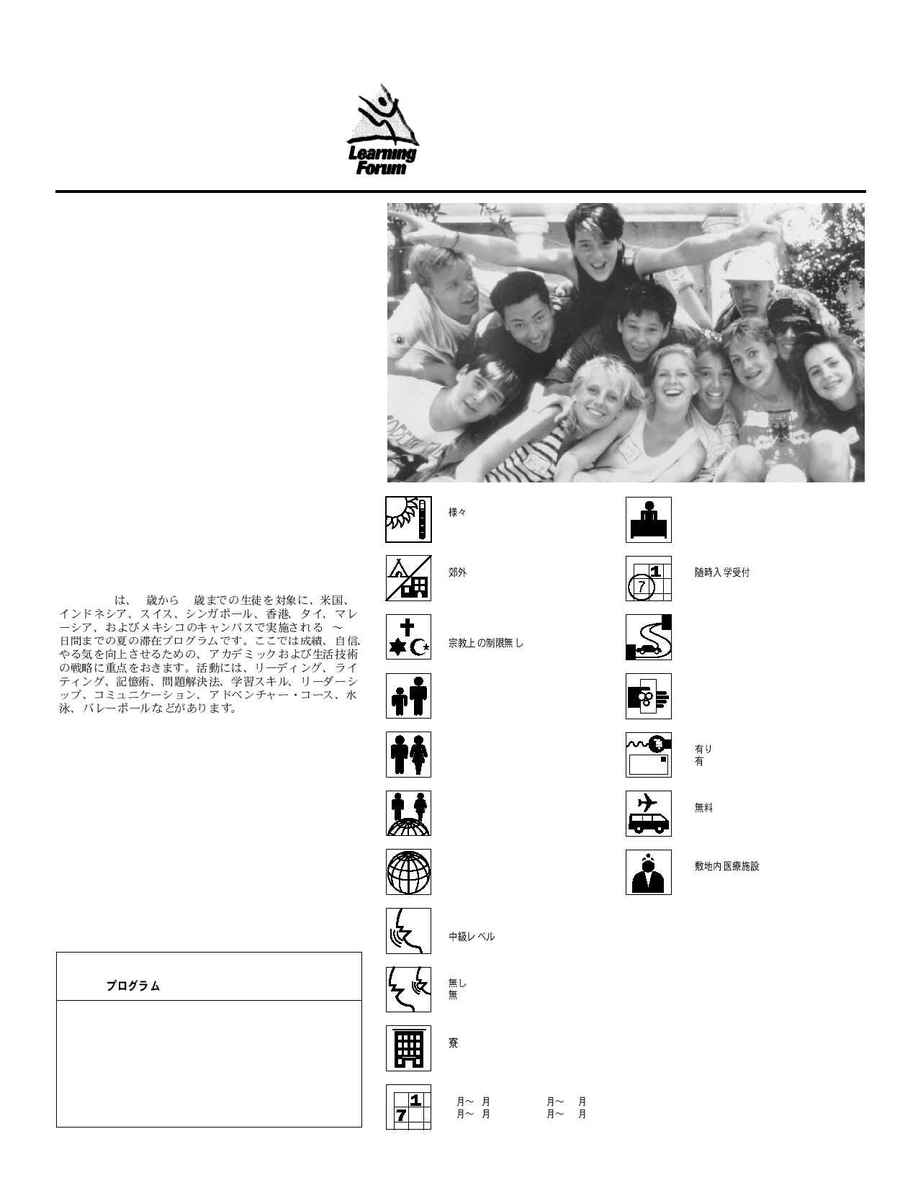 uperCamps are 8­10 day summer residential programs for
students ages 9­24, held in campuses in the United States,
Indonesia, Switzerland, Singapore, Hong Kong, Thailand,
Malaysia, and Mexico. The focus is on academics and life-skills
strategies for raising grades, confidence, and motivation.
Activities include reading, writing, memory, problem solving,
study skills, leadership, communication, adventure course,
swimming, and volleyball.
SuperCamps son programas residenciales de verano de ocho a
diez días para estudiantes de 9 a 24 años, los cuales se realizan en
los Estados Unidos, Indonesia, Suiza, Singapur, Hong Kong,
Tailandia, Malaysia y México. Los programas hacen hincapié en
las habilidades académicas y estrategias personales para mejorar
las calificaciones, la motivación, el amor propio y la confianza de
los estudiantes. Las actividades incluyen lectura, redacción,
mnemotécnica, solución de problemas, técnicas de estudio,
liderazgo, comunicación, curso de aventura, natación y voleibol.
Les SuperCamps offrent des programmes d'été de 8 à 10 jours
en pension pour les étudiants âgés de 9 à 24 ans. Les cours ont
lieu sur divers campus aux États-Unis, en Indonésie, en Suisse,
à Singapour, à Hong Kong, en Thaïlande, en Malaisie et au
Mexique. Les programmes sont axés sur les aptitudes
académiques et les pratiques qui améliorent les notes des
étudiants, leur assurance, ainsi que leur motivation. Parmi les
activités on compte la lecture, l'écriture, la mémoire, la
résolution de problèmes, les techniques d'études, le
leadership, la communication, les aires de jeux, la natation,
et le volley-ball.
¤¤ 9­24 ¤¤¤¤¤¤¤ 8­10 ¤¤¤5¤¤
¤¤¤¤¤¤¤¤¤¤¤¤¤¤¤¤¤¤¤¤¤¤¤¤
¤¤¤¤¤¤¤¤¤¤¤¤¤¤¤¤¤¤q¤¤s¤¤¤¤
v¤w¤x¤¤¤¤¤¤¤¤¤v¤¤¤¤¤¤¤¤¤¤¤¤s¤
¤¤¤¤¤¤¤¤¤¤¤¤s¤¤¤¤¤¤¤¤¤¤¤¤
¤¤¤¤¤¤¤¤5¤
S
UPER
C
AMP
®
Ms. Bobbi DePorter, President
Oceanside, California 92054-5319
Phone: 800-285-3276 Fax: 760-722-3507
E-mail: info@supercamp.com
URL: http//www.supercamp.com
June­August (Singapore: June/November)· junio­agosto (Singapur: junio/noviembre)· juin­août (Singapour : juin/novembre)
England, Hong Kong, India, Japan, Singapore
Program · Programa · Programme
Suburban · Suburbano · En banlieue
Nondenominational · Sin afiliación religiosa ·
Non confessionnelle
Moderate proficiency necessary · Se requieren
conocimientos moderados · Aptitude modérée requise
Not available · No disponibles · Pas disponibles
Dormitories · Residencias estudiantiles · Dortoirs
On-site · En las instalaciones · Sur place
No fee · Gratuito · Gratuit
Available · Disponibles · Disponibles
Rolling · Continuo · Continuelles
Varies · Varía · Variable