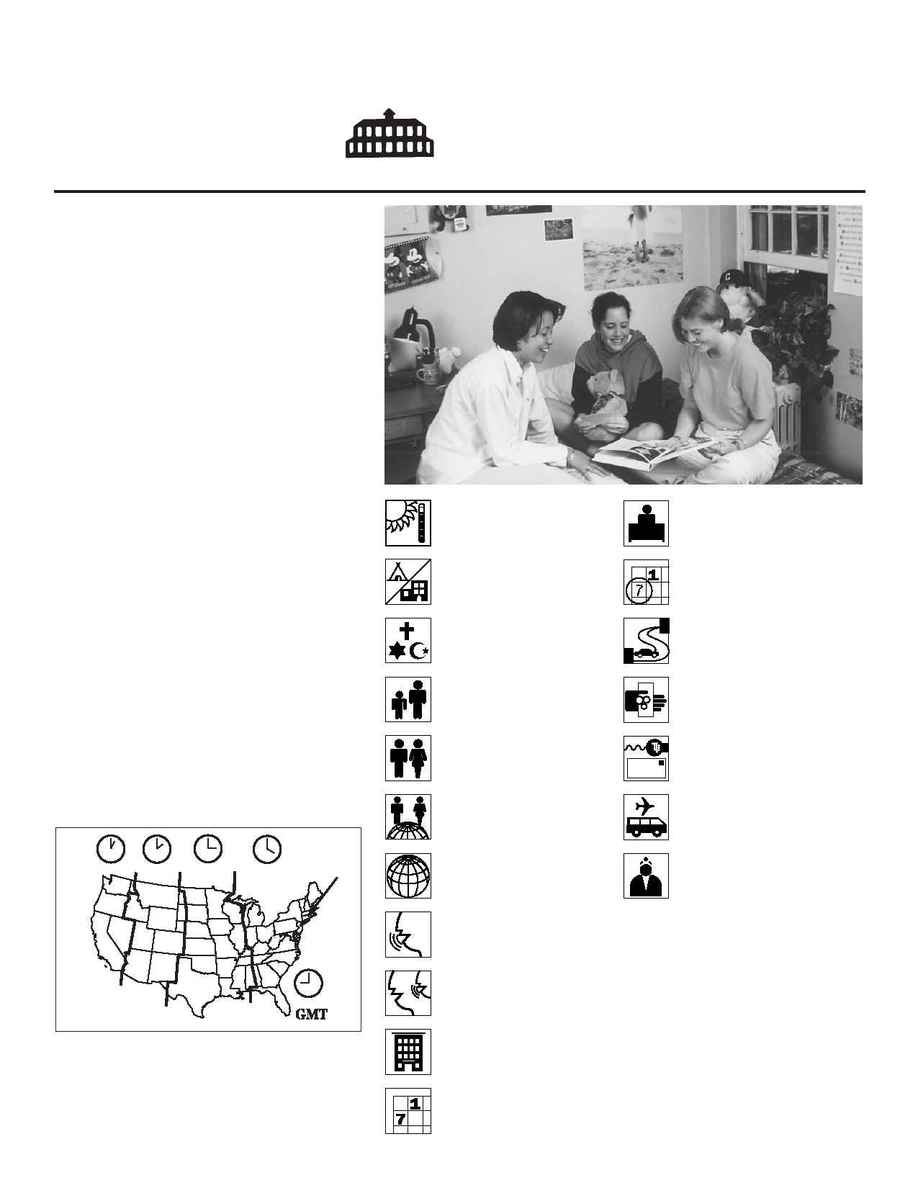 Boston, New York City, Washington D.C.
No fee · Gratuito · Gratuit
Available · Disponibles · Disponibles
Infirmary · Enfermería · Infirmerie
he qualified and involved faculty create a family-like
atmosphere where students from over 19 countries grow
and learn. The 100-acre wooded campus features a
student center, pool, and 10 tennis courts. Programs include
ESL, reading, writing, study skills, and college preparation
classes. Activities include fine art, instrumental music,
basketball, soccer, swimming, and tennis, and more. Saturday
trips to Boston and New York City and a long weekend in
Washington D.C. are included.
El equipo de profesores calificado y comprometido crea una
atmósfera de tipo familiar donde los estudiantes de más de 19
países crecen y aprenden. El terreno universitario de 41
hectáreas ofrece un centro estudiantil, piscina y 10 canchas de
tenis. Los programas incluyen cursos de inglés como Segundo
idioma (ESL), técnicas de lectura, redacción y estudio y cursos
de preparación universitaria. Las actividades incluyen bellas
artes, música instrumental, baloncesto, fútbol (soccer), natación
y tenis, y más. Se incluyen viajes a Boston y a la ciudad de
Nueva York y un fin de semana largo en Washington D.C.
Le corps enseignant qualifié et passionné crée une ambiance
familiale au sein de laquelle les étudiants de plus de 19 pays se
développent et apprennent. Le campus de 41 hectares dispose
d'un centre pour étudiants, d'une piscine et de 10 courts de
tennis. Les programmes comprennent l'anglais comme langue
étrangère (ESL), la lecture, la composition, les techniques
d'étude ainsi qu'une préparation à l'université. Les activités
sont nombreuses, avec notamment les beaux-arts, la musique
instrumentale, le basket-ball, le football, la natation et le tennis.
Des excursions, le samedi, vers Boston et New York, ainsi
qu'un week-end à Washington, sont organisés et compris dans
le programme.

19

10
C
HESHIRE
A
CADEMY
73 km from Bradley International Airport; 126 km from New York ·
A 73 km de Bradley International Airport; a 126 km de Nueva York ·
A 73 km de Bradley International Airport ; à 126 km de New York
Bradley
Suburban · Suburbano · En banlieue
Nondenominational · Sin afiliación religiosa ·
Non confessionnelle
Rolling · Continuo · Continuelles
Dominican Republic, France, Spain, Taiwan,
Turkey
No proficiency necessary · No se requieren
conocimientos previos · Aucune aptitude requise
No fee · Gratuito · Gratuit
Dormitories · Residencias estudiantiles · Dortoirs
July­August, 2005 · julio­agosto, 2005 · juillet­août, 2005
2005 7 8
2005 7 8
Cheshire, Connecticut 06410
E-mail: summer@cheshireacademy.org
URL: http://www.cheschireacademy.org
19
41
10 ESL