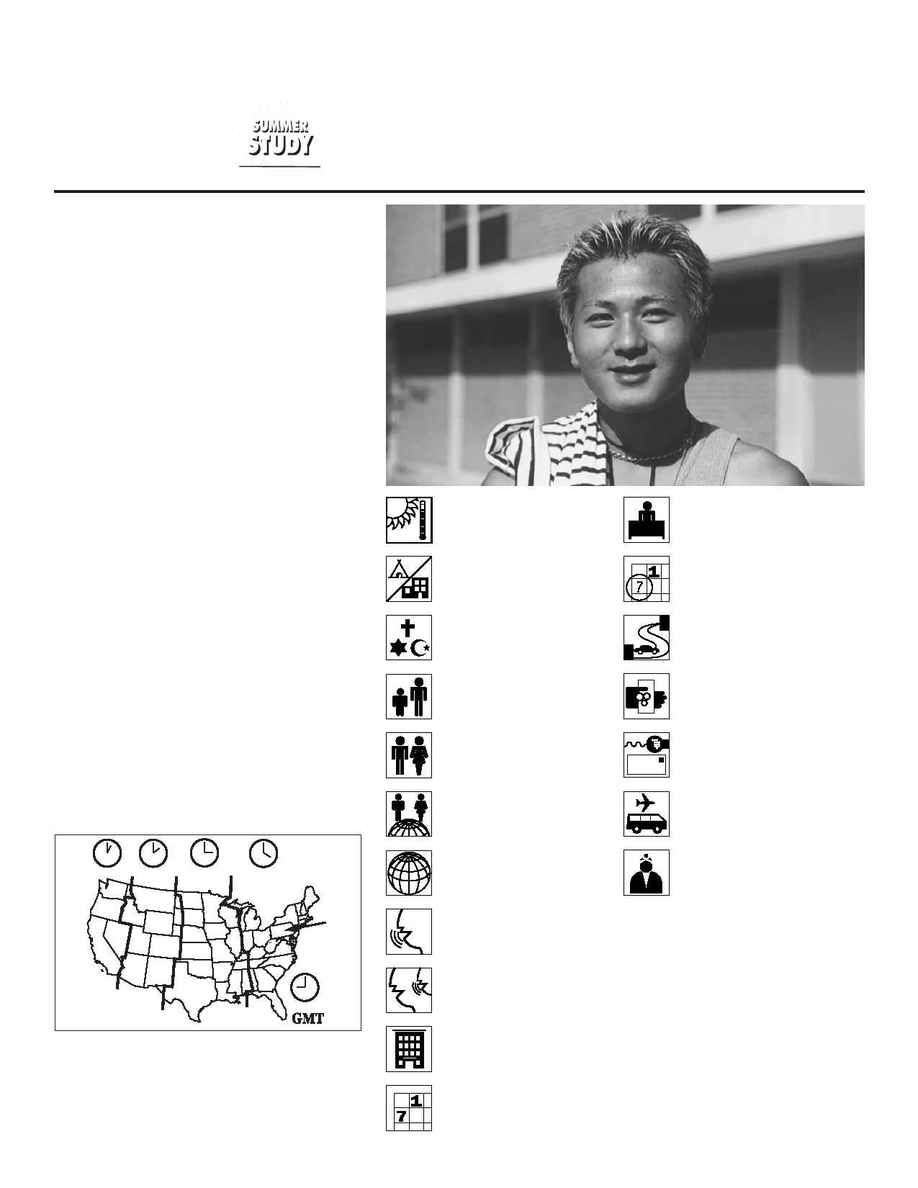 his total pre-collegiate program combines a strong
academic program at a "Big Ten" university with sports
and recreation facilities. Program fee includes athletics,
exciting supervised evening activities, and 3 trips to 7
universities in NY, PA, and MD. Activities and courses include
art, chemistry, computers, English, golf, introduction to college
programs, law, math, photography, SAT preparation, science,
soccer, and tennis. Six-week college credit and 3 1/2-week
enrichment programs are offered.
Este programa completo preuniversitario combina un intenso
programa académico en una de las diez universidades más
grandes en atletismo con deportes e instalaciones para
recreación. El costo del programa incluye atletismo,
emocionantes actividades vespertinas supervisadas y tres viajes a
siete universidades en Nueva York, Pennsylvania y Maryland.
Las actividades y cursos incluyen arte, química, computación,
inglés, golf, introducción a programas universitarios, derecho,
matemáticas, fotografía, preparación para los exámenes SAT,
ciencias, fútbol y tenis. Se ofrece un programa de seis semanas
con crédito universitario y un programa de enriquecimiento de 3
semanas y media.
Ce programme complet pré-universitaire réunit un programme
académique important dans une des dix plus prestigieuses
universités disposant d'installations de sports et de loisirs. Sont
compris dans le tarif un programme d'athlétisme, de
passionnantes activités surveillées le soir, et 3 excursions vers 7
universités des états de New York, de Pennsylvanie, et du
Maryland. Parmi les activités et les cours, on compte la chimie,
l'informatique, l'anglais, le golf, l'introduction au programmes
universitaires, le droit, les mathématiques, la photographie, la
préparation pour les examens SAT, les sciences, le football et le
tennis. Sont offerts un programme universitaire de six semaines
avec unités de valeur et un programme d'enrichissement de 3 1/2
semaines.




7 3

SAT
6
3
S
UMMER
S
TUDY AT
P
ENN
S
TATE
U
NIVERSITY
P
ARK
, P
ENNSYLVANIA
Mr. Bill Cooperman, Executive Director
250 km from Philadelphia; 0.1 km from State College, PA ·
A 250 km de Filadelfia; a 0,1km de State College, PA ·
A 250 km de Philadelphie ; à 0,1 km de State College, PA
Philadelphia 250 km, State College, PA 0.1 km
Philadelphia 250 ; State College, PA 0.1
Phone: 631-424-1000 Fax: 631-424-0567
E-mail: info@summerstudy.com
URL: http// www.summerstudy.com
Late June­early August (6 weeks); Early July­late July (3 1/2 weeks) ·
Finales de junio­principios de agosto (6 semanas); principios de julio­finales de julio (3 1/2 semanas) ·
fin juin­début août (6 semaines); début juillet­fin juillet (3 1/2 semaines)
6
England, Japan, Korea,
Puerto Rico, Switzerland
$6195­6 1/2 weeks, $65­$695, $100-$300, $3895­3 1/2 weeks ·
$6195­6 1/2 semanas, $65­$695, $100-$300, $3895­3 1/2 semanas ·
$6195­6 1/2 semaines, $65­$695, $100-$300,$3895­3 1/2 semaines
$6195­6 1/2 $65­$695, $100-$300$3895­3 1/2
$6195­6 1/2 $65­$695, $100-$300 $3895­3 1/2
Nondenominational · Sin afiliación religiosa ·
Non confessionnelle
Moderate proficiency necessary · Se requieren
conocimientos moderados · Aptitude modérée requise
On-site · En las instalaciones · Sur place
No fee · Gratuito · Gratuit
Dormitories · Residencias estudiantiles · Dortoirs
Rolling · Continuo · Continuelles
Available · Disponibles · Disponibles
Bucknell University, Cornell University,
Ithaca, George Washington University,
Johns Hopkins University,
University of Maryland
""

7

SAT