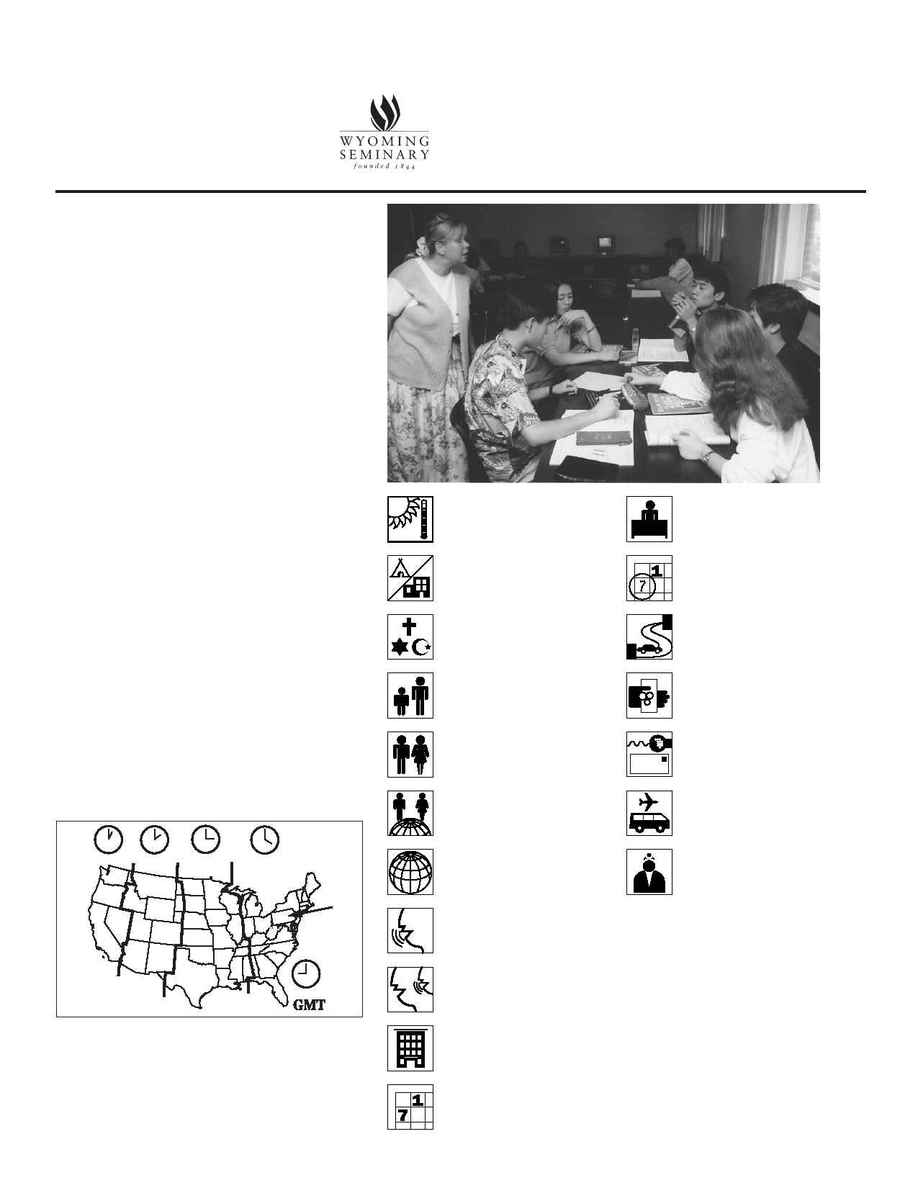 ine weeks of ESL summer at Wyoming Seminary combine 8 weeks of
intensive language study with one week of off-campus experiential
learning. Students continue to study ESL and, at the same time,
develop important life skills. Because there is no better way to learn a
language, students work together to conquer outdoor challenges and
experience the beautiful New England countryside. During the 8 weeks at
Wyoming Seminary, students may take classes like English, Introduction to
Web Design, Desktop Publishing, Introduction to College Programs,
Mathematics, Pottery, SAT Preparation, Speech, Study Skills, and Writing.
Nueve semanas de inglés como segundo idioma (ESL) durante el verano en el
seminario Wyoming combina 8 semanas de estudio intensivo del idioma con
una semana de aprendizaje experiencial fuera del recinto. Los estudiantes
continúan estudiando inglés como segundo idioma, y a su vez, desarrollan
importantes destrezas para la vida. Debido a que no hay mejor forma para
aprender, los estudiantes trabajan juntos para superar retos y disfrutar de los
campos de Nueva Inglaterra. Durante las 8 semanas del seminario Wyoming,
los estudiantes podrán tomar clases como Inglés, Introducción al diseño del
sitio Web, Edición Electrónica, Introducción a programas universitarios,
Matemáticas, Cerámica, Preparación para los exámenes SAT, Oratoria,
Programa de Estudio y Redacción.
Le programme d'été ESL (anglais deuxième langue) de 9 semaines proposé
par Wyoming Seminary conjugue 8 semaines de cours de langue intensifs avec
une semaine d'enseignement hors campus consacrée à l'apprentissage par
l'expérience. Les étudiants peuvent ainsi conjuguer développement personnel
tout en poursuivant les cours ESL. Parce qu'il n'y a pas de meilleur moyen
pour apprendre une langue, les étudiants travaillent en groupe à la conquête de
challenges exterieurs et jouissent du magnifique paysage de la Nouvelle
Angleterre. Pendant les huit semaines du séminaire du Wyoming, les étudiants
peuvent prendre des cours tel que l'Anglais, Introduction à la creation d'un site
internet, Programmation Assistée par Ordinateur, Introduction aux
Programmes Universitaires, Poterie, Préparation pour l'examen SAT, Cours de
Prononciation et d'Ecriture.
Wyoming Seminary 9 ESL
1 8
ESL

ESL



W
YOMING
S
EMINARY
S
EM
S
UMMER
John R. Eidam
201 North Sprague Avenue
Kingston, Pennsylvania 18704
Phone: 570-270-2186 Fax: 570-270-2198
E-mail: summeratsem@wyomingseminary.org
URL: http://www.wyomingseminary.org
16 km from Wilkes-Barre/Scranton International Airport; 161 km
from Philadelphia · A 16 km del aeropuerto internacional Wilkes-
Barre/ Scranton; a 161 km de Filadelfia · A 16 km de l'aéroport
international Wilkes-Barre/Scranton ; à 161 km de Philadelphie
Wilkes-Barre/Scranton 16 km, Philadelphia
161 km
Wilkes-Barre/Scranton 16 ; Philadelphia
161
June 27­July 24, July 25­August 27 · 27 de junio­24 de julio, 25 de julio­27 de agosto ·
27 juin­24 juillet, 25 juillet­27 août
6 27 7 24 7 25 8 27
6 27 7 24 7 25 8 27
Methodist · Metodista · Méthodiste
Japan, Korea, Taiwan, Thailand
Philadelphia, New York City, Baltimore,
Washington, D.C.
Small town · Pueblo pequeño · Petite ville
Minimal proficiency necessary · Se requieren
conocimientos mínimos · Aptitude minimale requise
No fee · Gratuito · Gratuit
Dormitories · Residencias estudiantiles · Dortoirs
Nurse, infirmary · Enfermero(a), enfermería ·
Infirmier(ère), infirmerie
No fee · Gratuito · Gratuit
Available · Disponibles · Disponibles'
Rolling · Continuo · Continuelles
Wyoming ESL
ESL


Wyoming Seminary
SAT