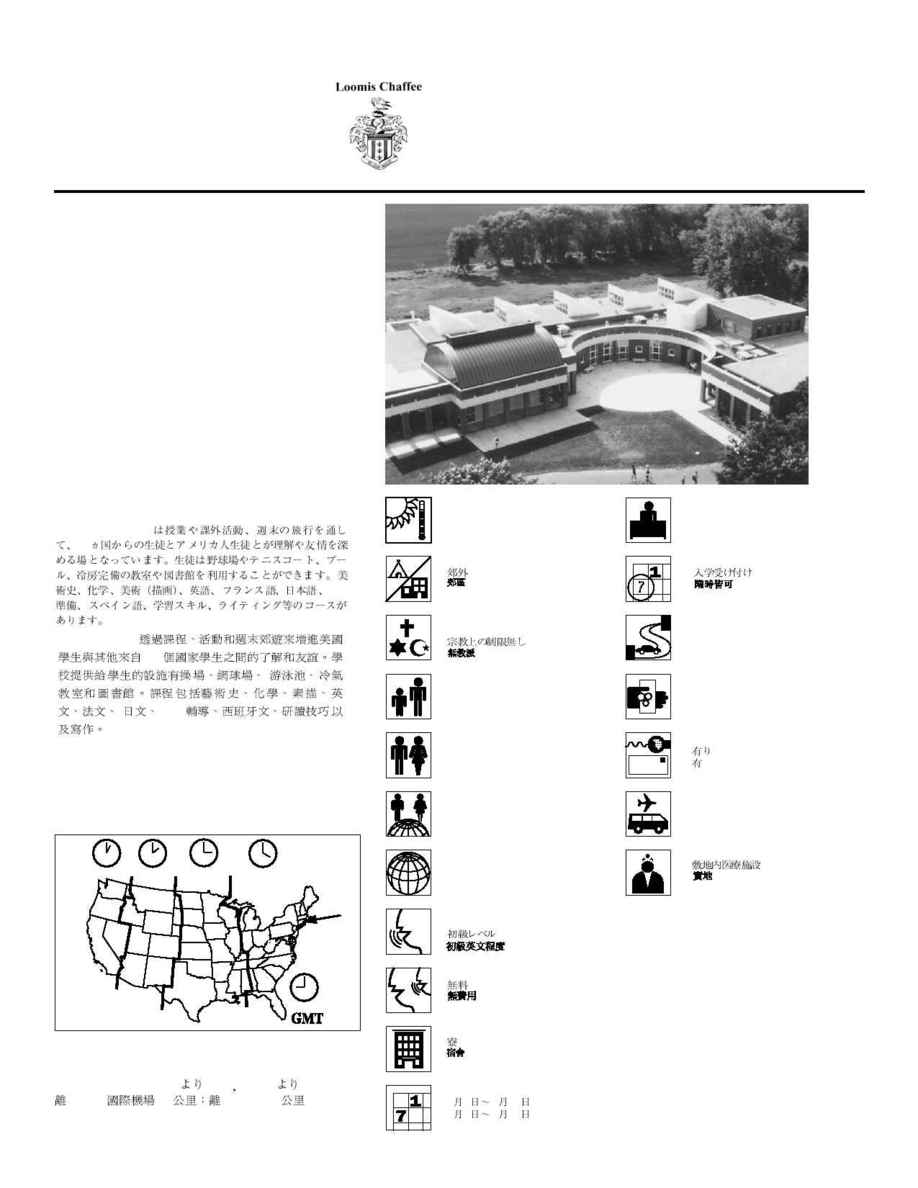 hrough classes, activities, and weekend trips, Loomis
Chaffee promotes understanding and friendship among
students from the U.S. and 25 other countries. Students
enjoy playing fields, tennis courts, a pool, and air-conditioned
classes and library. Courses include art history, chemistry,
drawing, English, French, Japanese, SAT preparation, Spanish,
study skills, and writing.
A través de clases, actividades y excursiones de fines de
semana, Loomis Chaffee fomenta la comprensión y la amistad
entre estudiantes de los EE.UU. y otros 25 países. Los
estudiantes disfrutan de las canchas de deportes, de tenis,
piscina, salones con aire acondicionado y una biblioteca. Los
cursos incluyen historia del arte, química, dibujo, inglés,
francés, japonés, preparación para el examen SAT, español,
técnicas de estudio y redacción.
Par le biais de classes, d'activités et d'excursions de fin de
semaine, Loomis Chaffee favorise l'entente et l'amitié
mutuelle parmi les jeunes des États-Unis et de 25 autres pays.
Les étudiants disposent de terrains de sports, de courts de
tennis, d'une piscine, de salles de classe et d'une bibliothèque
climatisée. Parmi les cours on compte l'histoire de l'art, la
chimie, le dessin, les cours d'anglais, le français, le japonais,
la préparation pour l'examen SAT, l'espagnol, les techniques
d'étude et la rédaction.
L
OOMIS
C
HAFFEE
S
UMMER
P
ROGRAMS
Joseph M. McCarthy, Director
Windsor, Connecticut 06095
Phone: 860-687-6117 Fax: 860-687-6141
10 km from Bradley International Airport; 12 km from Hartford ·
A 10 km del aeropuerto internacional Bradley; a 12 km de Hartford ·
A 10 km de l'aéroport international Bradley ; à 12 km de Hartford
June 2­August 11 · 2 de junio­11 de agosto · 2 juin­11 août
6
Japan, Korea, Spain, Thailand, Venezuela,
New York, Boston, Newport
Suburban · Suburbano · En banlieue
Minimal proficiency necessary · Se requieren
conocimientos mínimos · Aptitude minimale requise
No fee · Gratuito · Gratuit
Dormitories · Residencias estudiantiles · Dortoirs
Rolling · Continuo · Continuelles
Available · Disponibles · Disponibles
On-site · En las instalaciones · Sur place
Nondenominational · Sin afiliación
religiosa · Non confessionnelle
Bradley International Airport