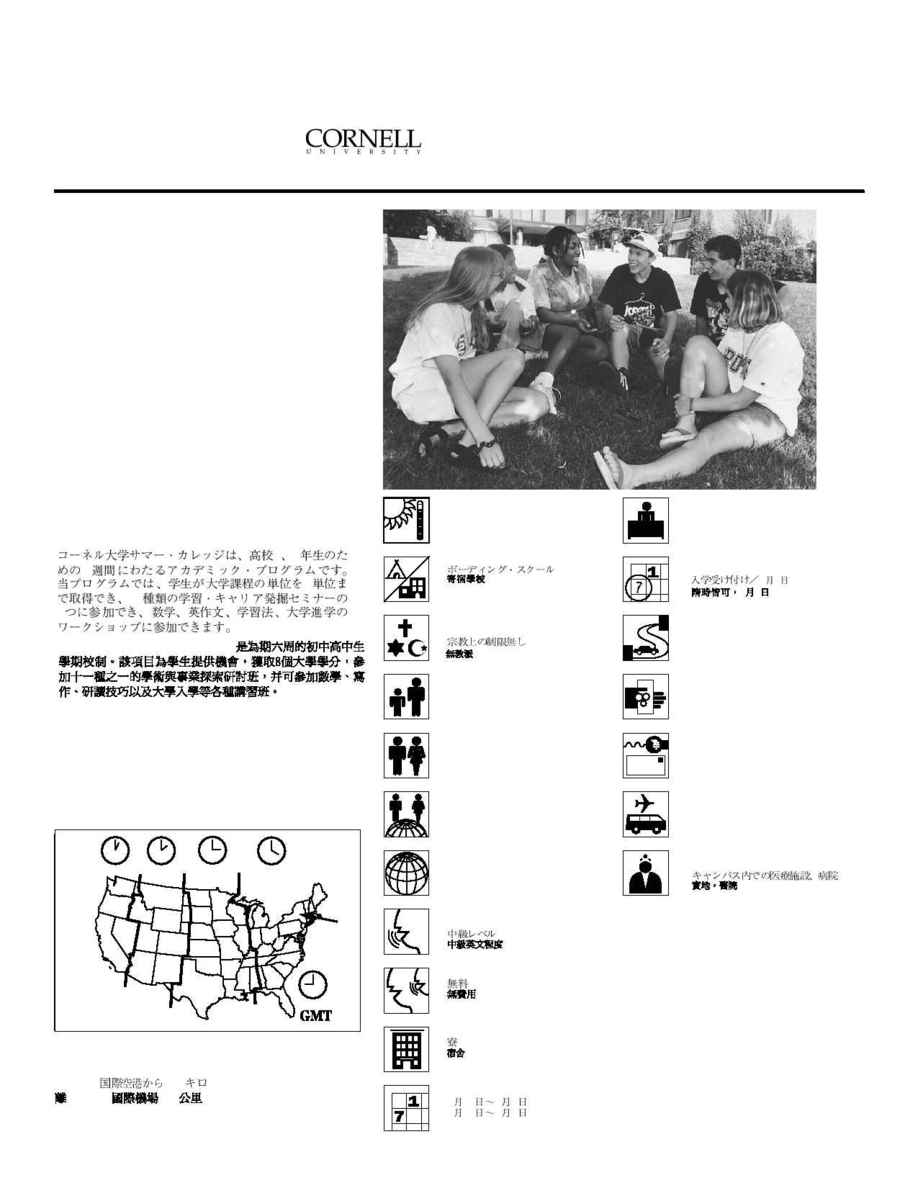 ornell University Summer College is a six-week
academic program for high school juniors and
seniors. The program provides students with the
opportunity to earn up to 8 college credits, participate in
one of eleven academic and career exploration seminars,
and attend workshops in math, writing, study skills, and
college admissions.
Cornell University Summer College es un programa
académico de seis semanas para estudiantes de primero y
segundo año de secundaria. El programa proporciona a los
estudiantes la oportunidad de acumular hasta 8 créditos
para la universidad, participar en uno de once seminarios
de exploración académica y profesional y asistir a talleres
de matemática, redacción, técnicas de aprendizaje y
admisión en la universidad.
Cornell University Summer College est un programme
académique de six semaines pour les élèves de la seconde à
la terminale. Le programme offre aux étudiants la
possibilité d'obtenir jusqu'à 8 unités de valeur
universitaires, de participer à l'un des onze séminaires
d'étude et d'exploration de carrières, et d'assister à des
ateliers consacrés aux mathématiques, à la rédaction, aux
techniques d'études et à l'admission dans les universités.
C
ORNELL
U
NIVERSITY
S
UMMER
C
OLLEGE
S
UMMER
P
ROGRAM
Janna Bugliosi, Assistant to the Director
B20 Day Hall
Ithaca, New York 14853
Phone: 607-255-6203 Fax: 607-255-8942
E-mail: summer_college@cornell.edu
URL: http://www.summercollege.cornell.edu
120 km from Syracuse International Airport ·
A 120 kilómetros del Aeropuerto Internacional de Syracuse ·
À 120 km de l'aéroport international de Syracuse
Syracuse
Cornell University Summer College
Boarding school · Internado · Internat
Nondenominational · Sin afiliación religiosa ·
Non confessionnelle
Rolling/May 1 · Continuo/1 de mayo ·
Continuelles/1 mai
Canada, Colombia, Hong Kong, Korea, Turkey,
Moderate proficiency necessary · Se requieren
conocimientos moderados · Aptitude modérée requise
No fee · Gratuito · Gratuit
Dormitories · Residencias estudiantiles · Dortoirs
June 24­August 8 · 24 de junio ­8 de agosto · 24 juin ­8 août
6
On-site, hospital · En las instalaciones,
hospital · Sur place, hôpital