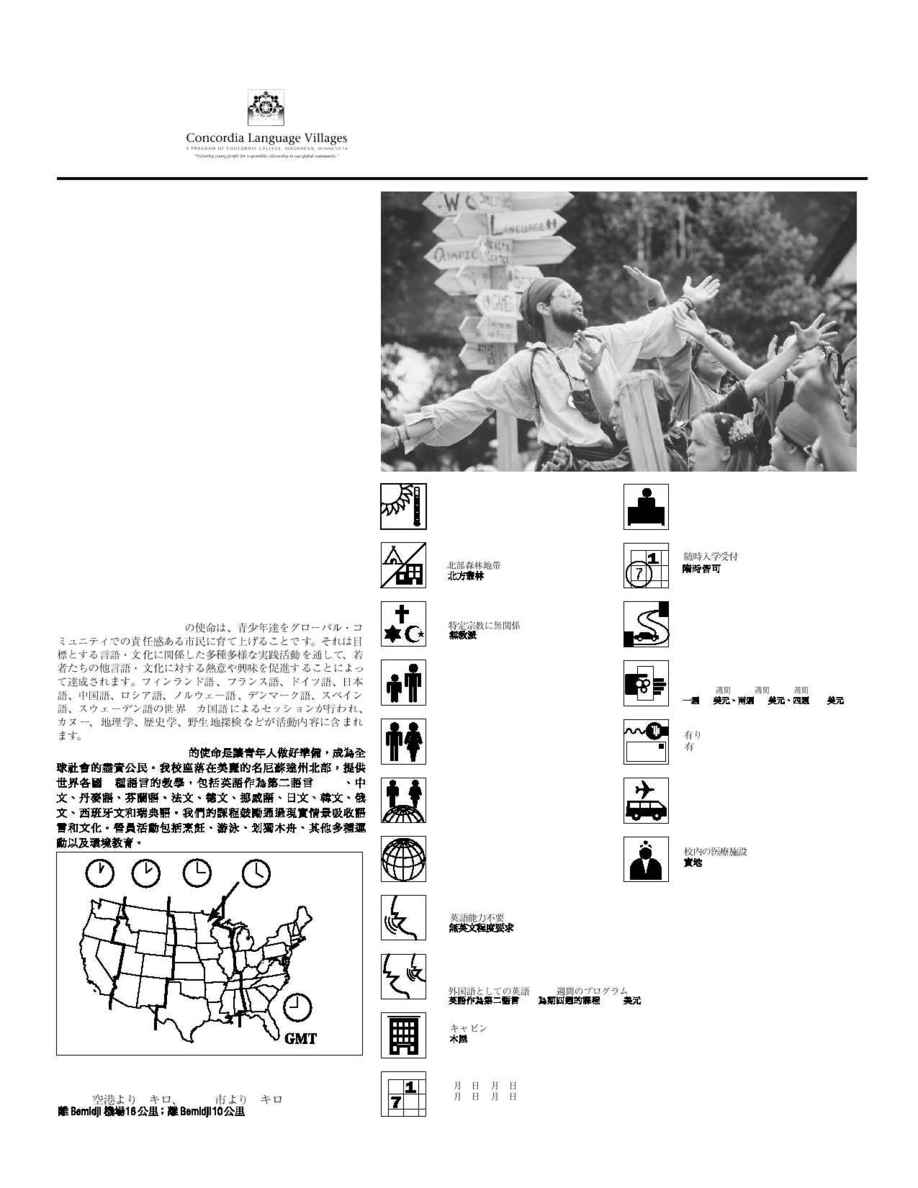 he mission of Concordia Language Villages is to prepare
young people for responsible citizenship in our global
community. Located in beautiful northern Minnesota, the
Villages offer language instruction in twelve world languages,
including English as a foreign language (EFL), Chinese, Danish,
Finnish, French, German, Norwegian, Japanese, Korean, Russian,
Spanish, and Swedish. The program encourages language and
culture acquisition through real-world situations. Villager activities
include cooking, swimming, canoeing, many other sports, and
environmental education.
La misión de Concordia Language Villages es preparar a los
jóvenes para que se conviertan en ciudadanos responsables en
nuestra comunidad global. Situado en la bella región norte de
Minnesota, el colegio ofrece instrucción en 12 idiomas, incluyendo
inglés como idioma extranjero (EFL), chino, danés, finés, francés,
alemán, noruego, japonés, coreano, ruso, español y sueco. Nuestro
programa estimula la adquisición de conocimientos de nuevos
idiomas y culturas por medio de situaciones prácticas. Las
actividades para los residentes de las villas incluyen cocina,
natación, canotaje, muchos otros deportes y educación sobre el
medio ambiente.
La mission des Concordia Language Villages est de préparer les
jeunes gens à devenir des citoyens responsables au sein de la
communauté internationale. Situés dans la magnifique région nord
du Minnesota, nous offrons 12 cours de langues étrangères, y
compris l'anglais comme langue étrangère (EFL), le chinois, le
danois, le finlandais, le français, l'allemand, le norvégien, le
japonais, le coréen, le russe, l'espagnol et le suédois. Notre
programme favorise l'apprentissage de la langue et de la culture
grâce à des situations réelles. Nos activités comprennent la cuisine, la
natation, le canoë, de nombreux sports et l'éducation écologique.
Concordia Language Villages
C
ONCORDIA
L
ANGUAGE
V
ILLAGES
Christine Schulze, Executive Director
901 South 8th Street
Moorhead, Minnesota 56562
Phone: 218-299-4544; 800-222-4750 (toll free)
Fax: 218-299-3807
E-mail: clv@cord.edu URL: http://www.cord.edu
16 km from Bemidji Airport; 10 km from Bemidji ·
A 16 km del Aeropuerto de Bemidji; a 10 km de Bemidji ·
À 16 km de l'aéroport de Bemidji ; à 10 km de Bemidji
Cabins · Cabañas · Cabines
North woods · Bosques del norte ·
Bois du nord
Nondenominational · Sin afiliación religiosa ·
Non confessionnelle
Rolling · Continuo · Continuelles
One week, $410; two weeks, $875; four weeks, $1965 · Una
semana, $410; dos semanas, $875; quatro semanas, $1965 ·
Une semaine , $410 ; deux semaines , $875 ; quatre semaines ,
$1,965 · 1
Canada, Norway, Germany,
United Kingdom, Saudi Arabia,
Norway
No proficiency necessary · No se requieren
conocimientos previos · Aucune aptitude requise
English as a foreign language (EFL) four-week program, $1965 · Inglés como
idioma extranjero (EFL) programa de cuatro semanas $1965 · Anglais comme
langue étrangère (EFL) Programme de quatre semaines $1965
Available · Disponibles · Disponible
June 12­August 26 · 12 de junio­26 de agosto · Du 12 juin au 26 août
6
Concordia Language Villages
On-site · En las instalaciones · Sur place