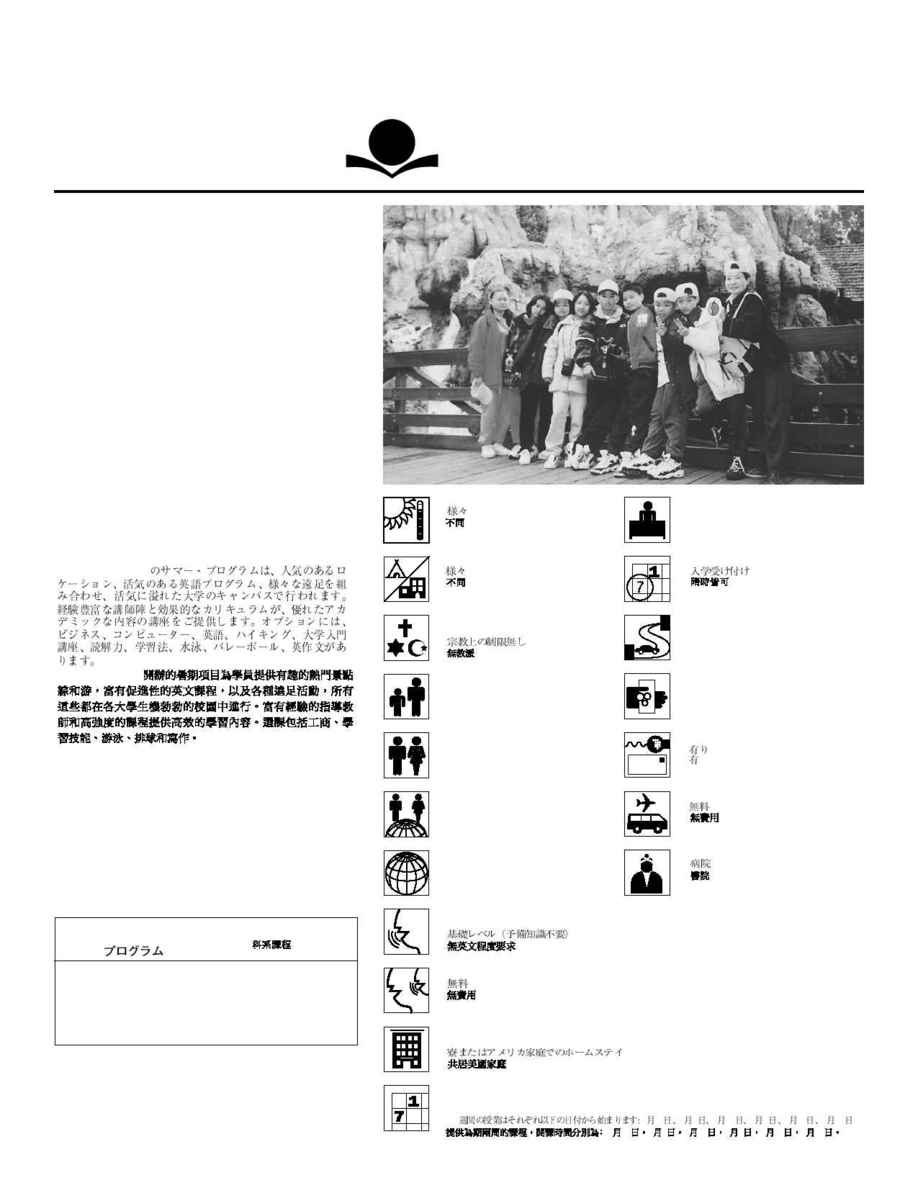 LS International's summer programs offer students the
exciting combination of popular destinations,
stimulating English programs, and varied excursions, all
set on thriving college campuses. Experienced instructors and
a strong curriculum provide strong academic content. Options
include business, computers, English, hiking, introduction to
college, reading, study skills, swimming, volleyball, and
writing.
Los programas de verano de FLS International ofrecen a los
estudiantes la emocionante combinación de destinos
populares, programas de inglés estimulantes y diferentes tipos
de excursiones, todo en recintos universitarios florecientes.
Instructores con experiencia y planes de estudio bien
estructurados brindan una sólida preparación académica. Las
opciones incluyen negocios, computación, inglés,
excursionismo, introducción a la universidad, lectura, técnicas
de estudio, natación, voleibol y redacción.
Les programmes d'été des FLS International offrent aux
étudiants une combinaison parfaite : des destinations très
appréciées, des programmes d'anglais stimulants et des
excursions variées, le tout sur de magnifiques campus
universitaires. La grande expérience des professeurs et
l'excellent cursus scolaire offrent un programme académique
solide. Les options comprennent le commerce, l'informatique,
l'anglais, la randonnée, l'introduction à l'université, la lecture,
les techniques d'études, la natation, le volley-ball et la
composition.
F
LS
INTERNATIONAL
S
UMMER
P
ROGRAMS
Brian Henry, VP for Academic Affairs
101 East Green Street, #14
Pasadena, California 91105
Phone: 626-795-2912 Fax: 626-795-5564
E-mail: flsadmssn@aol.com
URL: http://www.fls.net
Nondenominational · Sin afiliación religiosa ·
Non confessionnelle
Rolling · Continuo · Continuelles
Las Vegas and Utah: Grand Canyon, Zion National
Park; California: Disneyland, Universal Studios;
Boston: Harbor Cruise, Harvard University
$1295-$2595, $0, $150/week
Available · Disponibles · Disponibles
Las Vegas: 47; Westwood: 45; Glendora: 111;
Oxnard: 93; Boston: 18, St. George: 30
Brazil, Colombia, Hong Kong, Indonesia,
Japan, Russia, South Korea, Taiwan, Turkey
No proficiency necessary · No se requieren conocimientos
previos · Aucune aptitude requise
No fee · Gratuito · Gratuit
Dormitories and homestays with American families · Residencias estudiantiles y casas
privadas con familias estadounidenses · et s
jours avec une famille am
2- 4 weeks sessions available starting: June 21, July 5, July 19, August 2, August 16, and August 30 ·
Sesiones de 2-4 semanas disponibles a partir del 21 de junio, 5 de julio, 19 de julio, 2 de agosto, 16 de agosto y 30 de agosto ·
Des séances de 2 à 4 semaines sont disponibles à partir du : 21 juin, 5 juillet, 19 juillet, 2 août, 16 août et 30 août
2-4
Hospital · Hospital · Hôpital
No fee · Gratuito · Gratuit
Las Vegas, Nevada
Westwood, California
Glendora, California
St. George, Utah
Oxnard, California
Boston, Massachusetts
Lock Haven, Pennsylvania
Program · Programa · Programme