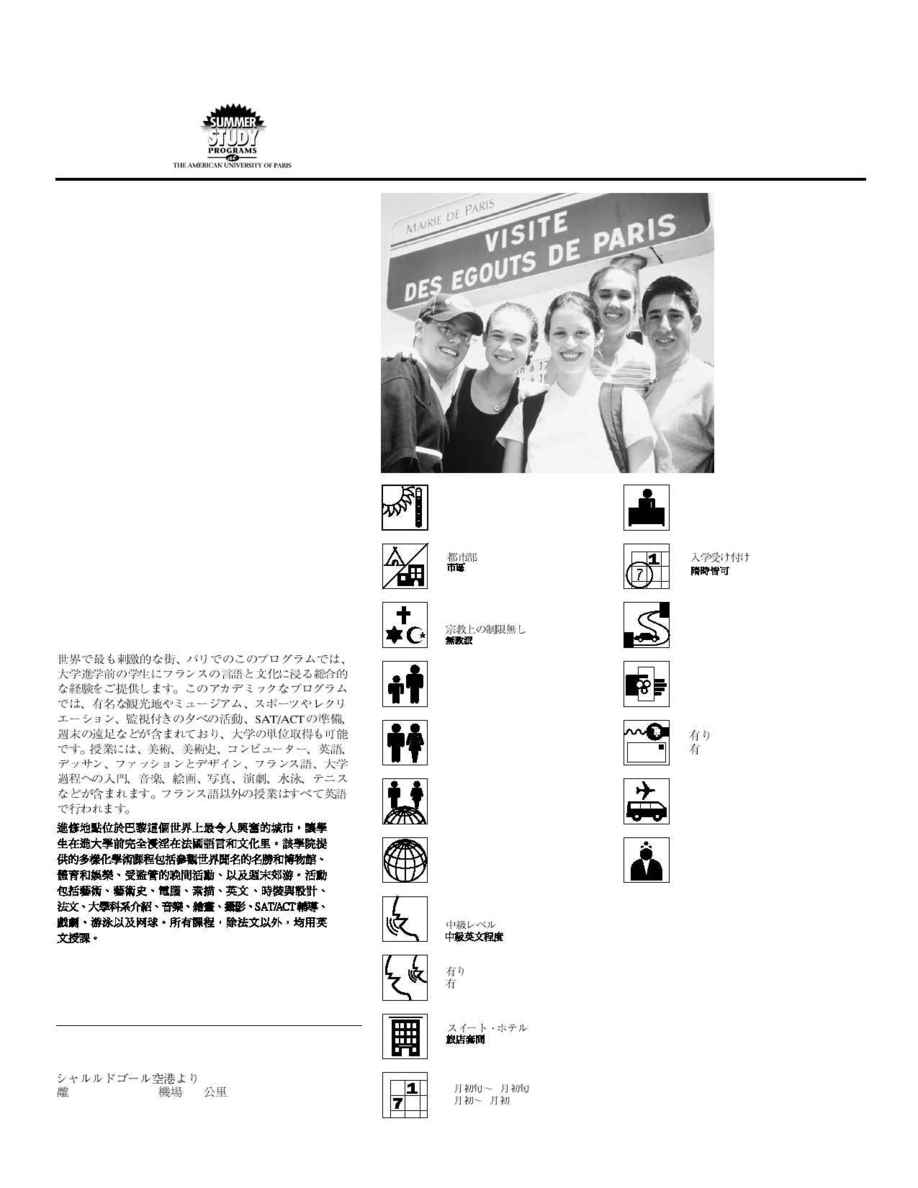 Rolling · Continuo · Continuelles
entered in the most exciting city in the world, Paris, this
total pre-collegiate experience immerses students in the
language and culture of France. The strong college
credit academic program includes visits to world-famous
sights and museums, sports and recreation, supervised evening
activities, SAT/ACT preparation, and weekend excursions.
Activities include art, art history, computers, drawing, English,
fashion and design, French, introduction to college programs,
music, painting, photography, SAT/ACT preparation, theater,
swimming, and tennis. All courses except French language are
taught in English.
Ubicada en la ciudad más emocionante del mundo, París, esta
experiencia preuniversitaria total sumerge a los estudiantes en
el idioma y la cultura francesa. El programa académico válido
a nivel universitario incluye visitas a lugares y museos famosos
en todo el mundo, deportes y actividades recreativas,
actividades nocturnas supervisadas, preparación para los
exámenes SAT/ACT, y excursiones de fin de semana. Las
actividades incluyen historia del arte, computación, dibujo,
inglés, francés, introducción a los programas universitarios,
pintura, fotografía, natación y tenis. Todas las clases son
impartidas en inglès, con excepción de la clase del idioma
francés.
Cette expérience complète pré-universitaire dans l'une des
villes les plus passionnantes au monde, Paris, plonge les
étudiants et étudiantes dans la langue et la culture française.
Le programme académique de niveau universitaire très poussé
aboutissant à des unités de valeur comprend des visites de
musées et de sites de renommée mondiale, des activités
sportives et récréatives, des activités de groupe en soirée, la
préparation pour les examens SAT/ACT et des excursions de
week-end. Les activités sont les suivantes: anglais, dessin,
français, histoire de l'art, informatique, introduction aux
programmes de niveau universitaire, natation, peinture,
photographie, préparation pour les examens SAT/ACT et
tennis. Tous les cours à l'exception du français sont enseignés
en anglais.
S
UMMER
S
TUDY IN
P
ARIS
AT
T
HE
A
MERICAN
U
NIVERSITY OF
P
ARIS
Phone: 516-424-1000 Fax: 516-424-0567
E-mail: precollegeprograms@summerstudy.com
URL: http://www.summerstudy.com
32 km from Charles DeGaulle Airport ·
A 32 km del aeropuerto Charles DeGaulle ·
A 32 km de l'aéroport Charles DeGaulle
All suites hotel · Hotel de suites únicamente · Hôtel avec suites
Early July­Early August · Principios de julio­principios de agosto · Debut juillet­debut août
7
Bill Cooperman, Executive Director
Nondenominational · Sin afiliación religiosa ·
Non confessionnelle
Available · Disponibles · Disponibles
Canada, England, Japan, Korea, Kuwait
Puerto Rico, United States
Moderate proficiency necessary · Se requieren conocimientos
moderados · Aptitude modérée requise
Loire Valley Chateau Country, EuroDisney,
Palace of Versailles
Available · Disponibles · Disponibles