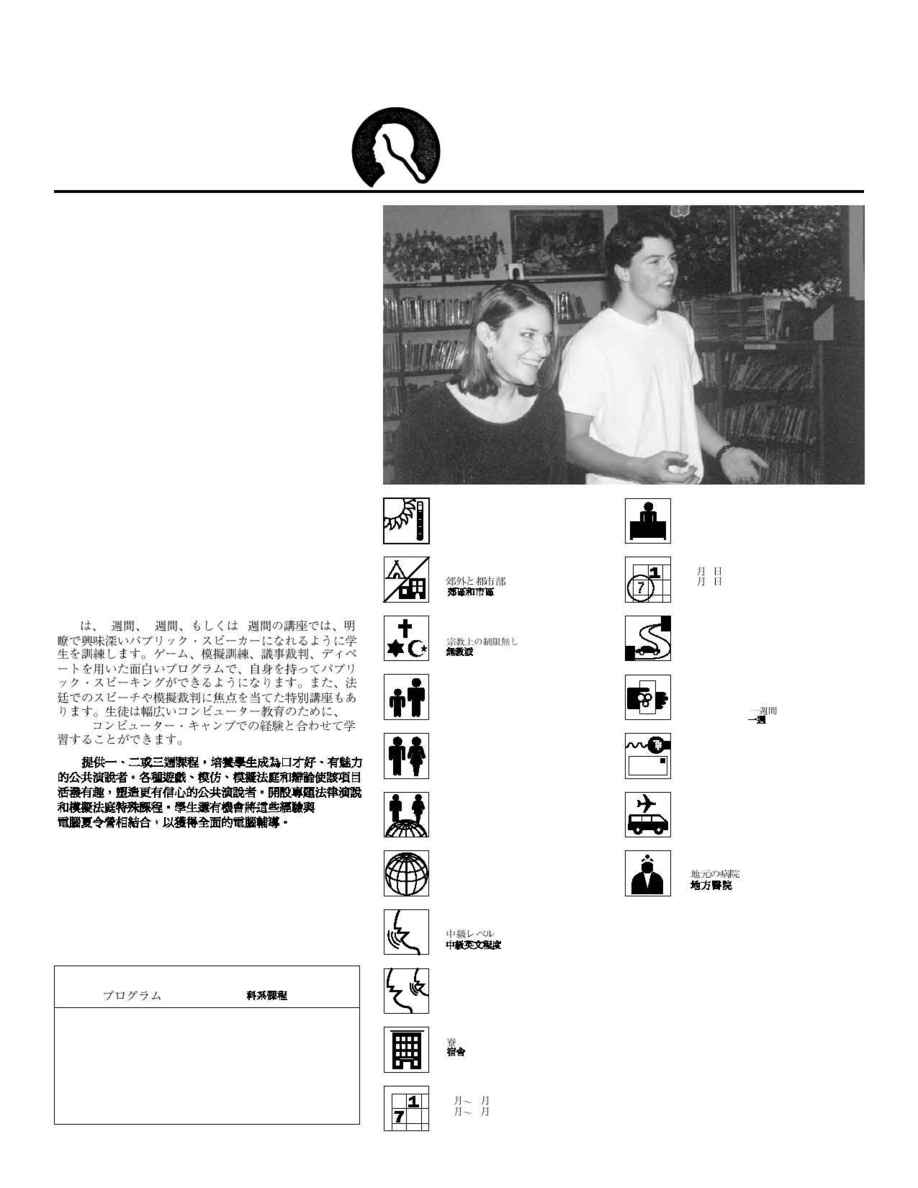 PSI offers one-, two-, or three-week sessions that train
students to be articulate, interesting public speakers.
Games, simulations, mock trials, and debates make the
program fun and exciting and create more confident public
speakers. There are special sessions devoted to legal
speaking and mock trial. Students have the chance to
combine the experience with the Baytec computer camp for
a full range of computer instruction as well.
JPSI ofrece sesiones de una, dos o tres semanas que
capacitan a los estudiantes para ser oradores articulados e
interesantes. Juegos, estímulos, juicios simulados y debates
hacen el programa entretenido y emocionante y crean
oradores con más confianza en sí mismos. Hay sesiones
especiales dedicadas a la oratoria legal y a los juicios
simulados. Los estudiantes tienen la oportunidad de
combinar la experiencia con el campo de computación
Baytec, para así beneficiarse de una gama completa de
estudios de computación.
JPSI offre des cours d'une, deux ou trois semaines
apprenant aux étudiants à devenir des conférenciers
efficaces et intéressants. Grâce à des jeux, des simulations,
des procès fictifs et des débats, le programme est amusant
et passionnant, et permet également de renforcer la
confiance des conférenciers. Des séances spéciales
consacrées au discours juridique et à des procès fictifs sont
proposées. Les étudiants ont l'occasion de participer
également aux cours d'informatique de Baytec et de
développer leurs connaissances en la matière !
T
HE
J
EFFERSON
P
UBLIC
S
PEAKING
I
NSTITUTE
S
UMMER
P
ROGRAM
Matt Fraser, Executive Director
1678 Shattuck Avenue, Suite 305
Berkeley, California 94709
Phone: 510-548-6612 Fax: 510-548-0212
E-mail: camps@educationunlimited.com
URL: http://www.educationunlimited.com
Suburban and urban · Suburbano y urbano ·
En banlieue et en ville
Nondenominational · Sin afiliación religiosa ·
Non confessionnelle
June 1 · 1 de junio · 1er juin
6
San Francisco, amusement parks,
Shakespeare Festival, Los Angels, San Diego
$725, $75­$100 a week ·
$725, $75­$100 a la semana ·
$725, $75­$100 par semaine ·
$725, $75­$100
Taiwan, Hong Kong, Singapore, Korea,
Canada
Moderate proficiency necessary · Se requieren conocimientos
moderados · Aptitude modérée requise
Dormitories · Residencias estudiantiles · Dortoirs
June­August · junio­agosto · juin­août
6
Local hospital · Hospital de la localidad ·
Hôpital local
Program · Programa · Programme