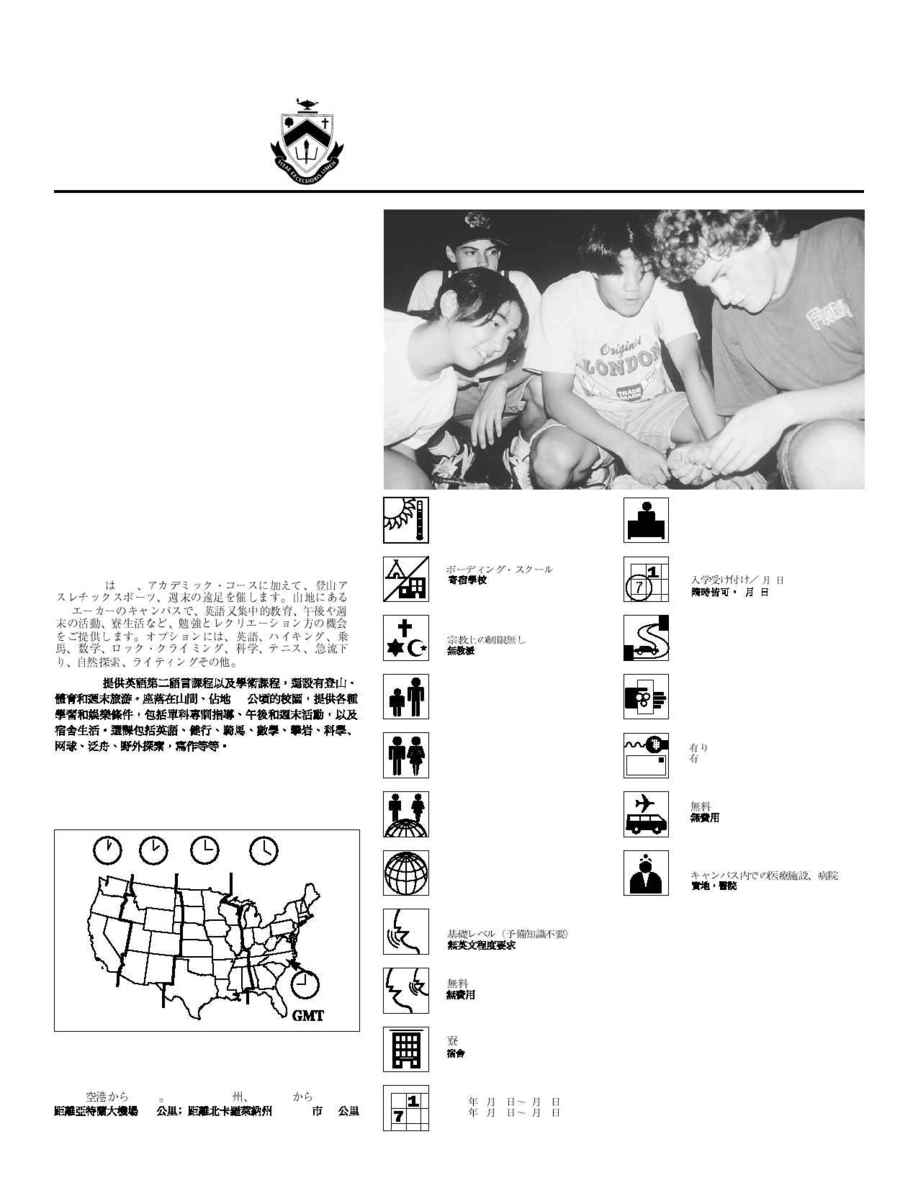 sheville offers ESL and academic courses, plus
mountaineering, athletics, and weekend excursions.The
300-acre campus in the mountains provides academic
and recreational opportunities, including immersion
instruction, afternoon and weekend activities, and dormitory
life. Options include English, hiking, horseback riding,
mathematics, rock climbing, science, tennis, white-water
rafting, wilderness exploration, writing, and more.
Asheville ofrece clases de inglés como segundo idioma y
cursos académicos así como alpinismo, atletismo y
excursiones de fin de semana. El terreno de 122 hectáreas en
las montañas brinda oportunidades académicas y recreativas
incluyendo instrucción sobre inmersión, actividades
vespertinas y de fin de semana y vida en los dormitorios. Las
opciones incluyen inglés, excursionismo, equitación,
matemáticas, escalamiento de rocas, ciencias, tenis,
navegación en balsa en aguas rápidas, exploración de reservas
naturales, redacción y más.
Asheville offre un programme d'anglais langue étrangère
(ESL) et des cours d'enseignement général, plus de
l'alpinisme, de l'athlétisme et des excursions le week-end. Le
campus, de plus de 120 hectares est situé dans les montagnes.
On y propose un programme d'enseignement et des activités
de loisirs, y compris des cours intensifs, des activités l'après-
midi et le week-end et un hébergement en dortoirs. Les options
comprennent l'anglais, la randonnée, l'équitation, les
mathématiques, la varappe, les sciences, le tennis, le rafting,
les excursions dans la nature, l'écriture et plus.
T
HE
A
SHEVILLE
S
CHOOL
S
UMMER
A
DVANCEMENT
P
ROGRAM
Charles D. Baldecchi, Director
360 Asheville School Road
Asheville, North Carolina 28806
Phone: 828-254-6345 Fax: 828-252-8666
E-mail: summersession@asheville-school.org
URL: http://www.asheville-school.org
300 km from Atlanta Airport; 200 km from Charlotte, NC ·
A 300 km del Aeropuerto de Atlanta; a 200 km de Charlotte, NC ·
À 300 km de l'aéroport d'Atlanta ; à 200 km de Charlotte, Caroline
du Nord
Atlanta
Boarding school · Internado · Internat
Nondenominational · Sin afiliación religiosa ·
Non confessionnelle
Rolling/May 1 · Continuo/1 de mayo ·
Continuelles/1 mai
Biltmore Estate, white-water rafting, Mount Mitchell
Available · Disponibles · Disponibles
France, Germany, Japan, Korea, Spain
No proficiency necessary · No se requieren
conocimientos previos · Aucune aptitude requise
No fee · Gratuito · Gratuit
Dormitories · Residencias estudiantiles · Dortoirs
June 11- July 23, 2000 · 11 de junio -23 de julio del 2000 · 11 juin - 23 juillet, 2000
2000
On-site, hospital · En las instalaciones,
hospital · Sur place, hôpital
No fee · Gratuito · Gratuit